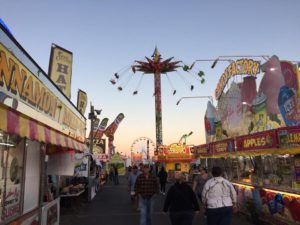 So Cindy and I headed out for the fair shortly after I got home.  The temp was right around 70 and forecast to drop so I bundled up, knowing just how cold it can feel at the fair this time of year based on prior experiences.  I had on jeans, a t-shirt, Under Armour Cold Gear long sleeve shirt and a hooded sweatshirt on top.  Cindy wore a couple layers too but I told her that I thought it might not be enough based on her lack of tolerance for cold.  It wasn't.
So I immediately noticed after parking that they really switched up the layout of the fair this year.  They have been tweaking it in recent years but this was even more dramatic.  They relocated the normal entrance about 100 yards to the south which was odd.  It cost me 10 bucks to get in.  Cindy gets in for free since she is a veteran which is very cool.
We were both hungry so we decided to grab our traditional, once a year fair dinner of arepas with a side order of maduros that we split.  It was good as usual but filling.  We then headed into the barn area which is one of the highlights where we got to see the various farm animals.  They didn't seem to have as many animals as in years past but that might be because we were in the latter half of the fair, it seems the judging was already done so some owners may pull their animals out.  We didn't get to go into the large animal side of the barn unfortunately as it was closed off to the public.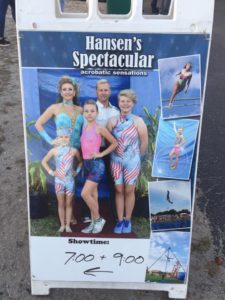 We caught a few shows as we walked the grounds, including the Hansen's Spectacular, a family acrobatic act that was corny but endearing at the same time.  As I watched I wondered if this was how the family made a living, it just did not seem possible based on the handful of people in the stands.  I just can't believe county fairs pay these performers much at all.  We also caught part of a funny magic act and a Ninja Warrior style show that was entertaining.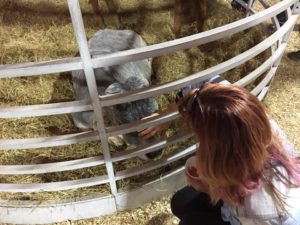 We made our obligatory stop into the petting zoo tent where Cindy got to feed and interact with a bunch of animals.  I let her do most of the feeding although I did enjoy giving the camel a few slices of carrot.
I had much less of a fair food gluttony than normal.  Other than the arepa and maduro the only other thing I had was some hot cocoa.  I bet my fair calorie consumption was half of my historical average.
As I feared, Cindy was freezing her ass off once the sun went down.  We headed out around 9pm.  Overall the fair seemed like it had less stuff than I was accustomed to but we still had a fun time.  If it was a few degrees warmer I would have been happy to explore some more.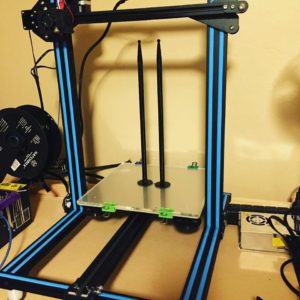 Before we left I had started a print of another revision of the drumsticks I designed for Cindy.  I added a ball to the top so it looked more like a drumstick and less like a spear.  When we got home I checked on the print to find the print head moving back and forth in mid-air with nothing coming out, lovely.
It appeared that I developed a clog in the Bowden tube.  Based on past experience with clogs, some of which set me off into a black hole of frustration, I decided to just pull the original tube and replace it with an upgraded Capricorn PTFE Bowden tube I bought awhile back.  Again having past experience with the problem was helpful.  I now know that if you try to replace anything having to do with the hot end, it needs to be HOT when you do it.  Otherwise hardened plastic will make your efforts futile.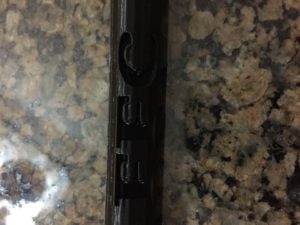 It took a little futzing until I completed the swap out but I was eventually successful.  I restarted the print job, printing two copies of the model at the same time.  This morning we were rewarded with two perfectly legitimate looking drumsticks with FFC embossed into them.  Of course the true test will be once Cindy puts them through a few sessions to see how they hold up to real world use.
And now with the plugs!
Ender 2 on GearBest EU Plug – https://goo.gl/v5bNRG $159 USE COUPON – "Enderen"
Ender 2 on GearBest US Plug – https://goo.gl/v5bNRG $159 USE COUPON – "ENDERC"
AnyCubic I3 MEGA – US WAREHOUSE – https://goo.gl/BKwhEu $329.99 USE COUPON – "I311GBUS"
AnyCubic I3 MEGA – CHINA WAREHOUSE – https://goo.gl/BKwhEu $315.99 USE COUPON – "I3MEGA"
CR-10 on GearBest – https://goo.gl/6M9DHi use coupon – GBCRUS
CR-10S5 on GearBest – https://goo.gl/3295a6
CR-10S on GearBest – https://goo.gl/rFztnC
GearBest US Warehouse specials! – https://goo.gl/nvL8uF
Get free cash back for stuff you are buying anyway – https://www.ebates.com/r/DUF391?eeid=28187
Esun Cleaning Filament – http://amzn.to/2zP3qwW
Creality Cr-10 3D printer – http://amzn.to/2w7yqIF
Dagoma Neva 3D printer – http://amzn.to/2hYNjoV
FlashForge Finder 3D printer – http://amzn.to/2sCllp7
Hatchbox white PLA filament – http://amzn.to/2rrIfMt
ESun white PLA filament – http://amzn.to/2sBRv42
The gimbal I use – http://amzn.to/2lJbZCa
My GoPro camera – http://amzn.to/2kkBUmJ
GoPro foam windscreen – http://amzn.to/2maDI2B
Selfie stick – http://amzn.to/2mJTJLL
Segway MiniPro – http://amzn.to/2lddTNt
Segway S1 – http://amzn.to/2A8CkQQ
DJI Mavic Pro – http://amzn.to/2kpV4Tk
My EUC protective gear
Killer 187 Wrist Guards – http://amzn.to/2p8y9m9
Triple Eight Helmet – http://amzn.to/2p8uuoH
STX Elbow Pads – http://amzn.to/2oNMrYJ
Killer 187 Knee pads – http://amzn.to/2oYtAHw
Looking for Gotway, Inmotion or KingSong electric unicycles?
Go here for free shipping! – http://ewheels.com/eucarmy
Check out all my sites!
http://eucarmy.com
http://duf.net
http://dufisthenics.com
EUC Army YouTube – https://youtube.com/eucarmy
Duf 3D YouTube – https://www.youtube.com/channel/UCBnqqxnkBqc5ISDQRr0YkiA
Social media
Instagram – @duf67
Twitter – @duf67
Cindy's site – http://fitfarmchick.com
Cindy's YouTube channel – http://youtube.com/fitfarmchick