Last night after dinner I did something I had not done in quite awhile, went for an evening EUC ride.  I just felt like getting out there under the full moon with the cool evening air.  I took my good old Msuper, a wheel that sees very little use since the KingSong 18L joined the family.  After close to a 1000 miles on the odometer of the wheel it feels a little loose, soft, and sloppy but it also fits me like a well worn sneaker.  I rode from home to the school, just rolling around at a very pedestrian pace, enjoying the experience.  I put maybe 7-8 miles in before returning, feeling better than before.
When I got home I rolled right into doing some organizing/purging of the hobby room, which was overdue for attention.  There is still some work to be done in there but I at least put a good dent in the mess.
Cindy and I have been binge watching The Punisher on Netflix for the last week or two and it is resulting in less sleep than I need.  There have been many nights where we haven't gone to sleep until midnight and that just screws with how I function.  We just finished up season one last night so hopefully we can back off a bit from here.  It's a great series, obviously.
So my good buddy Matt just got a Tesla Model 3 a couple weeks ago.  Prior to the purchase he and I were communicating about the merits of various EV's on the market right now.  I have decided awhile ago that I want my next daily driver to be an all electric vehicle.  My target vehicle has shifted around quite a bit.  First it was a Chevy Bolt which got pushed to the side because of pretty unforgettable styling and the loss of the full $7500 tax credit.  The target then switched to the Hyundai Kona EV which seems great but is only being released in a handful of states.  It won't be available for sale in Florida for a couple years potentially. It's too bad because it's lifetime battery pack warranty is unmatched.
It then seemed like the new, extended range Nissan Leaf Plus would make the most sense.  It's styling was better than the Bolt, it has similar range and still qualifies for the full federal tax spiff.  Matt was considering all three of these options as well as the Tesla, which a few of his friends have, and they love them.  Heck my buddy Jeremy has a Tesla Model 3 as well and has sung nothing but praise about it.
I love a lot about the Tesla too.  The autopilot tech is fascinating and something that pulls at every nerd fiber of my being.  Styling of the car is unique and more appealing than any of the other choices out there.  It has more power and range than anything else in the class as well.  It's supercharger network is unmatched and growing every day. However there are a long list of negatives as well, at least for me.
The lack of a conventional dealer network has been a turn off for me, especially based on some of the service/repair nightmares I have read about.  The stability of the company, although much better than it was, is still worrisome.  However the biggest obstacle is the price, which has been made larger by Tesla no longer being eligible for the full federal tax spiff and being the most expensive option of the four vehicles I mentioned by a substantial margin.
I have actually gone on the Tesla site to taste what the purchasing experience is like.  It is almost like buying an item on Amazon.  Pick your options, lay down a $2500 deposit with your CC and the ball is rolling.  There is no longer a huge backlog of orders so depending on what equipment you choose, your car could be ready in a month or less.  There also is a local Tesla "store" in Naples that Cindy and I want to visit at some point.
At this moment in time I am thinking more and more about getting a Tesla based on all of the personal success stories around me with the brand.  I spend upwards of 10 hours a week commuting to and from work, being able to enjoy those thousands of miles in the apex of EV tech would be a pleasure for sure.  Because of the potential expense, the Tacoma needs to be free and clear of debt before I can venture into another car payment.  At this point with some concentrated effort I should be able to make that happen in a year or less.  Who knows, by that time there may be even greater options or opportunities on the table.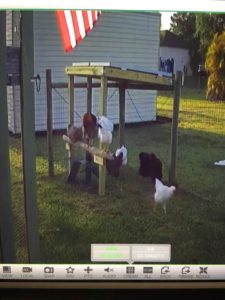 Not only is the solar set up in the chicken yard producing a lot of power during the day, it has become a new fav hang out spot for the birds.  This makes me happy.