Yesterday I left the office early to go get my stitches removed.  As I headed up Airport Road I ran into a literal parking lot.  There were police at nearly every intersection, at the overpass, and I heard a helicopter flying above.  What in the hell is going on?  As I was sitting still getting increasingly annoyed Cindy texted me and said she had hit similar traffic.  She said it was because VP Pence was in the area.  I vaguely recall that being mentioned on the news a few days before but I totally forgot about it.
I'm not sure why he flew into tiny Naples airport instead of the Fort Myers location which is international and much bigger.  The Naples Airport is two miles from our office so the local law enforcement basically paralyzed all traffic in the area until Mr Gay People Can Be Cured was driven out to his speaking arrangement at Ave Maria, a perfect place for his ideology to be barfed out onto other Trump acolytes.
I called my dermatologist to let them know I was caught up in the Pence Quagmire.  I wound up getting there about 15 minutes late.  Removal of the stitches was uneventful and it seems the incision is really healing well.  I was worried about having a nasty scar on my forehead but it is looking like it will pretty easily blend into the other age appropriate creases on my face.
So I set up my follow up appointment with the med center.  Oh the pulmonologist office STILL never called me back but at this point I don't give a shit since the CT was posted to my account which showed that from a lung perspective I am ok.
I plan to be pretty aggressive in seeking answers at the appointment. Basically, I still have both symptoms I originally complained about last summer.  Lower right side pain when doing even mild weight work, as well as come and go lack of endurance and weird sensations when doing cardio exercise which includes at times tingling and almost a clammy feeling.  I am expecting to be referred to a cardiologist for the latter.  With the mystery side pain I have no clue what to push for.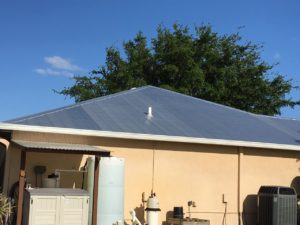 Yesterday I talked about in life, if you are passive about getting people to do things you will spend a lot of time getting nothing done. When our metal roof was installed late last spring I immediately noticed that the west side seemed to have mismatched metal panels on it.  I pointed it out to the project manager.  At that time he said that it was likely just because the metal was just installed and it should wear evenly once exposed to the elements.  Well the picture you see was taken last night, some nine months later.
After taking this picture I contacted my project manager, who happens to be the husband of one of our employees at the tax collector.  I sent him fresh pictures and told him that the mismatch is just as prominent today as it was on day one.  I said I'm not happy with it, especially considering we dropped a lot of money on the project.  I didn't hear back an immediate response from him but I did talk to his wife today and he is aware of it.
My non-roofer opinion is either the installers did not have the same side facing up on all of the panels or the metal that was used simply was not all from the same batch.  Regardless of the reason, the simple truth is the mismatch was evident immediately and there is no way the installers could have not noticed.  They apparently just didn't give a fck.  So I am pretty sure the only resolution is going to be to tear that section of roof off and redo it, should be fun.  Sure I could live with it but for what it cost, I'm not willing to let that go.
I'm hoping to have a productive weekend.  I have a lot of stuff floating in the head to address.  Man I keep thinking about the coop solar power project and how cool it will be if it works as I imagine….  I have already started thinking about phase 2 where I potentially power all of the charging of my PEVS via solar and maybe even run a 3D printer or two that way as well.