So Chuck showed up pretty much right on time, despite only pulling out of Maryland very early Sunday morning.  It felt somewhat weird meeting someone that you "know" from YouTube but I had talked to Chuck on the phone before he came down so it wasn't a huge deal.  Chuck's personality in person matched what I had seen online which was a good thing.  I could tell we wouldn't have a hard time getting along.
So I had done some prep ahead of time, pulling out all of the tools I thought we would need and setting them up on a folding table in the garage. Despite my best efforts we did have to make one trip to AutoZone to grab a deeper 14MM socket to torque the bolts in the recessed area of the front spacer.  It gave me an opportunity to ride and drive Chuck's truck which was a cool experience.  Since Chuck had already installed a more involved lift on his 4×4 Tacoma we used a combination of his past experience and the detailed color instructions I printed out to guide us.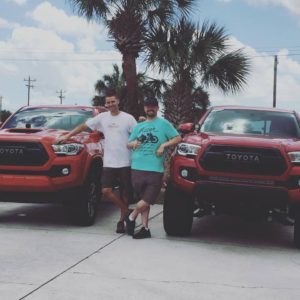 So from the steps detailed in the instructions, the front lift seemed like the more complex part of the job to accomplish and it was, but it turned out to be less difficult than what we ran into in the rear of the truck.
The issue we ran into was the instructions were written from the perspective of the work being done on a car lift, not on the ground using jack stands.  As a result we had to come up with our own on the fly method to support the rear axle while getting space to install the lifting block.  After we got the blocks in there we had a hell of a time getting the alignment pins on both sides where they needed to be.  At one point Chuck and I were basically holding the rear axle up ourselves, one on each side, while getting the the blocks seated.  It was a bit hairy for a short period of time but we got it in place and secured.
You can tell from the video of the rear that things were tough as I tried to describe exactly what we did and didn't do a good job of doing it.  There was a lot of seat of the pants actions.
So after everything was all back together we took my truck for about a 10 mile test ride to verify everything felt normal.  It felt and drove just fine, the only difference was the higher driving position which was immediately noticeable.  It's hard to believe that raising the front of the truck roughly three and a half inches would feel and look so much different but it really does.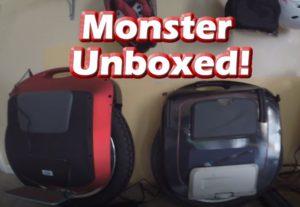 Shortly before Chuck pulled out the FedEx truck containing my Monster arrived which was funny timing.  I opened the box while he was still there so he could see one of my non-Tacoma hobbies.  He is an avid motorcycle guy but was impressed with the size of the Monster as I struggled to pull the 60 pound beast from the box.
So it was time for Chuck to roll out back to Sarasota to meet up with his family for the rest of their Florida vacation before they return to Maryland.  I thanked him repeatedly for all the help.  Although I may have been able to eventually complete the job by myself, it would have been MUCH more difficult.  Having Chuck's experience , tools, and great attitude made the job much more enjoyable than it would have been otherwise.
So Patrick and his girlfriend Nico were due to arrive later in the day although I wasn't quite sure when.  It gave me some time to edit the large amount of video footage I had from the day.  They wound up pulling in around 7 which worked out pretty well since Cindy was teaching an evening class anyway.  Once Cindy got home we piled in the Prius for a nice dinner at Pelican Larry's.  We got to hear a lot about the adventures they have had so far in Key West and Miami.  Both Patrick and Nico are adventuresome explorers and seem to be a really good match which is awesome.  Today and tomorrow we have no script although I do need to get my truck to a shop to have an alignment done after the lift sooner rather than later.