Saturday morning Cindy and I decided to get our weekend 5K run out of the way.  It was a rough, rough run.  The heat, humidity, and my body's refusal to feel comfortable at any point during the run made for a miserable half hour.  We endured it and that is all that matters. I almost did not endure the yard work that followed when we got home.
My legs felt especially dead during the run and that sensation increased as I walked around the yard picking weeds.  Even with using my normal technique where my elbows are resting on my knees/thighs as I pull countless weeds, my legs and back were just weak.  When I moved onto weedwhacking I really hit the wall.  I felt dangerously tired at times.  More than once I just stopped to try to rest for a moment as the sun was melting me from above.  By the time I walked back in the door my tank was absolutely empty. I jumped in the pool to try to cool down my body temperature rapidly.  We then did a coffee run with Elsa which helped artificially restore some of my depleted energy reserves.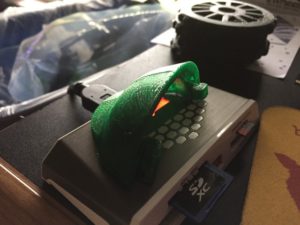 I did a decent amount of 3D printing Saturday afternoon.  I did my first printing with a new filament type called PetG.  Supposedly it offers some of the benefits of both ABS and PLA plastics. I got a green translucent variety that looked cool.  I had a hard time getting the print to stick to printing surface but after a few tries I was able to print out this EUC mudguard.  Unfortunately when I tried to test fit it on my wheel the one support snapped.  I plan to try to print the guard again with some more outer walls and infill for more strength.
I also did multiple prints of the prototype mudguard for the Monster.  I have been working with my EUC buddy from Finland who has been designing the mudguard in Fusion 360 based on the measurements and pictures I have been sending him.  He makes some changes, I print it out and then do a test fit and provide feedback which is used for the next revision.  We are on rev 6 at this point and I think we are almost there.
On Saturday night we watched Hacksaw Ridge, a true life story of amazing bravery, endurance, and heroics during the World War II land portion of the Japanese campaign.  It seems almost superhuman to have endured what this man did.  It's a movie everyone should see to give a true sense of just how awful war really is and why it should be mankind's goal to eliminate it, even if it is a pipe dream.  I give it a solid A score, Cindy rated it A++.
Sunday morning I cleaned the chicken coop and much like last week, again was disgusted with the amount of pure mucky areas.  The sod I laid last week helped but other disgusting areas opened up.  I was again motivated to buy a bunch more sod to address the mess.  However unlike last week, my calls to the home improvement stores all had the same answer, "Sod is gone"  I plan to take the truck to work on Tuesday, sod delivery day, so I can grab a bunch more to throw around the chicken yard.
We headed out for an EUC ride mid-morning and met up with Daniel and Katie at the park in Pelican Bay.  I looked up and suddenly saw Katie riding backwards, easily.  She said she had practiced backwards a couple times.  Well her couple practice sessions resulted in her being MUCH more proficient and comfortable going backwards than I am.  She just has natural ability to ride an EUC, something I definitely don't have.  Repeatedly during the ride she flipped into backwards riding with ease.
It was hot as hell so keeping moving was a priority.  As soon as you stopped the heat and humidity was stifling.  Again we swapped around wheels to a degree.  I rode all four of the wheels at one point or another.  It's amazing how different the riding experience is between the wheels.  I definitely prefer a bigger wheel at this point.
After lunch I immediately headed outside to do the best I could mowing around the standing water.  It looked like it was going to rain on me multiple times but it thankfully held off.  There were certain areas where I just rammed the tractor through mud bogs, relying on momentum to keep me from getting stuck.  A good portion of the yard is just a muddy, disgusting mess, I hate it.
I chilled for most of the rest of the day, meddling around in WoW attending to the needs of a half dozen virtual beings.  It's odd how being so busy in the game translates into relaxation for me, but it works.