As mentioned yesterday I worked at a branch last night bringing them online with our cloud based customer queuing solution.  This was the fourth branch that we have migrated and it showed.  Everything went pretty much without a hitch and we were all wrapped up by 6:15.  I love it when a plan comes together without a hiccup, it doesn't happen very often.
We have had three days of more or less steady rain due to a tropical depression.  It looks like the precipitation has finally cleared out.  The grass is now in it's summer growth pattern.  I want to try to knock out mowing the grass after work to knock it off the must do list for the weekend.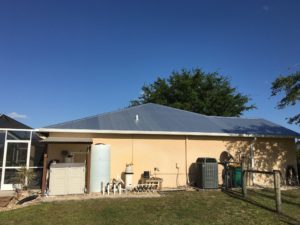 Today we have the roofers showing up.  Ever since the roof was installed, the panels on the west side of the house have appeared mismatched, especially once the sun hits them later in the day.  I pointed this out to my project manager shortly after the install.  At the time he said that the panels should weather quickly and the difference should fade away.  Well 8 months later and they looked exactly the same.  After spending 20k on the roof I wasn't willing to just shoulder shrug it away.
I contacted the company and sent them a new picture which looked just like the old picture.  They said they had to contact the metal manufacturer to authorize new panels.  I had to keep contacting them to nudge the process along over several months but finally replacement panels were delivered on Monday which are supposed to be installed today.  I can only hope the end result is worth the wait.