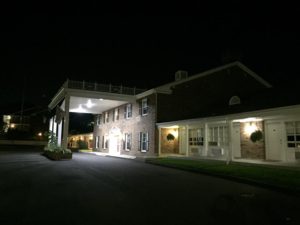 So after the crazy and frustrating day of trying to drive around and park in Washington DC we were looking forward to getting up to Connecticut which is slightly less metropolitan.  Of course in order to get there we had to go through the outskirts of NYC which was a traffic mess as well.  Cindy actually drove us through the last part of the day, including the NYC part.  She handled it well.
The drive from Rehoboth to Washington DC to Connecticut had a couple common themes, traffic, parking and tolls, lots and lots, and lots of tolls.  We paid an obscene amount of money for the privilege of driving on clogged, shitty roads.  We are pretty sure we spent around $60 on tolls alone yesterday, plus another $15-$20 to park in DC, for 50 minutes.  I found it very, very annoying.
So there was one bright spot, Cindy found a nice and affordable place to stay in Fairfield, Connecticut.  It had a very hipster feel even though it had modern colonial styling.  The room was clean and comfortable.  Within walking distance was a diner where we scored a late night supper.  I then crashed in the room and played Hearthstone till almost midnight, it just felt like a good way to unplug from what was a very stressful day in many ways.
We woke up this morning to glorious weather with temps in the low 60's with low humidity.  It felt fantastic.  Although we didn't have time to do any formal EUC riding I did hop on the Msuper and zip around the hilly parking lot for a few minutes which was fun.
So I did the driving into Boston.  I am not sure why either of us thought driving into large metropolitan areas would be a good idea for this trip.  There are few things that annoy me more than trying to navigate a vehicle through city traffic.
So in an effort to avoid the parking fiasco we had in Washington DC, Cindy was doing research on parking in Boston and the research did not look promising.  Parking in the city seemed to be problematic once again.  Cindy found some parking app where you "reserve" your parking ahead of time.  I told her to go ahead and book something.
So to get to this garage we literally made no less than a dozen turns onto various congested one way streets.  It felt like we were doing a death spiral.  So finally we thought we were close to our reserved parking garage.  The app had built in GPS support which you were supposed to use to direct you to the spot.  Well the problem was in a large city, big buildings can make GPS problematic and it was for us.  The directions seemed to be lagging and would change wildly all of a sudden.
Well we saw a big P for parking sign.  I was a few feet past the entrance when Cindy barked out that this was it!  I slammed on the brakes and Cindy jumped out, stopping the car behind me so I could back up and swing into the garage.  We pulled in and told the Hispanic attendant we had reservations.  Cindy showed him her reservation on the phone and all appeared to be well.  We unloaded our EUCs and headed out into the streets of Boston.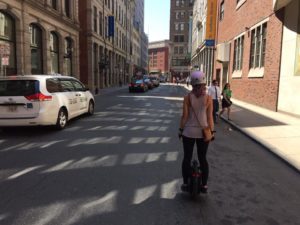 I expected Cindy to be very conservative riding around the city but I was surprised it didn't take long until she was up on the Msuper carefully riding around countless obstacles and human beings.  Sure she got off and pushed it more than I did but overall she did much better than I expected.
We made our way to Boston Commons, Boston's version of Central Park.  We figured that would be a great spot to zip around on the wheels, and it was.  There was one problem.  About a half hour into wheeling around I spotted a sign that said no skateboards or bikes! That seemed pretty stupid and I wasn't sure if it only applied to the inner, more narrow paths where the sign was posted or everywhere.  We still rode around the park some more but tried to stay more to the outside border where there was more room.  Worst case a cop tells us we need to stop and that didn't happen.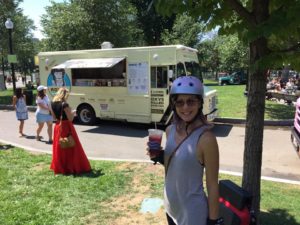 Evidently Boston is another town where EUC usage is as rare as a Yankees fan.  Everyone was looking at Cindy and I rolling by in disbelief.  I heard countless, "that's cool's", "look at that's", and "what is that's" as we zipped around.  I told Cindy that really, an experienced rider on an EUC has less impact than a cyclist.  The amount of space used is the same as a person walking and an experienced rider can go at walking speed, or slower.  I was able to weave my way through people with relative ease, even on the big Monster.
We also went over to the Faneuil Hall area, a popular shopping/dining area that Cindy was at once before.  Shopping while on an EUC isn't very practical so I told Cindy to just go in and do her thing as I didn't really care much about the stores.  I sat outside and guarded the wheels while I took in more of the Boston scenery.
We had our parking spot till 2:45.  We were paranoid about having problems getting back to the garage so we allocated an hour to do so.  Instead we were back in 10 minutes.  We spent the time enjoying some ice cream from a nearby store while we chatted to more interested bystanders about the wheels.
So when we got back to the entrance I had the first inkling that things may not be right.  Cindy's parking app said we were supposed to be parked at 275 Washington Street.  We parked at a garage at 75 Devonshire around the corner.  I pointed this out to Cindy but she speculated that maybe the Washington address was just another entrance to the same garage.
Cindy was happy at first when she saw the attendant parked her car right up front.  Her happiness turned to anger when she saw her car was flush against the wall behind it although it looked like there was a towel or something wedged in between.  She was sure the back of the car would be damaged but when they pulled it forward we saw there were also two big rubber traffic cones back there that provided additional padding, the car was fine.
So now all we had to do was show the ticket we were given and we should be good to go, right? Wrong.  The attendant was confused that he did not see our reservation on his list.  As soon as I heard this I knew we for sure parked in the wrong garage.  I also knew that we now had the pleasure of being charged for parking, twice.  In total we spent almost $60 on the parking but what the hell, I'll just throw it into the basket with all the ridiculous toll charges.
Speaking of tolls.  In Massachusetts they still toll the fck out of you but they do it by the disgusting toll by plate system.  Basically if you do not have an EZ Pass they charge you triple the rate and they charge you often.  At least a half dozen times we ran underneath trusses with license plate cameras which will result in bills being mailed to the house in a few weeks.  If I were my dad, I would throw the bills in the trash and dare them to come to Florida to collect their $20. I will not be surprised that if we rack up over $200 in parking and toll charges by the time we get home.
So despite the shitty traffic and latest parking adventures, overall Cindy and I had fun.  I really love being able to sightsee and travel around these areas on a single wheel.  Until you do it yourself it's hard to understand why it's so much fun.
We are now well into Maine and plan to crash in a town called Orono near Bangor.  Staying there will put us closer to Cadillac Mountain which along with Rehoboth is one of the feature stops of the trip.  Maine is soooo different from most of the congested northeast.  We are looking forward to crisp air, breathtaking views and more one wheel cruising.  After tomorrow we begin a relatively high speed descent back down to Florida with a few scenic stops along the way.