Yesterday I had not one but two Florida experiences.  I spent the morning out at our Everglades City office, a tiny town in the middle of the Everglades.  The town feels like it has been a time capsule for the last 50 years.  There are no strip malls, no high rises, no national chains in sight.  It's just a small, simple, and slow paced place that charms me every time I visit.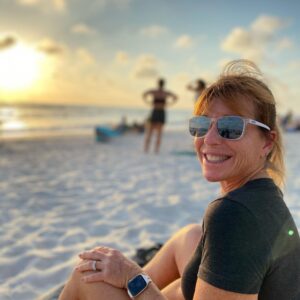 Last night after work Cindy and I did something we have never done on a weekday evening, went to the beach.  Since it was Cinco de Mayo we thought it would be cool to grab some food outdoors at Tijuana Flats on the way.  We both expected the place to be packed on this hispanic holiday but it wasn't bad at all.  We both enjoyed our taco meals.  Cindy even grabbed herself a margarita that tasted like paint thinner on my first sip but became less repulsive on subsequent tastes.
We then parked in the Vanderbilt Beach parking garage which is only maybe 100 yards from the beach. I brought a chair for myself, Cindy opted for one of her yoga mats for herself.  We had somewhere around 45 minutes to go before sunset.  I packed some magazines to read but I didn't pick one up.
Instead I spent the time just chilling, enjoying the sights, sounds and smells of the beach.  It was truly enjoyable.  Cindy, when she lived closer to the shore used to visit the beach all the time.  She was very appreciative that we were sitting in the sand enjoying the beauty of the ocean, on a Wednesday night.
Logistically it wasn't that difficult to make this happen and I really would like to make an effort to make beach visits a more regular part of our lives.  Sitting in the sand watching the sun drop out of the sky might not help me cross items off the list but the less tangible benefits are real.