Last night my dad and I went to Pelican Larry's to grab dinner.  It seemed like there were a lot of people there for a Wednesday night but luckily since they have a ton of seating we had no problem.  We sat at the bar and ate there.  Our bartender was a young girl that seemed a bit distracted but bartending while taking food orders I guess lends itself to that.  The couple beers and food I ordered went down easy.
Last night Dad and I watched  a movie he recommended I rent from Netflix, The Lobster.  It was definitely one of the strangest movies I ever saw.  I told dad it seemed like it was one long Monty Python skit.  My eyes closed a few times, making an already confusing experience, more so.  I think this movie would be fantastic to watch if you were really drunk or high.  Unfortunately I was neither so I can only give it a C.
Today was dad's last full one in Naples.  My step mom and Cindy were still down in Key West.  The reports we got from last night were they were having a lot of fun so far.  During the early morning I cleaned the coop and started to do more trouble shooting on the coop dvr.  I had received a replacement for the dead unit, another likely casualty of the lightning strike last week.  However when I hooked up the new unit, 3 of the 8 cameras were not working.  Through some troubleshooting I determined it wasn't the new dvr or the cables, the actual cameras had stopped working.  Of course I assume this is more shrapnel from the power hit.  Later in the day I was able to replace 2 of the 3 dead cameras with lower resolution models I had laying around.  Yea the feed from them won't be HD quality but they don't really need to be.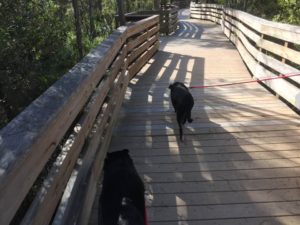 I told dad we should go walk the dogs at North Collier Park, a place he had never visited.  Dad was very impressed with how nice the place was.  We had fun watching the collection of old retired RC sail boaters maneuver their ships around the lake as we started the walk.  Most of the walk was on the elevated, mostly shaded boardwalk which was perfect for the dogs.  We had a great couple miles.
After the park we headed to Pet Supermarket to grab some food and other stuff for the dogs.  Maggie and Clara had fun exploring the store and observing the small animals they had for sale.  We then made one final stop at Naples Cyclery.  Dad was interested in looking at some hybrid bikes as he has some ideas about doing more biking back home which would be good.  Dad isn't all that mobile at this point so anything that gets him moving more is a good thing.
Later in the afternoon I headed out for a EUC ride.  The nearly 7 mile ride was good but tough because of strong wind.  It included a funny and unexpected political message when I rode past an intersection that somebody spray painted in large letters FCK TRUMP.  It seemed like an odd place to express those feelings but it will certainly get the point across to any oncoming motorists.
Tonight we are going out to a farewell dinner.  Cindy and Teresa pulled in less than an hour ago after a very fun two days in the Keys.  It has been a relaxing visit.  It's a shame that geography dictates we don't get together more often but when we do it always leaves positive memories.