This weekend I kept hopping.  I started off with a row after work instead of a run.  When teamed with the 400 reps of calisthenics exercises I did at lunch I felt I met my exercise quota for the day.  I spent a good portion of the night processing orders from the 3D print store.  My EUC buddy Marty posted a video about the stand I sent him to use and the end result was a rush of people buying more stands, cleaning out my store of several categories.  I sold something like 10 stands, making for my biggest drop off at the post office at one time, ever.
It was off and on raining most of the day Saturday, I still went outside and handled my normal chores outside of mowing which I didn't wind up doing until late afternoon on Sunday.  Cindy and I did our errands run with Elsa, a favorite Saturday morning tradition with us.  One of our stops was at the medical marijuana dispensary, Cindy had run out of the stuff that helps her sleep.  After waiting awhile she came out empty handed and upset because she wasn't allowed to buy more until her doctor reauthorizes it.
The medical mmj implementation is a cash cow for everyone involved, including doctors.  In order to keep getting stuff Cindy has to schedule visits with the doctor every several months and pay a couple hundred dollars for him to sign his name on a piece of paper.  It's quite frankly, stupid and a blatant money grab.  If someone has a long term condition that isn't going to go away like MS, the patient shouldn't need to keep handing over Franklins to the doctor to get the stuff.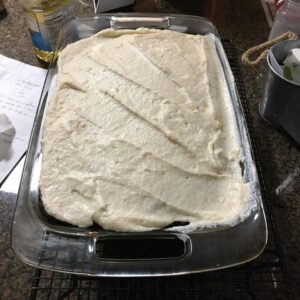 I also took the time to make the famous chocolate cake for Cindy as a belated birthday celebration. The cake turned out great but I feel fatter with each slice I eat.  The recipe includes three or four cups of sugar and a half pound of butter but damn it tastes good.
Saturday night we watched BumbleBee, the most recent Transformers movie.  I didn't realize it was actually a prequel to the movie series.  Cindy and I both really liked it more than the last several Transformer movies.  Less Marky Mark equals better movie.  I'd give it A-.
Sunday morning it was again very rainy which in the big picture is a good thing since we have had an unprecedented early end to wet season which has thrown us into an early H2O deficit.  I got a small break in the rain late morning which I targeted for a local ride.  It didn't take long for the rain to return, soaking me in the process but I kept rolling along.
Cindy spent a lot of time doing initial clean up for the room clearing we have to do next weekend for the carpet restretch.  It will be a good way for us to cleanse, organize and purge.  I spent most of that time outside mowing grass during a break in the rain.
I watched the atrocious Eagles/Cowboys game last night, it was in a word, pathetic.  The team looked over matched in EVERY category.  I was just disgusted.  The defense was like a an open door, unable to stop the Cowboys on the ground or through the air.  After getting destroyed two weeks in a row and now heading to Buffalo to play the 5-1 Bills, the Eagles have a very real chance of reaching the halfway point of the season 3-5.  That is is sad when before the season the Birds were touted as one of the most talented teams in the NFC.  Carson Wentz, I just don't know if he has "it".  He isn't alone, the team is underperforming in pretty much every facet of the game.