When I bought my first Tesla Model 3 I also bought one symbolic share of the company for $226, just for the hell of it.  Man, I wish I would have made more than a symbolic investment today. Since that purchase Tesla stock has gone on a meteoric rise including a 5-1 stock split.  That single share of stock is now 5 shares, worth several thousand dollars.
Yesterday there was another huge 11% surge in stock price when it was announced that Hertz was buying 100,000 Teslas for it's rental fleet.  This announcement has a snowball effect.  I can see scenarios where other large rental car fleets will do the same, scooping up Teslas so Hertz doesn't get a competitive advantage.  Getting Tesla's into the rental fleet also has the advantage of exposing more of the population to the magic of Tesla vehicles which will likely drive interest and sales even further, it really is a huge win.
The demand for their cars is unreal right now.  If today I tried to order the same Model Y I just bought, I would pay $4000 more AND have an expected delivery date of MAY 2022.  No I am not kidding. Like I said, I just wish I pushed a bit more cash into the stock back in 2019.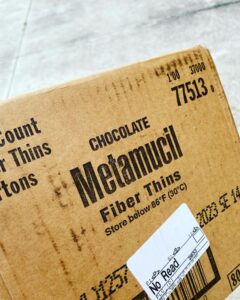 Yesterday I got an Amazon delivery, the Metamucil fiber bars that I have used  for a couple years.  Supposedly as you slide into old fartdom like me, Metamucil helps keep things going as they should be.  These little bars are a far more enjoyable way to consume the fiber than the powder you used to mix in liquid, IMO. I was a bit surprised when the box arrived "naked", letting the world know that the old guy on 47th Ave NE takes a fiber supplement.  I mean it could have been worse I suppose.  At least it wasn't a box of Depends or Viagra.
I made this brief video last night.