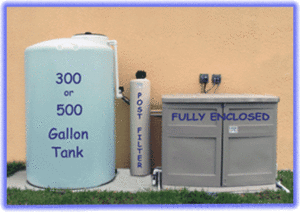 So I met up with the guy from Water Medic yesterday to inspect my water setup to give me an estimate for installing a whole house reverse osmosis system.  This was actually the owner of the company which I thought was sort of cool.  Despite having a staff of nearly 50 people he likes to do all the estimates himself. I immediately found Rich to be a down to earth and likeable person.
He first took some measurements of the pad where the water equipment is located.  The RO system takes up a lot of space so there would need to be some rearranging done.  It just so happens that I have a pool guy coming out to replumb some stuff and remove the old broken pool heater.  Unknowingly this was perfect timing as one of the things that would make the RO install simpler is to have the pool filter relocated to the spot where the pool heater is now. After taking measurements we went to the well head where he did testing of the water coming straight out of the ground.  He said our well water was actually really good with no iron, and low contaminants.
He explained to me how the system works and his general business philosophy.  He said he knows other companies are selling RO for more money but his main hope is customers continue the monthly maintenance service after the first year.  He said he has done absolutely no advertising in the Collier County area but has installed several hundred systems solely on word of mouth.  The components used in the system are high quality and even after the water goes through four filters it gets sanitized one last time by a UV filter before it enters the house.
I got a small credit for my old equipment and a $200 discount for being a government employee.  The final estimate was $1700 less than what the other water company quoted me and with Water Medic I get a free year of monthly maintenance that normally costs $70 a month,  another $850 in savings versus the first quote.  It was pretty much a no brainer.
I didn't commit on the spot as I told Rich I wanted to confirm my pool guy could move the pool filter and that I could get the day off for the installation.  I confirmed both of those things within an hour and then locked in the install for March 2nd.  The system will consume all of my tax refund and then some but it's a solid investment in the value of the house going forward.
I still had some daylight left so I took my Msuper out for a ride.  In the middle of the ride, which I was shooting video of, I filmed a second video outlining the lower body stretching I have been doing for my IT band pain.  I have been wanting to do a video regarding it for awhile and yesterday seemed as good of a time as any.  It's sort of funny how I got interrupted in the middle of the stretching video which prompted me to relocate to a more remote location, a handball court.
I forgot I actually shot a THIRD video yesterday, a brief documentation of the weird shift surge my truck has been doing first thing in the morning.