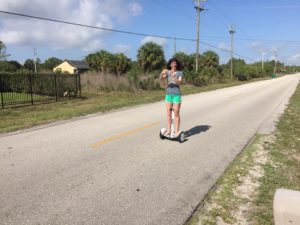 So Patrick and his girlfriend Nicole pulled out this morning for the last leg of what will be a nearly two week trip after arriving at our place Monday evening.  We worked around Cindy's class teaching schedule to do things together.  Pat and Nico tried desperately to earn Elsa's trust while we were home and were only mildly successful.  At one point Elsa licked Pat's hand and let him pat her head but for the most part she would keep wide circles around both of them.
On Tuesday morning I introduced Pat and Nico to the Minipros.  Within the hour both of them were out in the driveway and street zipping around on the Segways having a bunch of fun.  That mutated later into Pat trying his hand on the cheap EUC to see how it would feel.  He struggled for a little bit but by the end of the day he was rolling around the back yard on my Msuper somewhat competently.  It seems pretty much every person I have assisted in learning to ride an EUC has picked it up quicker than I have.  Maybe that means I am a great teacher, however I think the more likely scenario is I am just a slow learner.
We wound up going over to the Greenway to ride around which Pat and Nico both seemed to really enjoy.  The sensation of riding a Minipro or an EUC is a little bit like flying which Nico really thought was cool.  Cindy had a class Tuesday evening so the remaining three of us just hung out more at home with more EUC practice, hanging at the pool, and flying my Mavic.  I gave both Nico and Pat time behind the sticks.
On Wednesday morning Cindy had another class to teach.  I called the nearby Tuffy to see if they would be able to align my Tacoma, which is a requirement after installing the lift/leveling kit.  I was happy to hear they could squeeze me in.  I decided this was a good opportunity to get a more extensive test ride in on the Monster.  I threw the humongous wheel in the truck and used it to ride the roughly 10 miles back to the house.  Right now the wheel feels awkward to control doing tight turning but for open road commuting it is fantastic.  The 22 inch diameter wheel just eats up bumps like nothing and it is extremely comfortable cruising at 20+ mph for as long as you need it to. Be sure to watch the video to hear my experience with the inept woman at the drive thru ATM.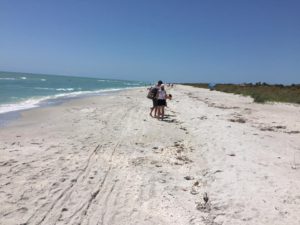 When Cindy got back we piled in the Prius to head to Bowman Beach in Sanibel.  Nico is an avid sheller and Sanibel is one of the best beaches in Florida to collect shells.  The drive up there is long, easily taking 90 minutes, but it is worth it.  The natural beauty of Sanibel is hard to beat.
We walked a stretch of beach for over an hour and half enjoying the refreshing water and amazing assortment of shells in the sand, free for the picking.  Nico grabbed an amazing assortment of beautiful shells.  Cindy snagged a bunch of cool ones as well.  Even though the sun was melt your skin hot, the simple beauty of the beach made hanging out there a very enjoyable experience. The custard ice cream we grabbed on the way home added to the enjoyment.
On the way home we swung by Tuffy so I could pick up my truck.  I was somewhat worried that I would get the truck back in worse shape than I dropped it off.  When I had Tuffy install tires and align my 99 Tacoma a couple years back the steering wheel was slightly off center which annoyed me but not enough for me to take it back.  I was glad when I saw the wheel on the Tacoma was still dead center as I left it. The truck felt no different after the alignment and I didn't expect it to.    The ride of the truck has felt pretty much identical to pre-lift which is exactly what I hoped for.  The only difference is now I see eye to eye with most full size trucks on the road instead of slightly below them.
Cindy made a nice spaghetti dinner for all of us that we enjoyed while watching The Accountant.  The movie was interesting as it didn't have the plot I expected.  I enjoyed it enough to push it into A- category.
This morning Pat and Nico were up early with us to prepare for shoving out for a long drive up to the Florida panhandle.  They are going to be camping the next two nights up there before rolling into New Orleans for the weekend for a crazy conclusion to their trip.  Cindy and I really enjoyed their visit and hope it won't be long before they come down again.  Both Patrick and Nico are such good people, it just makes you feel better about the world spending time with them.
I now get to dig back into what is going to be a very hectic couple weeks where we are tasked with transplanting the majority of our staff from one building to another without losing functionality.  As in most things I just will keep my head down and keep plowing ahead.