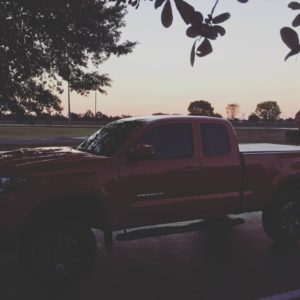 I have a very intense week of work ahead of me so I figured I would be well served to get the weekend recap out of the way now.  Any blogging for the next week or so may be sparse.
I decided to flip my weekend running schedule around and run on Saturday morning instead of Sunday.  This is something I may try to do more regularly as it makes more sense.  Since Cindy teaches class on Saturday she has to get up anyway.  On Sundays she doesn't teach so the 6AM alarm wakes us both up on the one day we could sleep a little bit.  So running Saturday allows us to truly have Sunday as a day of rest , if we want it. I used to always do my running on Satu
I skipped last weeks run because of a sore IT band.  It didn't really feel much better this week but I needed to get out there so I didn't start to lose my base endurance level.  The run felt uncomfortable from start to finish but I got it done.  Cindy actually came with me and did some running of her own, the first time she has done that in a long time.
Another reason I wanted to get out to run Saturday morning was to take advantage of what is probably our last cold front for the next six months.  The morning temps in the low 60's with low humidity felt just about perfect.  I told Cindy we need to find a place to live that has weather like this all year round.
When we got home we dug into some chores before heading out to Home Depot.  I wanted to get a bunch of top soil and sod to raise and repair an area by the large shed the chickens had excavated.  I wanted to get this spot filled in before wet season started to have one less pond in the yard and to make it more difficult for Elsa to crawl under there.  We were able to get the dirt but all the sod was gone unfortunately.  Cindy may try to pick some grass up during the week.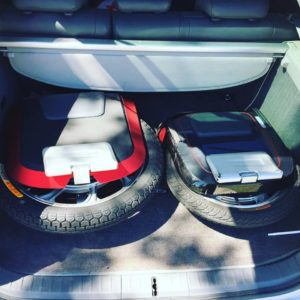 Later in the afternoon Cindy and I headed out to ride the EUC's at north Collier park.  We only brought the Monster and the Msuper.  It was the first time Cindy rode just the Msuper, we wanted to see how her feet felt as a result.  The answer was much better, riding the big wheel with large foot pedals definitely was more comfortable for her.
On the way home we decided to stop at Fuzzy's Tacos, a place Ali had recommended several times.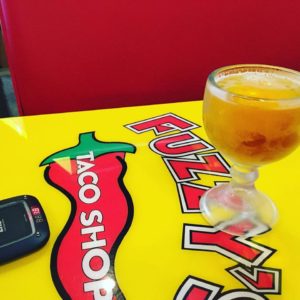 We quickly found out why Ali and her boyfriend liked it so much.  The food is excellent and affordable and the beers are CHEAP.  The 18 ounce beer you see in the picture costs $1.89 every day.  We will definitely be returning in the future.
This morning when we woke up I got the idea in my head to go try to get sod somewhere else.  We went to Lowe's and another Home Depot and struck out both times.  For some reason none of the chains seem to be able to stock enough sod to meet the demands on the weekend.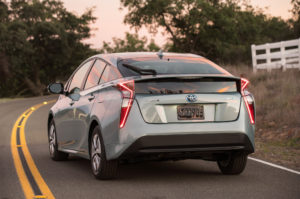 We did get a chance to stop by our local Hyundai dealer to get a look at the Ioniq, the new hybrid that came out recently.  With Cindy's Prius rapidly approaching 200,000 miles we are thinking about the future.  Normally we would have looked seriously at a new Prius which I am sure are still good cars.  There is only one problem, they are butt ugly.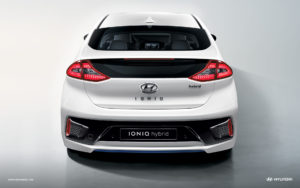 The Ioniq not only looks better, it gets slightly higher mpg than the Prius.  They had a couple of them on the lot and one was unlocked which allowed us to get a pretty thorough first hand look at the vehicle.  It looked good in person and I am a fan of the Hyundai warranty, 5/60k bumper to bumper, 10/100k on the power train and UNLIMITED warranty on the battery pack.  So although I don't think Cindy is ready to pull the trigger on a new vehicle quite yet, I think the Ioniq will be her target when it happens.
Late morning we loaded Sadie and Elsa in the Prius for a trip to Rural King to grab a few items.  Sadie loves car rides and Elsa loves Sadie so taking the two of them works out well.  Having Sadie by her side helps Elsa overcome some of the jitters she can have in public.
The rest of the day has been pretty chill.  I took a quick ride on the Monster to the school and rambled on about various things.  Feel free to check it out.  I am hoping by this time next week I will have crested the large mountain of work that I need to accomplish.  It will be nice to have it behind me.