So we arrived at Worcester MA rather late, somewhere around 7:30.  Cindy booked a Hampton's Inn which was only a year and a half old and just beautiful inside.  The rooms still smelled like new construction.  The place had every convenience you could want and it was immaculately clean.  To think we paid less for this room than the shithole we stayed at night one is pretty incredible.
We walked to a nearby restaurant called The Fix which was inside of an old renovated factory building.  I had a very tasty veggie burger and Cindy had her second burger in as many days.  She enjoyed it as well.  Although in the moment you are consuming the food, it tastes good, overall I am very much looking forward to eating my normal cleaner diet.  Existing on restaurant/fast food most of the time would be miserable.  I don't know how so much of the US population does it so much.
We both got a solid's nice sleep in the luxurious accommodations.  We enjoyed our best free continental breakfast of the trip.  Not only were the food choices impressive, the staff was right there picking up any crumbs the second they hit the table.  The dining area was beautiful as well with pop up power outlets on the top of some of the tables.  It was the type of place you would want to spend more time at but alas, that was not an option.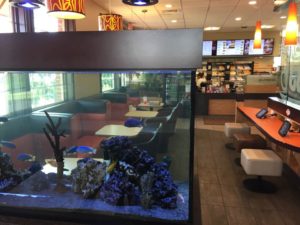 Our Dunking Donuts stop in the morning was different.  It was cool inside and featured a huge salt water fish tank, the first time I ever saw such a thing inside a coffee establishment.  I stared at the tank while Cindy finished up in the bathroom.
I then saw on a wall that they sold "nitro coffee".  You may think that just means coffee with extra caffeine but you would be incorrect.  Instead they actually infuse their iced coffee with nitrogen which somehow allows it to be served extra cold without using much ice, neato.
Cindy fell in love with some ridiculously sized DD drink container, it was big enough to be a small fishbowl.  She bought it and said she would use it to make sure she drinks that amount of water daily.  I will believe it when I see it.
So the drive today which is supposed to end up in Richmond Virginia did not look bad at all on paper.  The GPS initially said we could expect to arrive around 5PM.  Well after an absolutely MISERABLE driving day thus far, our current ETA now sits at 7:45 PM, and climbing.
I don't know if I can adequately verbalize just how f'ing aggravating it is driving through the I-95 corridor.  It is truly maddening and I have no idea how people that live in this region deal with this bullshit day in and day out.  What is the worst is twice today, the humungous delays were caused by lane closures for road work.  However once we got to the closed lanes, there was absolutely no work going on.  It almost felt like the road crews just wake up and say "hey, let's fck with people today" and close lanes unnecessarily.  Cindy shot a Facebook Live video while we were in the middle of one of our delays that may have shown a small amount of the level of aggravation I was feeling.
Of course the nonstop toll raping continued throughout the ordeal.  With as much money as commuters hand out in tolls I would think much, much better road conditions should exist.  I wonder where it all goes….
So as I look upon this trip, there have been some definitive great moments and if the trip only involved getting to Rehoboth things would have been fine.  However, the traffic, tolls, and parking experiences since Rehoboth have been absolutely miserable.  I can tell you with great assuredness I will never do a road trip up the northeast corridor the rest of my breathing days. It f'ing sucks.