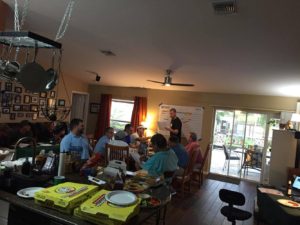 So last night was the annual fantasy football draft party that I have hosted at the house for something in the neighborhood of 10 years.  When I got home I was pleasantly surprised that Cindy had actually done pretty much everything ahead of time in regards to prep.  All the furniture was moved, the house was cleaned, and the food was staged. It was great.  All I had to do leading up to the party were a few technical details and drink some beer.
I had sent out an email the night before encouraging people to arrive a little early so we could start on time.  I was amazed that for the most part people did just that.  Unfortunately we still got a late start due to some problems a couple remote owners were having getting their Skype connection up.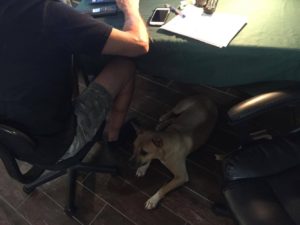 Cindy and I assumed Elsa would hide in the office or bedroom all night with all of the people in the house.  She did sort of hide under the table I had set up for my laptop but she also cautiously interacted with some of the guys which was cool.
As is always the case, I put little to no effort into draft research other than printing out an ESPN player ranking sheet by position.  I have found that years I thought I had a good draft didn't necessarily translate into having a successful year due to injuries or just bad luck.
Somewhere around halfway through the draft I started letting Cindy help make picks.  I had a number of beers at that point and just didn't care much about the bottom half of the roster.  She picked players based on names she liked first, their placement on the ranking charts second.  Although the end result of this system was an overall D rating of my draft it was still a funny way to do it.  If Tom Brady and the Gronk stay healthy all year I might still have a chance.  My running backs are very mediocre and that may hurt me a lot.
As usual I over indulged in food and drink but not as severely as some parties in the past.  The party broke up somewhere around 10:30.  Cindy and I busted it to get things 95% cleaned up before taking showers and hitting bed.  Today I officially begin my 5 days off.  I have a number of projects rolling around in my head that touch many areas including 3D printing, EUC, car upgrade, and of course house maintenance.  I hope to of course have some just chill time thrown in there for good measure.