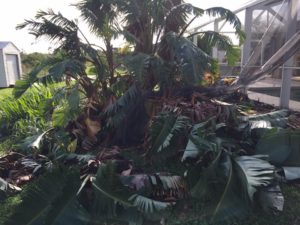 Well it seems like life the last few weeks has just been a big blur.  Between post hurricane things and our renovation project at work my normal routines have just been thrown out the window.  In the last three weeks I think I have gone to the gym once.  I just have had no time. Blogging obviously has taken a severe hit as well.
Today I met with an insurance adjuster so he could document our damage.  Of course the biggest concern of all is the roof, followed by the pool cage damage.  The adjuster, who was a nice guy that came down from Mobile, Alabama seemed thorough in his documentation.  He showed me the drawing he made of the roof damage and commented that he would assume with it being as widespread as it is that the insurance company would agree a re-roof is necessary.
If that is indeed the agreed upon remediation I need to then see how I can work something out where the house gets a metal roof instead of another shingle job.  Metal lasts forever, will reflect heat and is very wind resistant.  The adjuster said he saw lot of damage to tile roofs, less to shingle roofs and no damaged metal roofs so far.  I am hoping going the metal route is as simple as me agreeing to pay the difference between a shingle and metal alternative.  To be honest I think the cost might be very close because with a new shingle roof they would have to strip all of the old shingles first which adds a ton of labor cost to the job.  A metal roof can go right on top of shingles.
The property is pretty cleaned up from the hurricane, as much as it can be at least at this point.  I still need to find a home for the two new ac units in the sheds and devise a way to store them so they do not become housing units for insects and/or rodents.  I have a few minor repairs to tackle which hopefully can get crossed off the list this weekend.
I have finally resumed my 3D printing projects however my big CR-10 has been giving me some annoying problems I am trying to sort out.  The user community for the printer is incredibly robust so there is more or less no question you can ask that someone does not have an answer to.
Oh I forgot to mention, in the way too busy theme, this past weekend I worked half the day Saturday and then drove with Cindy to the Coconut Grove area for her class reunion.    I have never attended any of my class reunions so this was a first for me.  Even though I obviously knew noone except Cindy, I managed to mix in pretty well thanks to a steady flow of Budweisers.  As I was finishing off my 7th or 8th I actually ventured onto the dance floor with Cindy, who had been dancing up a storm with her former classmates a good portion of the night.
We stayed at the same hotel the reunion was held at, The Mayfair.  It was one of the most unique and beautiful places I have EVER stayed.  If you are in the Miami area and want to treat yourself, book a room at The Mayfair.