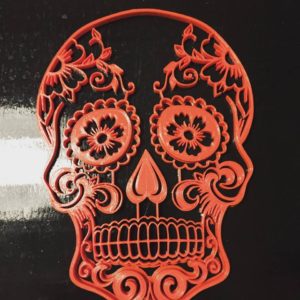 Last night I was doing some 3D printing, including this ornate sugar skull model.  I printed it on the AnyCubic i3 Mega which has become the favorite of the five printers I own.  It just works and I love the control panel as well as the build surface which holds prints on tight when warm but allows them to pop off effortlessly when cool.
So I read that the military parade that Donald so badly wants, you know the type you see in North Korea and Russia, is actually going to happen.  It just seems like such a monumental waste of time, money and resources to serve no practical purpose other than stroking Donald's immense ego.
There is a reason there hasn't been a military parade in something like 25 years, they make no sense.  Of course not making sense is a staple of this administration so I guess maybe, this makes sense?  F it.
And now with the plugs!
Ender 2 on GearBest EU Plug – https://goo.gl/v5bNRG $159 USE COUPON – "Enderen"
Ender 2 on GearBest US Plug – https://goo.gl/v5bNRG $159 USE COUPON – "ENDERC"
AnyCubic I3 MEGA – US WAREHOUSE – https://goo.gl/BKwhEu $329.99 USE COUPON – "I311GBUS"
AnyCubic I3 MEGA – CHINA WAREHOUSE – https://goo.gl/BKwhEu $315.99 USE COUPON – "I3MEGA"
CR-10 on GearBest – https://goo.gl/6M9DHi use coupon – GBCRUS
CR-10S5 on GearBest – https://goo.gl/3295a6
CR-10S on GearBest – https://goo.gl/rFztnC
GearBest US Warehouse specials! – https://goo.gl/nvL8uF
Get free cash back for stuff you are buying anyway – https://www.ebates.com/r/DUF391?eeid=28187
Esun Cleaning Filament – http://amzn.to/2zP3qwW
Creality Cr-10 3D printer – http://amzn.to/2w7yqIF
Dagoma Neva 3D printer – http://amzn.to/2hYNjoV
FlashForge Finder 3D printer – http://amzn.to/2sCllp7
Hatchbox white PLA filament – http://amzn.to/2rrIfMt
ESun white PLA filament – http://amzn.to/2sBRv42
The gimbal I use – http://amzn.to/2lJbZCa
My GoPro camera – http://amzn.to/2kkBUmJ
GoPro foam windscreen – http://amzn.to/2maDI2B
Selfie stick – http://amzn.to/2mJTJLL
Segway MiniPro – http://amzn.to/2lddTNt
Segway S1 – http://amzn.to/2A8CkQQ
DJI Mavic Pro – http://amzn.to/2kpV4Tk
My EUC protective gear
Killer 187 Wrist Guards – http://amzn.to/2p8y9m9
Triple Eight Helmet – http://amzn.to/2p8uuoH
STX Elbow Pads – http://amzn.to/2oNMrYJ
Killer 187 Knee pads – http://amzn.to/2oYtAHw
Looking for Gotway, Inmotion or KingSong electric unicycles?
Go here for free shipping! – http://ewheels.com/eucarmy
Check out all my sites!
http://eucarmy.com
http://duf.net
http://dufisthenics.com
EUC Army YouTube – https://youtube.com/eucarmy
Duf 3D YouTube – https://www.youtube.com/channel/UCBnqqxnkBqc5ISDQRr0YkiA
Social media
Instagram – @duf67
Twitter – @duf67
Cindy's site – http://fitfarmchick.com
Cindy's YouTube channel – http://youtube.com/fitfarmchick