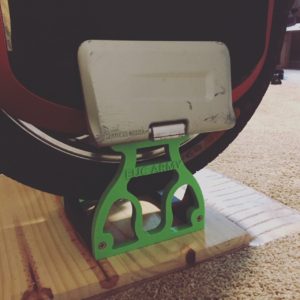 Ever since I started 3D printing stands that Mathias designed for my electric unicycles I have gotten positive comments about them from the community online, including interest in possibly purchasing them.  I have been printing out some updated designs, replacing some of the originals I made.  At this point I have almost a half dozen spares.
Well last night out of the blue I decided to look at store plug ins for WordPress, which is what I use for eucarmy.com.  I quickly landed on something named WP Easy Cart.  Even the free version had everything I would need.  The software seems to be the right mix of simple to set up for basic needs while being able to add features if you are building a real storefront.  I was quickly able to add a few listings and allow customers to pay for the items with Paypal.
One of the trickiest things to deal with is shipping costs.  For that reason I am only shipping to the continental US for now.  Based on how things go, and demand, if any, I may ship elsewhere if I can find a way to do it with reasonable cost.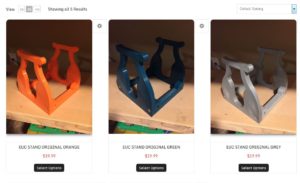 Like I said this is entirely experimental.  Cindy thinks there are a number of things that I have 3D printed that could be sold and she has been making a ton of sellable items with her Cameo 3.   I guess we'll see how it goes.  As I left the house this morning I had three of my five printers cranking out EUC stand parts.
When I was driving back from the gym yesterday I found myself getting annoyed, as I often do with moronic behavior by other drivers.  I randomly started singing an obscenity filled song in tune with what was playing on the radio.  Once I got back I remembered how my dash cam records audio.  Last night I ripped off those segments of the footage to hopefully add to a dash cam compilation in the future.  I played the clips for Cindy, it made her laugh out loud, hard.
And now with the plugs!
Ender 2 on GearBest EU Plug – https://goo.gl/v5bNRG $159 USE COUPON – "Enderen"
Ender 2 on GearBest US Plug – https://goo.gl/v5bNRG $159 USE COUPON – "ENDERC"
AnyCubic I3 MEGA – US WAREHOUSE – https://goo.gl/BKwhEu $329.99 USE COUPON – "I311GBUS"
AnyCubic I3 MEGA – CHINA WAREHOUSE – https://goo.gl/BKwhEu $315.99 USE COUPON – "I3MEGA"
CR-10 on GearBest – https://goo.gl/6M9DHi use coupon – GBCRUS
CR-10S5 on GearBest – https://goo.gl/3295a6
CR-10S on GearBest – https://goo.gl/rFztnC
GearBest US Warehouse specials! – https://goo.gl/nvL8uF
Get free cash back for stuff you are buying anyway – https://www.ebates.com/r/DUF391?eeid=28187
Esun Cleaning Filament – http://amzn.to/2zP3qwW
Creality Cr-10 3D printer – http://amzn.to/2w7yqIF
Dagoma Neva 3D printer – http://amzn.to/2hYNjoV
FlashForge Finder 3D printer – http://amzn.to/2sCllp7
Hatchbox white PLA filament – http://amzn.to/2rrIfMt
ESun white PLA filament – http://amzn.to/2sBRv42
The gimbal I use – http://amzn.to/2lJbZCa
My GoPro camera – http://amzn.to/2kkBUmJ
GoPro foam windscreen – http://amzn.to/2maDI2B
Selfie stick – http://amzn.to/2mJTJLL
Segway MiniPro – http://amzn.to/2lddTNt
Segway S1 – http://amzn.to/2A8CkQQ
DJI Mavic Pro – http://amzn.to/2kpV4Tk
My EUC protective gear
Killer 187 Wrist Guards – http://amzn.to/2p8y9m9
Triple Eight Helmet – http://amzn.to/2p8uuoH
STX Elbow Pads – http://amzn.to/2oNMrYJ
Killer 187 Knee pads – http://amzn.to/2oYtAHw
Looking for Gotway, Inmotion or KingSong electric unicycles?
Go here for free shipping! – http://ewheels.com/eucarmy
Check out all my sites!
http://eucarmy.com
http://duf.net
http://dufisthenics.com
EUC Army YouTube – https://youtube.com/eucarmy
Duf 3D YouTube – https://www.youtube.com/channel/UCBnqqxnkBqc5ISDQRr0YkiA
Social media
Instagram – @duf67
Twitter – @duf67
Cindy's site – http://fitfarmchick.com
Cindy's YouTube channel – http://youtube.com/fitfarmchick