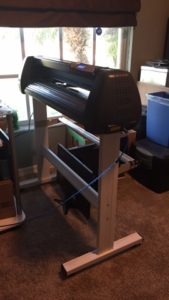 So yesterday a huge box arrived. It was the large format vinyl cutter that we ordered last week for Cindy.  It has a 34 inch width capability and looks like a plotter that is used to make blue prints.  The price of the unit was not a ton more than the Cameo that Cindy has been having so much fun with.
So last night Cindy and I worked on putting the unit together which basically meant assembling the stand and attaching the cutter to it.  It became very apparent that this was a made in China product with sparse directions that are written in poor English.  It took some time to interpret them correctly but eventually we got everything together and feeling solid although it's reliance on self tapping metal screws is a bit odd.
So once it was together we attached it to the computer and I installed the software.  The installation went smoothly but getting the cutter recognized in the software did not.  It just wouldn't work.  When I went online to look for answers I instead found other people complaining of a similar problem, they never could get the cutter to talk to the software and many of them wound up returning the cutter for that reason, great….
I went as far as to install the software a second time on Cindy's laptop and had identical failures.  I was about ready to bag it for the night but decided to dig around a little more.  In the connection properties for the cutter I had selected USB which seemed logical since it was hooked up via, USB.  However when you would try to detect the cutter it would just throw a cryptic error.  Well just for the heck of it I decided to set it to serial and picked the COM port the driver created.  Bam, it worked.  Cindy and I were relieved that we got basic communication established before going to bed.  It's no wonder so many people returned it.  If it took me an hour or more of futzing to find the undocumented resolution, the likelihood of the average person doing the same are very slim. I look forward to see what Cindy is able to do on this monster machine.
We have an unexpected road trip that popped up a couple days ago.  I just happened to get a notice on Facebook that the Miami Maker Faire was this weekend.  Maker Fair was started by Make Magazine, which I get, several years ago.  It is all about creators that do so in various ways including robotics, 3d printing, fabrication, RC, and much more.  I threw out the idea to Cindy and she was all in.
So we are making a day trip of it, pulling out tomorrow morning relatively early and returning in the evening.  Ali and Shuggs agreed to watch Elsa for the day so it should work out perfectly.  As much as I enjoy my normal weekend routines it's nice to abandon them here and there.
And now with the plugs!
Ender 2 on GearBest EU Plug – https://goo.gl/v5bNRG $159 USE COUPON – "Enderen"
Ender 2 on GearBest US Plug – https://goo.gl/v5bNRG $159 USE COUPON – "ENDERC"
AnyCubic I3 MEGA – US WAREHOUSE – https://goo.gl/BKwhEu $329.99 USE COUPON – "I311GBUS"
AnyCubic I3 MEGA – CHINA WAREHOUSE – https://goo.gl/BKwhEu $315.99 USE COUPON – "I3MEGA"
CR-10 on GearBest – https://goo.gl/6M9DHi use coupon – GBCRUS
CR-10S5 on GearBest – https://goo.gl/3295a6
CR-10S on GearBest – https://goo.gl/rFztnC
GearBest US Warehouse specials! – https://goo.gl/nvL8uF
Get free cash back for stuff you are buying anyway – https://www.ebates.com/r/DUF391?eeid=28187
Esun Cleaning Filament – http://amzn.to/2zP3qwW
Creality Cr-10 3D printer – http://amzn.to/2w7yqIF
Dagoma Neva 3D printer – http://amzn.to/2hYNjoV
FlashForge Finder 3D printer – http://amzn.to/2sCllp7
Hatchbox white PLA filament – http://amzn.to/2rrIfMt
ESun white PLA filament – http://amzn.to/2sBRv42
The gimbal I use – http://amzn.to/2lJbZCa
My GoPro camera – http://amzn.to/2kkBUmJ
GoPro foam windscreen – http://amzn.to/2maDI2B
Selfie stick – http://amzn.to/2mJTJLL
Segway MiniPro – http://amzn.to/2lddTNt
Segway S1 – http://amzn.to/2A8CkQQ
DJI Mavic Pro – http://amzn.to/2kpV4Tk
My EUC protective gear
Killer 187 Wrist Guards – http://amzn.to/2p8y9m9
Triple Eight Helmet – http://amzn.to/2p8uuoH
STX Elbow Pads – http://amzn.to/2oNMrYJ
Killer 187 Knee pads – http://amzn.to/2oYtAHw
Looking for Gotway, Inmotion or KingSong electric unicycles?
Go here for free shipping! – http://ewheels.com/eucarmy
Check out all my sites!
http://eucarmy.com
http://duf.net
http://dufisthenics.com
EUC Army YouTube – https://youtube.com/eucarmy
Duf 3D YouTube – https://www.youtube.com/channel/UCBnqqxnkBqc5ISDQRr0YkiA
Social media
Instagram – @duf67
Twitter – @duf67
Cindy's site – http://fitfarmchick.com
Cindy's YouTube channel – http://youtube.com/fitfarmchick