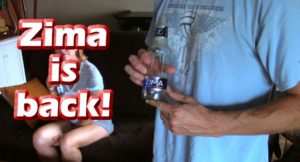 I just got fantastic news yesterday.  They are re-releasing Zima on May 7th for ANOTHER limited production release.  They did the same thing last summer.  The release last year was a huge success and they sold out of product very quickly, leaving Zima addicts craving more.
Despite the running joke that Zima became over it's initial lifespan, it is my favorite alcoholic beverage of all time.  The taste is great and the alcohol content is pretty high at 5% so it makes for a potent combination.
I wasted no time to track down potential sources for Zima, calling Total Wine last night at 9:30 to see if they planned on carrying it again this year.  The clerk on the phone was unable to confirm if they were or not which was a bummer but I have Cindy doing more reconnaissance for me this week.  I will make better provisions for stockpiling this year.  Last time we bought by the six pack, this time it will be by the case.