So we dropped off Elsa Saturday morning at Ali's place.  Ali was nice enough to agree to dogsit her for the night while we were gone.  Elsa stayed with them once before and it worked out really well.  We wound up talking to them longer than expected and subsequently pulled out for the east coast later than I hoped.  Originally I had ideas of leaving around 8, instead we didn't hit the highway until 9:45.
So I tried to go with the flow.  If we left early enough I had ideas that we could go to the convention first without our costumes on and then go back to the room, gear up and head back later.  I figured with our delayed departure we would have to just go to the hotel, change, and then head over.  I had no idea that leaving late was going to also carry a VERY severe penalty, in traffic.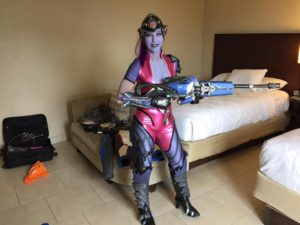 The highway portion of the drive was without incident however once we entered the city limit of Fort Lauderdale we hit incredible grid lock.  This was not traffic, this was a parking lot.  If these sort of situations aren't annoying enough, they are exasperated by people being idiots, thinking they are going to somehow get a few feet ahead of the poor schlub behind them.  Non-stop Cindy and I saw people being assholes and it catching on in typical lemming behavior.  "Hey if that guy can be an asshole, I will be too" The most egregious idiot was tractor trailer that decided to do a U-turn into the stopped traffic.
So believe it or not, we sat in this hell for nearly 90 minutes.  We assumed all along that there had to be an accident on 17th street where both our hotel and the convention center was located.  When we finally bypassed the quagmire we realized the problem was just HORRIBLE logistics.  For whatever reason, the people managing parking at the convention center must have been absolutely awful at their job.  The traffic was entirely caused by cars waiting to get into the convention parking garage.  Even though we were not going to the convention quite yet we were stuck because the hotel was a mile beyond Supercon. Imagine my joy when we drove by the building and saw a line of people at least a 1/4 mile long snaking around the building in the sweltering heat, waiting to get in.
By the time we got in the room I was sort of done, I didn't want to think about Supercon, I was just glad to be out of the damn car and out of the stationary traffic.  After we grabbed an overpriced lunch on the hotel grounds, Cindy began her prep work which was extremely extensive.  I knew I had a lot of time to wait based on past cons.  I almost fell asleep on the bed as I just chilled out.  Finally it was my time to get ready.  My prep was pretty simple.  I put on long pants, my thick, way too hot for Florida Soldier 76 coat, and had Cindy spray some gray shit in my hair and paint some black shit around my eyes. I bet her prep took nearly two hours.
We originally were going to take one the hotel shuttles but with all of our props we decided to Uber it over there.  We were most worried about Cindy's meticulously crafted sniper rifle getting damaged.  We did catch our first break of the day when we saw the line to get in was no longer snaked around the building.  I carried in my coat and mask as I didn't want to broil wearing it outside.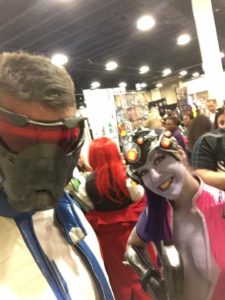 So we finally got inside and had to go through "prop check" where they verify your guns can't fire any ammunition.  After that we probably were supposed to go stand in another line where they convert your QR code paper to a badge you wear around your neck.  Somehow instead we got directed to a security guard that just waved us in.  Since we were both fully decked out at that point I guess he figured entrance was a formality.
So it only took me a minute or two in my full costume to know it was going to be rough.  Despite a ton of effort by Cindy, there was only so much that could be done to assist in comfort.  She padded the mask well and added a bunch of holes to assist in breathing.  Even so the temperature and humidity levels in the mask rose very quickly.  Before very long I had condensation forming on the red lens inside.  The heavy fake leather coat had sweat forming on my back in no time.  I just sucked it up and dealt with it.  I knew I was going to be hot going into it.
It took no time at all for the picture requests to start up.  Cindy's costume was especially amazing.  The fact that she was painted bluish/purple with a deep, plunging neckline didn't hurt either. It seemed like a chain reaction, once one person asked for a picture, another half dozen would ask as well, there are evidently a LOT of Overwatch players at Supercon.  Cindy and I patiently posed for every picture request.  If you are going to dress up like we did and not expect to be photographed a lot you are delusional. Besides being hot, the mask had the unfortunate side effect of making it almost impossible for Cindy to hear me with all the ambient noise.  I had to practically scream six inches from her ear if I wanted to get her attention.
The crowd inside the hall was maddening most of the time, there was just far too much humanity jammed into too small of a space for me.  It was just crazy.  We were worried about someone damaging Cindy's rifle with it being so crowded but she did a good job of keeping it in a protected position most of the time.  Periodically we would just steer ourselves towards spots where there were less people to catch a breather, figuratively and literally.  I would take my mask off randomly just to try to cool down a bit.
Cindy had some funny interactions with some of the celebrities there.  She met and talked to the guy that plays Abraham on Walking Dead, well he used to until his character got his head beat in.  She also talked to the guy that plays Eugene, Cindy said he seemed like he was high as a kite.  They also had cast from the Karate Kid, the bad kid, the bad kid's evil sensei and Ralph Macchio himself. There was a very funny interaction between Cindy and Ralph when he asked her what time the con ran until.  When she told him 8PM he said "Great, two more fcking hours…" as he laughed.  I am sure it has to get exhausting acting like you give a damn about all the people that come up to you asking you to wax on and wax off all day long.
The other celebrities there did not seem quite as mainstream as we have seen at other cons but we did catch a glimpse of Lee Majors right before he skipped out to take a break.  Of course 75% of the people there probably had no idea who he was at this point.  The 6 Million Dollar Man was one of my favorite series growing up.
One of the downsides of attending in costume is you really do not get to take in very much at all.  Between picture requests and just getting moved along by human rivers it was really hard to spend a lot of time looking at stuff.  Again, we knew that was just the way it was if you dress up so I can't complain about it.  I felt happy that all the work Cindy put into the costumes was being recognized by all of the attention she was getting.  The detail she went into was nuts when putting the stuff together.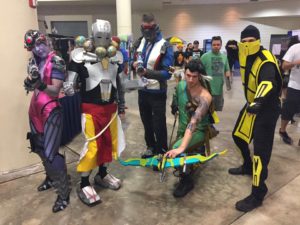 We had fun meeting other people dressed up as Overwatch characters and took a lot of pictures as groups.  Unfortunately again, when you are the picture subject matter, you don't get too many pictures yourself.  A few times we handed my phone to a nice bystander that took some shots for us.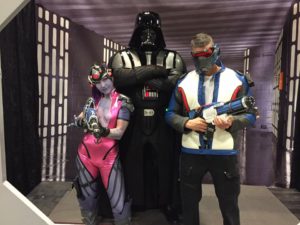 They also had some cool sets that you could take your picture on.  We got pictures on a Star Wars, Star Trek, and a military set, they turned out cool.
So we walked around, mostly in character up until 7:30, a half hour before the main area closed.  Cindy and I were both beat so we decided to call an Uber to shuttle us back.  Ironically just as we were about to catch the car, a young girl we met in our hotel lobby was outside as well, looking to get back to the hotel.  Cindy said she could hop in the Uber with us if she wanted.  After verifying with her dad it was ok she accepted the offer which worked out well for her.
I was not very happy with this Uber driver.  For some reason he felt like late July in Florida did not require AC.  Instead he had his window down all the way.  Since the drive was only roughly a mile it wasn't worth making a stink about but I thought it was odd.  My annoyance with the guy clicked up a few more notches when I realized today that he charged us a 27 cent "waiting" surcharge.  The thing is he was only waiting because he didn't come to where we were, we had to walk 75 yards to him, so he charged us for it. Idiot.
When we got to the room we were beat, really beat.  We shot a brief video summarizing the experience before we began the clean up process.
So I let Cindy shower first as she obviously had more work to do than me.  When it was my turn I grabbed a wash cloth, soaped it up and started trying to scrub around my eyes to get the black gunk off.  Well all of a sudden I got a severe burning sensation in my right eye, I couldn't open it from the pain but I immediately tried to flush the eye with the shower water.  It hurt really, really bad.  It took awhile  until I could keep the eye open and when I did, the eye was bright red.  I am not exactly sure what happened but I think I either got some of the black make up or the stuff  that was in my hair into my eye.  All I do know for sure was it felt like battery acid.  I stopped the eye cleaning process and still have black marks around both eyes which I hope will come off with normal cleaning cycles.
It was approaching 9PM by the time we got all cleaned up but we hadn't eaten dinner yet.  We decided to check out a place on the hotel campus called Pelican Landing which overlooked the water that goes under the 17th street drawbridge.  We sat along the rail so we got to watch the boats traveling back and forth.  It was cool.  We had a waitress originally from Russia, named Olga.  The food was good but pricey, a theme repeated during our stay, more on that soon.
On the way back from eating we found our car in the parking lot and pulled out the two EUC's.  We thought it would be safer to keep them in the room with us.  We rode them around the parking lot a little bit before riding them up to the door of the room.  It was fun.  It wasn't fun trying to get into the room.
The keycards or more accurately the door lock they are used on was very glitchy.  You could not simply insert the card and remove it to get the door to open.  It required a very specific angle and speed of insertion and removal.  It took us no less than a dozen tries until we were successful.  There were other things about the room that were not up to what I would expect by Hilton standards like a toilet seat that was half broken, a towel bar that would fall to the ground when you pulled a towel off of it, a box of tissues that were drenched, and a bathroom fan that sounded like an airplane motor with a spun bearing.  It didn't take me long to pass out Saturday night, I was exhausted.  I didn't sleep as soundly as I would hope but it wasn't terrible.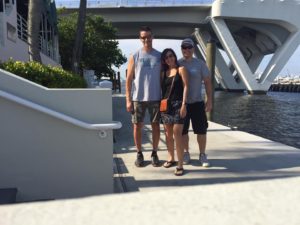 Randall made arrangements to come meet us for breakfast Saturday morning.  Originally we hoped he would bring his EUC to ride but his tire was out of air and he misplaced the valve extender that is needed to inflate it.  We caught up and had a nice breakfast at another in house restaurant although again, the dramatic premium pricing was pretty disgusting.  $80 for three people to have breakfast is just stupid in my opinion.
We walked around the grounds a bit and showed Randall our room.  We then walked out to the Prius to get out the wheels.  While Cindy was putting on her safety gear I told Randall he can jump on the Msuper to give it a try.  He was a bit wobbly but was able to stay on it.  We bid Randall farewell as Cindy and I headed out for a quick ride back and forth over the bridge.
The ride wasn't very tough, the hills we faced in Marco Island were much steeper.  The views on top of the bridge were very scenic of course.  Cindy was feeling beat up from Supercon so we were done riding in 20 minutes or less.  She did agree to ride down on the dock with me by the multi-million dollar boats which was a cool way to finish up the ride.
So the checkout at the hotel put an exclamation point on the overcharging fiasco.  The quoted $125 per night rate mutated into a bill of nearly $300 after the overblown food charges and annoying add ons like $30 for parking.  I am not sure how some hotels think that parking is an ala carte add on option but it's fcking ridiculous. But the bottom line is people keep paying it so they keep charging it.
The drive back to the west coast felt long.  We drove through multiple periods of severe rain but also had blue sky periods as well.  Elsa was very happy to see us of course.  She got a stellar report card from Shugs.  It made Cindy and I happy to know Elsa can stay with them and adjust so well since she will be doing it again for over a week soon.
When we got home we dug into unpacking and attending to the chickens since we just had the coop closed last night and opened this morning.  All the chicken chores had to still be done.  I was happy to see that almost ALL the water behind the coop has dried up at this point.  Sure there is plenty of black muck left behind but if we get lucky enough to have some more dry weather that will eventually turn back into dirt again I hope.
I took tomorrow off as well to do more house chores and change the oil in Cindy's Ioniq, readying it for the upcoming road trip.
So this was the third "con" Cindy and I have attended.  As I was sweating my ass off in the costume posing for picture after picture I tried to evaluate if the effort, time, and expense was worth the experience.  My answer to that is conditional.  Would I do it by myself? Hell no.  However Cindy is PASSIONATE about costume creation, she absolutely loves it.  If you saw how much thought and time she put into her costume and mine it would be hard to believe.  I think she also likes that people at the conventions recognize/appreciate her effort as the picture requests would indicate.  Because I know she gets so much out of it I am happy to support her by agreeing to go to these events. But I did learn a hard lesson that above all, comfort needs to be a primary consideration when choosing costume options.  If you are uncomfortable wearing something pretty much the entire time it just isn't worth it in my opinion, no matter how cool it looks.