So as part of my Saturday morning chores I wanted ot get the grass mowed and weed whacked.  The standing water had dried up so I knew in wet season you need to take advantage of these dry opportunities.  Cindy and I busted ass and got everything looking good, just in time for it to absolutely pour a couple hours later, submerging the grounds once again.  It's so frustrating.  When I walked back in the chicken area to turn the pump back on the water was only three to four inches from the top of my boots.
When I was doing stuff around the yard I was feeling some moderate discomfort from my right side.  It was the left over pain I had from doing dragon flags on Friday.  I was a little concerned that the pain, which seems to be right around where a liver is supposed to me, was still hurting.  The pain also erased running from the activity list for the weekend.  When I was crossing the Home Depot parking lot with Elsa and tried to transition into a light jog to avoid burning her feet I felt significant discomfort.  As the weekend progressed the pain has lessened so hopefully just avoiding dragon flags in the future will be the long term remedy.
Saturday night we got out to see the new Spiderman movie.  I found it interesting that Marvel basically decided to tweak the Spiderman origin story most of us know.  Despite this it somehow all worked which isn't surprising.  Everything Marvel touches just works.  Both Cindy and I really enjoyed the movie, earning a shiny A+ in my book.
Sunday morning Katie joined us for our EUC ride around some of the beautiful nearby developments.  She had my old Ninebot One that I gave to Daniel in her truck which Cindy hopped on and rode at the end of the ride. It was sort of a symbolic triumph for Cindy since it was her fall off the Ninebot One in the driveway that scared her from learning for months and months.  For her to be able to step up and do a few circles on the 9B1 like it was no big deal was a testament to how far she has come.  Cindy said she actually liked the way the 16 inch wheel felt.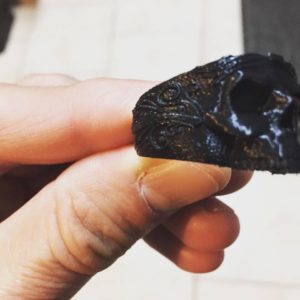 I did some more 3D printing over the weekend, printing a cool clamp style headset holder for Cindy, a small skull ring, a new phone case and a few other items.  I also got to do my first "fixing" of the FlashForge Finder.  When I was changing filament a piece seemed to get stuck in the extruder.  I had to do some minor disassembly to get access to the filament tube.  I then was able to use the included tools to clear the path and load in some fresh spool.
It's a good thing that I get some practice digging into the printer.  With the CR-10 large format printer I have on order there is probably going to be a lot of tweaking, improving, and fixing going on.
I recorded a second video during the afternoon recapping my experiences thus far with 3D printing.  For being complete novices, I think Cindy and I have created some pretty amazing objects.
Sunday afternoon was chill with Cindy working more on her costume designs while I worked more in WoW.  Since I unlocked the ability to fly in game it has made leveling characters significantly easier.  I now have six or seven of my 11 toons at max level and keep working on the what is left.
We watched 50 Shades Darker last night, a movie I rented because Cindy expressed interest.  I saw the first one with her and was not very impressed although it was some low level soft porn.  I thought the sequel suffered from a disjointed plot which I found a hard time caring much about.  Of course it was filled with large amounts of more soft porn once again so I can give it a B on entertainment value I guess.
I once again have not been sleeping well.  Lately it seems I wake up an hour or two before the alarm goes off and just fade in and out of consciousness until the bell sounds.