So Cindy and I decided to take down all of the Christmas decorations.  I don't believe I have ever taken stuff down before New Years but the weird timing of Thanksgiving being early and Christmas being on a Tuesday just made it felt right.  I knew that if I didn't do it on the weekend I would feel compelled to do it on New Years day when I am off and I didn't want to do that either.  Cindy was down with the plan as her daughter's birthday is next weekend so she also preferred to get it done sooner rather than later.
We got started early in the afternoon.  We picked a pretty terrible day to do this as it was ridiculously hot outside, 85+ degrees.  As I was sweating while disassembling the various yard decorations I gave thought to living in a place where the end of December does not include sunburn and mosquitoes.  We worked non-stop for over three hours taking everything down and putting it away, both indoors and out.  I used it as a reason to do some minor cleaning and organizing in the large shed.  Quite a few things either got curbed or thrown out.  As always I felt twinges of sadness during the process as I really enjoy the house being decorated during the holidays.  I also felt the usual twinges of relief when it was all done as I also enjoy when the house is in a "normal" state.
After we were done I took my One Wheel out for a short ride to both lift my spirits and do some more testing of my GoPro 7.  I talk about my mixed bag of feelings.
Saturday night we watched the new Deathwish movie, a reboot of the Charles Bronson classic, this time starring Bruce Willis.  When I first got the Netflix envelope in the mail Cindy said she didn't want to watch the move based on the title.  When I told her Bruce and a few other name actors were in it she changed her mind.  It was a classic revenge plot as you can imagine.  The transformation of Bruce to a cold blooded killer who takes pleasure in making the bad guys suffer is not very credible but I didn't really care.  It was standard B quality entertainment.
On Sunday morning Cindy and I headed out on what was supposed to be just a standard 20 mile DD ride with her on the Dualtron and me on the Gotway Monster.  It wound up being a 33+ mile ride after Cindy suggested some detours that made for an interesting change.  One of those changes was seeing the house Katie and Daniel are trying to buy.  We got to see it riding along Randall Blvd which I will never ride on again.  It's a two lane road with no shoulder and tons of traffic.  It was a fun ride, my feet and calves were burning by the time we got back.  Since the Dualtron allows Cindy to sit or stand as well as having cruise control she is now able to go on these long rides with me without huge problems which is great.
The Eagles had a crucial game yesterday, needing to beat the Redskins to have a chance to get into the playoffs along with the Vikings losing to the Bears.  The Eagles took care of business in a HUGE way, steamrolling the Redskins 24-0.  It was the third incredible performance in a row for Nick Foles, who at one point completed 25 passes IN A ROW, tying the NFL record.   This just seems surreal that this is the same team that could not get out of it's own way a month ago.  With Nick directing the offense on long time consuming drives time and again the defense, which has been mostly atrocious all year long, seems to have new life from not being on the field as long.  It was a dominating performance.  Nick went out late in the game after another shot to the ribs which makes me nervous but the early injury reports were it is just a bruise and should be able to go in the playoffs.  Oh yea, the Vikings lost. 🙂
The Eagles are in a very odd situation.  Their franchise QB, Carson Wentz, is again sitting on the bench while the team plays it's best football all year.  It certainly has made me ponder more than once if the team is actually better off as Nick Foles as the starter??  Statistically Wentz has had a good year but the team and the offense in general was not consistent at all, could not execute sustained drives, and Wentz did not spread the ball around well, locking in on  Zak Ertz most of the time.  Add in Carson's injury problems in his first two years, not what you are hoping for with a young QB.
Is it possible we have a Drew Bledsoe/Tom Brady situation in reverse?  Drew Bledsoe was an established, successful NFL QB who got hurt.  Tom Brady came out of nowhere and just won games and never gave the job back.  Right now it feels like the team responds better to Nick Foles than Carson Wentz, although Foles being older.  Nick is still a young man however, only 29 years old.  Is there any possibility the Eagles actually decide to move forward with Foles?  I doubt it but I for one would not object.  The most important thing to any Eagles fan is winning and especially winning when the pressure is on.  Foles has done that so many times now including on the biggest stage of all.  To me he has earned a starting QB spot, proving last year was not just a fluke.  If not with the Eagles, surely somewhere else.
It will be interesting to see if this miracle finish can continue into the playoffs.  The fact that the Birds are even in the playoffs is a huge win for me. One month ago I had zero expectations of us sniffing the playoffs.  Nick Foles luckily had other ideas.  A big thanks to the Vikings to choking, again.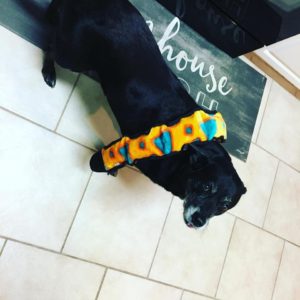 Yesterday was Sadie's 11th birthday.  We celebrated with the customary vanilla cupcake, she seemed to approve.
Cindy and I have no plans for New Years Eve.  I may do a live stream to test out some of the new gear she got me for Xmas.  Stop by if you are like us and prefer to avoid the drunk driver-fest which is this holiday.  The worst part will be having to endure the individuals that live around us that put so much value in putting on their own personal fireworks displays which terrify the dogs.  I guess I am an age adjusted hypocrite because when I was young I thought fireworks were cool too but nowadays I could absolutely care less.
Hope you had a great 2018.  Stay safe tonight.