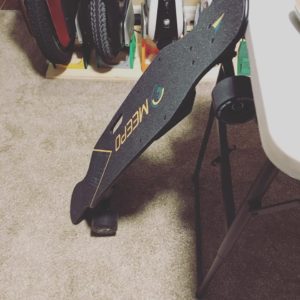 My new Meepo electric skateboard showed up yesterday.  Unfortunately the weather wasn't great but I did get out on the driveway for 10 or 15 minutes trying it out.  Much like my initial experience on the One Wheel, my body is not quite sure how to react although there are definitely some similarities to the One Wheel.
Having a handheld speed controller is an entirely new thing for me.  One slip of the thumb dial in either direction could have undesired consequences if you aren't careful.  I set the board to beginner mode which greatly limits the boost and speed which is a good thing for someone like me.
My cross wired foot dominance really needs to be worked on.  I still find that I prefer to ride goofy foot where my left foot is back and right is front.  However I don't feel stable enough on my right leg to do things like foot brake.  This is something that can be corrected with practice, I just need to put in the time.  The same muscles in my right leg that are weak for mounting an EUC from that side are the same ones causing me problems on the board. I am hoping to maybe take the board to the school tonight to get some more training time in.
I also got to fight with my A5 printer, clearing a clog in the hot end which was causing under extrusion.  I've had a lot of failures trying to correct this issue in the past with other printers but I luckily was able to fix the problem.