Friday after work I decided to take a shot at running.  It had been two to three weeks since my last run.  The cold front temps made the idea much more enticing.  I got to the track about 5:30 and got started.  The first 2-3 laps felt pretty miserable.  My lower back hurt and I'm sure I was running with somewhat of a limp.  As I warmed up it got more tolerable.  My endurance actually didn't feel too bad.  I'm not sure if I can credit that to the lower air temperature or the fact that I have been doing a lot more cardio at the gym over the last month or two.  I didn't wear a watch but I assume my pace was slow.  Regardless, it felt good to get back out there.
Saturday morning it was once again nice and cool.  I knew I needed to weed whack but mowing was not on the menu.  Somehow I managed to spend three hours out there whacking away.  The combination of not having done it for over a month and my decision to knock down the shit in trench in the back yard along with a few other tasks added up to way more time than I planned.  My right hand was numb from being subjected to that intense vibration for so long.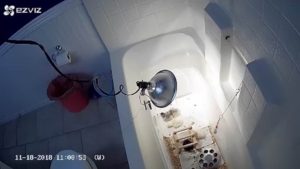 After eating lunch we loaded Sadie and Elsa up for a trip to Rural King, we needed to get just a couple things but thought it would be fun to take the dogs for a ride.  Well somehow we wound up leaving the store with six baby chicks.  Our hens have reached the age where egg production shuts down.  Cindy and I had talked loosely about eventually getting more chicks but it certainly was not in the immediate future.
Cindy said she was up to the challenge of constant care and clean up that the chicks require.  I was ok with it as long as we limited it to no more than six, which would give us a total of 14 when they are introduced to the flock we already have, which would be max perch capacity in my mind.
So I let Cindy do all of the picking of chicks, my only input was I thought we should be getting them in pairs so each one has another bird "sibling".  We got a set of Delawares, Cochins, and Blue and Reds.  The Rural King employee put all six in their little cardboard "barn" and handed then to Cindy, who was all smiles.  I was less enthusiastic for sure but was happy that Cindy was happy about it. When we got home we spun into action, collecting a bunch of our chick supplies we still had in storage.  We set the chicks up in a large bin in the guest room bathroom.  We had them situated after a short period of time, they wasted no time digging into the food.  Baby chicks eat, sleep, and poop  round the clock.
Late afternoon Cindy said she had some stuff she wanted to get at Walmart.  We turned it into an opportunity for me to ride as well as I threw my One Wheel in the trunk. Cindy dropped me off at nearby Collier North Regional Park.  By the time we got there it was almost dark so I got to experience prolonged night time riding on the board for the first time.  It was an interesting ride as I also got to try out the much talked about new Gemini firmware for the One Wheel which allows users to dial in their board settings to a degree not possible before.
Saturday night we watched Rampage, with The Rock.  It was sort of like a modern day Godzilla versus other monsters kind of vibe.  I found the movie entertaining and action filled enough for a B+ rental rating.
Sunday morning after tending to the chickens Cindy and I went for an enjoyable ride out to Ave Maria.  Although it was overcast, the temps were still pleasantly cool for me, meaning it was downright cold for Cindy.  She rode her MiniPro around while I opted for the Mten3, the tiniest wheel I own but probably the most fun one to ride in small spaces due to it's maneuverability.  The wheel is just so easy to throw around and it's the easiest wheel for me to ride backwards by a ton.
So originally the Eagles game was on the schedule for 1PM.  I didn't realize they shifted it to 4:30 to be a national game, so the entire world could watch them be destroyed. (more on that later)  So all of a sudden I had an extra three hours to do stuff.  I played some WoW but felt guilty after a little bit.  I felt I needed to do something more productive.  I decided to go out and work on the front end of Cindy's RV.
From sitting in the back yard for a year the nose of the trailer had already started to look faded and nasty.  I bought some Meguiars product to cut through that haze.  Before applying it I had to wash the nose which meant pulling a couple hundred feet of hose and a ladder out.  After washing the area I applied some of the product to about a one foot square section to see if it had the end result I was hoping for, it did.  I proceeded from there, slowly working on the front end one small section at a time.  To be effective you have to use a LOT of elbow grease, rubbing the surface in circular motions time and time again while applying a lot of pressure. It took awhile but I when I finished up the nose looked not perfect but significantly better.  I now need to follow up with wax or paint sealant to keep the sun from repeating it's damage in short order.
So it took very little time for me to get the feeling that the Eagles game against the Saints was going to end badly.  To be exact it took the amount of time that elapsed for the Eagles to go three and out on their first possession, followed by the Saints driving straight down the field to kick a field goal.  I just got the vibe that the Birds were extremely overmatched.  This pattern continued and amplified as the game progressed.  By halftime I was so disgusted I turned the game off and just monitored the progress, or lack there of on NFL.com.   The final result was an absolute embarrassment, the Saints destroyed the Super Bowl champs 48-7. Wow.
So where to begin?  Well this was really just more of the same, the only difference is they were playing arguably the best team in the NFC this time.  I heard that Jim Schwartz was planning to make some defensive adjustments.  I threw up in my mouth a little bit when I heard the great idea was to only rush three and drop eight into coverage more often.  WTF?  The defense already has demonstrated they are AWFUL at pass coverage, how is getting even less pressure on a QB going to help that?  The soft zone the Eagles play is maddening as it seems to repeatedly result in defenders simply running to the open spots while Eagles players stand there flat footed.
The Eagles defense is horrid this year.  Part of that problem is the secondary, which I think was subpar before the season started, is decimated by injury, meaning guys that couldn't beat out the subpar guys are in there.  The front four has not been good enough to get pressure on opposing QB's meaning the shitty secondary has ample time to fall apart in coverage which they have done all season long.
Ironically another problem for the defense is the Eagles offense.  Despite good numbers for Wentz overall, in the big picture the offense is not getting it done.  They aren't scoring points, they aren't able to put together long drives, and until they get down by double digit points, they don't play aggressively.  I think the biggest issue is they are now one dimensional and either don't want to or can't run the ball with any sort of consistency.  The play call balance is all out of whack.  The end result is the the offense has terrible time of possession meaning the shitty defense gets tired and gets more time to display just how bad they are.
At this point in the season I don't know that there is any magic pill the team can take to fix these gaping problems.  They let go of some key blue collar players this year and it is looking like what was left just isn't up to the task at hand.  I am resigned to a sub 500 season in 2018.  I'm just not how much more of it I will be subjecting myself to watch.  It's so ugly.
So last week Sadie had her teeth professionally cleaned, something that should have been done awhile ago more than likely.  During the procedure they discovered an approximately 1cm x 2cm mass on her palette.  They removed the mass and sent it out for testing as a precaution.  Well Ali told me over the weekend she got results back and it showed the mass as being melanoma, not a good thing.
As I researched the condition online I saw that oral cancer in dogs is not uncommon.  The bad news is depending on a number of factors a mouth melanoma can be very bad news and potentially terminal.  From what I read the size and location in the mouth are the two biggest factors.  Sadie's was on the smaller side and towards the front, both of which are positives.  The negative is this sort of cancer has high tendencies to metastasize to other areas of the body.  So Ali is meeting with a pet oncologist tomorrow to talk about options.  It's times like this that us paying the sizeable monthly premium for pet insurance feels well worth it.
Off and on all weekend I had waves of sadness come and go as I thought about the potential of losing Sadie.  She certainly is showing no signs of slowing down at this point.  She is full of energy and happiness.  Her and Elsa were playing all weekend long.  I am crossing my fingers that we get lucky.