Wow, this has been quite the three day time warp.  I took off Friday so I would be able to get stuff done in advance of Katie's baby shower which was being held at the house Saturday.  The first order of business was I wanted to get the grass cleaned up so I did a quick mowing session and weed whacked just around the immediate house area.
As I was mowing I kept looking at the front of the roof which has been dirty for a long time from shit dropping off the oak tree which is right by the house.  I decided I would address that quickly with the pressure washer.  Well it wasn't quick.  Once I got the ladder on the roof I got a good look at the gutters.  I was not pleased when I saw the front gutter was totally packed with debris.  I first tried just grabbing handfuls of the mess and pulling it out but I soon decided that was far too slow.  I climbed up on the roof with the pressure washer in hand and started blasting the shit out of the gutters, sending brown debris everywhere.
I quickly discovered just how dangerous pressure washing a metal roof can be.  You have to be extremely precise with your footing.  The only place you should step are on one of the screw heads on the ridges.  If you step on the flat section while it is wet you may as well be stepping on an ice rink, an ice rink with a 30 degree pitch.  There were several times I caught myself while I was just on the edge of losing my balance.
The pressure washer did a good job of blasting the dirt off the roof itself as well as out of the gutters.  However once the gutters were clear I was observing the way water flowed in them.  In several sections the water did not flow or flowed extremely slowly towards the downspout.  In some sections there was so much adhesive around the seams at the downspout that it created a small ridge around the hole which again restricts water flow.  Since I paid $1500 for these seamless gutters to be installed I was not very pleased.  I called up the company and asked if they could come out to adjust the gutters so water flows consistently out them.  I also asked about possibly having gutter guards installed in the area of the roof impacted by the oak tree as it drops ridiculous amounts of organic debris.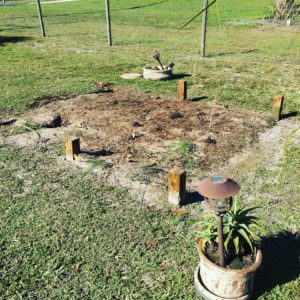 So I was tired from my roof adventure but I came up with another on the spot task that I worked on while Cindy went to the airport to pick up her Aunt Cecelia.  The dog deck, which was one of the very early outdoor construction projects I ever tackled after building the house, was rotting away after being in the yard for close probably at least 15 years.  The one side frame support was collapsing.
So my initial plan was to pull the decking off and just replace the outer frame 2×6's.  The decking was expensive composite lumber that still was in decent shape.  Removing it was a hassle as there were 17 boards that each had 12 screws in them, you can do the math.
So as I started pulling deck boards off the picture was getting less rosy.  Not only were the outer pieces rotting but a lot of the support 2×4's underneath were going bad as well.  So then the plan in my head morphed again to me rebuilding the entire frame and just connect it to the 4×4's that were cemented into the ground.  Somehow in my head I thought I could possibly get this all done before the party at 2PM on Saturday.
So now I also had to rip off the old frame which was not fun.  I decided to take the sawzall and cut it into smaller sections to make the job easier and make the pieces fit in the bed of the Tacoma easier.  Well as I was pulling apart one section I hear a snap, one of the 4×4 posts snapped off which revealed it was chewed up from termite damage. Great, now I have to make a new anchor for that corner as well.  However a few moments after that happened a revelation hit me.
I sat there and asked myself why I was even rebuilding this deck at all.  It literally NEVER gets used.  It was built originally for us to have a place to sit in the small elevated dog run we made prior to fencing in the yard.  Since the yard has been fenced the dog deck has just been a place to sit a picnic table that never gets used either.  It was like the clouds had cleared and the skies were blue, I didn't need to rebuild the deck.
My remediation now became much simpler.  I simply cut the remaining 4×4's down to ground level and covered the deck area with sod which will eventually blend into the landscape.  In comparison to the prospect of rebuilding a deck we will never use, it was a much more sane plan of action.  Cindy agreed.
So Cindy returned with her aunt, whom she only discovered existed in the past year thanks to Ancestery.com.  Aunt Cecelia is full of energy and gave me a big hug when she saw me.  She already has familiarity with my world thanks to Facebook, YouTube, and my blog.  It was very cool seeing her and Cindy getting to interact in person.  Elsa was scared of Cecelia but that is pretty normal for anyone new stepping in the door.
Saturday was the culmination of literally two months of work for Cindy.  She has been planning the baby shower and working her ass off making decorations, food, and games for weeks and weeks.  It has basically consumed the majority of her free time. This party was going to be big, the biggest event ever held at the house by far.  It was so big that she rented three additional folding tables and 20 chairs to go along with the large collection of stuff we already had.  There was somewhere between 40 and 50 people in attendance.
We had stuff set up indoors, on the lanai and out in the yard, it was a very impressive spread.  My role was primarily grunt work, moving and setting up larger items as needed.  Cindy was running around non-stop all morning trying to get everything in place.  Before she knew it 2PM had arrived and the food prep wasn't completely done.  There were plenty of other snacks and drinks to keep the guests busy while the food prep was being finished.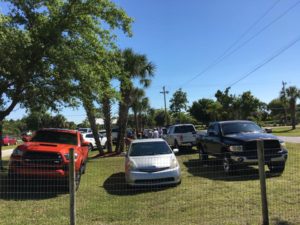 Once people started showing up I started drinking the Miller Lites to help keep my social interactions flowing despite my general dislike for party environments.  I had the Backfire Ranger and Cindy's Minipro in the backyard for people to ride on.  Cindy's ex-husband and his family were at the party.
I found myself hanging with his kids quite a bit, showing them the PEVs and my 3d printer set up.  The one boy Evan is a big time gamer, one of those games being WoW.  We talked shop quite a bit and I showed him my virtual set up.
I felt somewhat badly for Cindy.  It seemed once Katie and Daniel opened up their presents the vast majority of people took off without sticking around to participate in the games that Cindy worked so hard in planning and creating.  Luckily the people that hung around, including her ex-husband's family did eventually get to play some of the games and it was actually fun doing it with a smaller group of people anyway.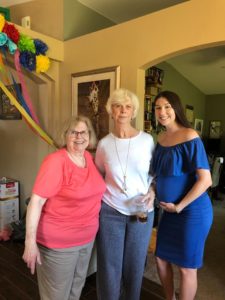 Originally the thought was the majority of the crowd would be out in the yard which is what we planned for.  However it turned out that almost everyone stayed around the house or pool.  I said to Cindy how it was funny how most of the 40 and over crowd were sitting somewhere where as all of the "kids" were mostly standing in groups that migrated around the property, it was an odd visual dichotomy.
Two of Cindy's ex's kids were having a lot of fun on the Minipro.  I came up with the idea of giving them the other one we have which is never used anymore.  After getting the ok from Mike and his wife we told the kids they could have the Minipro.  It felt good to give it away to a situation where it will get more use.  We got a text the following day saying they rode the Minipro all day at home which is awesome.
Clean up from the party was a massive task that covered Saturday night and Sunday morning.  Cindy worked tirelessly.  As is always the case, we had way too much food and drink left over.  We gave away what we could but most of it got tossed which makes me feel guilty.  Our trash and two recycle bins were insufficient to hold all of the party byproduct we generated.
Finally Sunday mid-afternoon we were able to take a breather from party clean up.  Cindy, Cecelia, and I drove into town.  I dropped myself off at the Greenway to ride my 18L with the plan to meet up with them later after they did some sight seeing.  They finally reopened the greenway path to connect to Naples so I was able to ride all the way down to the beach once again.  It was very nice to just ride and be clear of the party madness that consumed the prior two days.
I wound up the crazy weekend with a two hour live stream that talked a lot about the rash of high speed EUC crashes lately and why they could jeopardize the hobby we all love.
So I have today off as well.  I have a long list of things I could be doing but I would really not consume all four days of my weekend with tasks.  We will see if I can find a happy medium somehow.