Last night I worked late at one of the branches installing a new customer queuing system.  This is the third system we have installed but this branch had a different set up so there were some new issues to address.  I did a lot of prep leading up to last night so the issues were minimal and we got out of there by 6:45.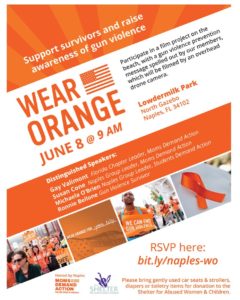 Tomorrow Cindy and I are once again helping with the Naples Wear Orange event.  It is a movement to support common sense gun laws intended to help curb the rampant gun violence in the US.  One of the event organizers is a friend of mine from the running club.  Last year I was asked to film the event, which includes spelling out mission statements with human being letters on the beach, with my drone.  That will be my role once again as well as helping out wherever else is needed.
Tomorrow afternoon Cindy's ex-husband and his family will once again be coming across state to visit the baby.  They had visited two weeks ago but I guess they are anxious to see Daniel again as babies only stay babies for so long.  Cindy and I also hope to get out to see the new X-men movie as well at some point.  I'll be jamming in work, chores, and projects along the way.