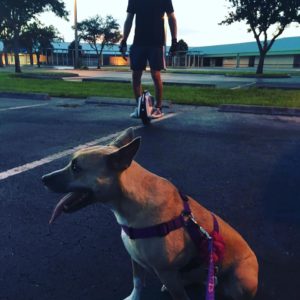 Last night after dinner I suggested to Cindy that she comes with me to the school with Elsa.  I thought they could walk around while I fooled around on my Mten 3 for a little bit.  Despite not riding the little fun wheel for quite awhile, it took very little time for me to reaccustom myself to it.  After only a couple minutes I was reversing direction routinely.  I probably spent more time going backwards than forward.
Elsa surprisingly seemed very content and happy to walk around the parking lot with us.  She had a big dog smile on her face for most of the time.  Even though it was a very quick 20 minute session of riding, it felt good to do it to help clear the cobwebs.
So we have had Cindy's RV officially for sale for at least 6 months, probably longer.  During that time we had exactly one person come out and look at it and a couple other inquiries that never got past the electronic correspondence point.  Every week the RV bakes in the sun in the yard it is losing value. With wet season approaching which could make moving the RV out of the backyard difficult to impossible depending on the amount of standing water, I have been pushing for us to do something soon.  That something is to take the RV back to Camping World where we got it and have them either buy it from us outright or sell it on a consignment basis.
It's a good move for us as it gets the RV on the lot of a dealer that is filled with nothing but potential buyers.  If someone can't quite swing the cost of a new unit, this one will give someone substantial savings on a like new RV, at least on the inside.  The outside of the Coleman is going to need some TLC as sitting in the sun for a year and a half has faded some of the paint but I think it could be revived with some skilled buffer work.
Cindy talked to someone from the dealership yesterday briefly.  They encouraged us to try to get the RV to them before Fourth of July as that is a busy time.  I hope to accomplish just that.  My plan is to get the RV loaded and hooked up to the Tacoma tonight and then head to Camping World first thing tomorrow morning to get there when they open.  I am really crossing my fingers that this works out.  We already are going to be losing a ton on the RV as is, I'd like to be able to finally stop the bleeding.
Tomorrow also starts my week long staycation which is already filling up with things to do.  Tomorrow already potentially has RV drop off, sod delivery, and a follow up appointment with the endocrinologist on the schedule.  I have a feeling a good portion of the days off will be equally busy.  We do have one definite fun portion roped off as Cindy and I are attending Miami Supercon on Saturday.  I just hope the surely crushing amount of people in attendance doesn't negate the fun/geek factor of the day.