My Friday evening run streak was snapped this past week due to the continuation of this extremely slow progressing illness that affects me just enough to be annoying but is not debilitating like a normal cold/flu.  I would much prefer to get smacked in the face for a couple days and then feel better than to have this weekend slog with no end in sight.
Saturday morning I left the house a little after 7 to head to the office to do off hours work.  I was migrating our internet firewall which was running on a 6 or 7 year old piece of server hardware to a dedicated 1U appliance running the same software.  Migration was much easier than I first thought it might be.  I was able to back up the config from the old hardware and move it across to the new box, only having to make a few minor tweaks to make it work.   After that all that had to be done was move the network cables from the old box to the new and we were up and running.
We also bought a second identical appliance whose job it is to just sit in the rack, unused.  If there was a hardware failure on the production box, recovery could be accomplished in a matter of minutes by moving the connections over to the backup box and firing it up.  With so much of our operation being moved to the cloud in the last few years our internet connection is crucial and has to be available.  That is the reason that in addition to the dual firewalls we also have three different paths out to the internet.
The firewall migration went so smoothly that we decided to also swap out our two main backbone switches, something I was going to plan to do another time.  Much like the old firewall, those switches were at least six years old.  Although they still worked fine I ordered new ones just to take advantage of newer and faster hardware.  Swapping the switches out in the tight confines of the network equipment rack was a bit tedious but not difficult.  I was all wrapped up by 10:30 and left feeling a small sense of amazement that things went as smoothly as they did as it is most often not the case.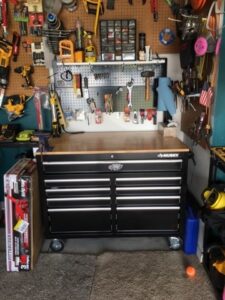 When I got home I dug into weeding the property albeit three or four hours later than I normally do. I also finished up organizing my new workbench which included adding a top shelf to it.  I still have a lot of open drawer real estate which is a nice feeling to have.
After lunch Cindy and I took Elsa out to run a number of errands, stopping at DD, the post office, Rural King, Harbor Freight, and Home Depot.  I went to Harbor Freight to get a low profile floor jack.  My Tesla is approaching 10,000 miles, the point where the tires should be rotated.  The cars low stance would be a tough fit for my old floor jack.  At Home Depot I got a number of things but the main focus was top soil and some sod to back fill and cover the area that was trenched out for solar by the house which had eroded away after some hard rains.  By the time we got home I only had about an hour of daylight remaining so I hauled ass to get everything in place.
Saturday night Cindy and I sat down to watch The Irishmen which is out in theaters but also streaming on Netflix, a trend I think will continue in the future as a way to drive subscriptions.  The all star cast which included Pacino, De Niro, and Pesci among others was a huge draw as they looked to recapture some of the magic from movies like Godfather and Good fellas.
I thought the movie was very interesting as it told the story of Jimmy Hoffa, played by Al Pacino.  DeNiro plays the role of the main hit man and does a great job in doing so.  The acting in the movie was fantastic.  The only problem I had was the length at an astronomical three and a half hours long.  It seemed like parts of the story could have been told more concisely at times.  It's a big ask to have viewers sit there that long for a non-Marvel film that is filled with action and excitement.  This movie is filled with dialogue and nuance which is very cool but still tough to stay focused in on for so long.  I'd still give it an A but you should definitely prepare yourself for the mental time commitment going in.
Sunday morning I went out on a solo ride on my One Wheel XR.  I hadn't been on the board for awhile but once I got rolling I realized how much I missed it.  I just don't make enough saddle time to accommodate the number of PEVs I have, riding once a week just doesn't cut it.
After editing this video I went right into another short video talking once again about the rash of people doing foolish/dangerous/illegal things on their PEVs to cultivate social media views.  It was spurred by a video of a guy playing "chicken" with a car on his electric unicycle.  This sort of stuff is increasing in frequency, despite the risk of injury to the rider, bystanders, and the potential impact on PEVs getting banned altogether.
I settled in for the Eagles/Giants game, hoping the Eagles would not rely on an unlikely Cowboys loss to the Redskins to get into the playoffs.  Despite three consecutive big wins, I still had my doubts that the Eagles could pull it off, not just because of my hard wired pessimism but also because of the incredible amount of injuries the team has.  In retrospect, it is pretty incredible the Eagles could even sniff the playoffs with the amount of starters that have gone out.  For this game Zac Ertz was also down, making their razor thin receiving options even thinner.   Things went from bad to worse when Miles Sanders, the rookie running back that has stepped up the last month or two went down as well in the first half.
The game was making me nervous.  Despite dominating in time of possession, the Birds kept sputtering on the Giants side of the field, posting only a handful of points.  In the second half after Barkely ran for an almost 70 yard TD to tie the game I thought that finally, the ultimate unraveling of the Eagles 2019 season was upon us.  The Cowboys were crushing the Redskins so I started coming to grips with the possibility that the Birds would be going down in a ball of flames.
Instead the opposite happened.  The defense made some plays and the Eagles went on to score the last 17 points of the game, turning a closely contested game into what looked like a laugher from the final result.  Boston Scott and Greg Ward, two no name practice squad players at the start of the season have become big producers in this injury depleted line up.  It's a cool thing to see players that would normally not ever be given much of a chance to prove themselves do so in a huge way.
I am happy to eat crow about Carson Wentz as well.  After the Miami game I was really down on him and his lack of ability to make plays when the game outcome depended on them.  Since then he has performed well in the fourth quarter of all of these wins, proving he does indeed have the ability to get it done when it matters the most.  I am always the type that is impressed by action instead of words so kudos to Carson for making me eat my own words.  He has a very tall order trying to lead the patchwork roster against the Seahawks next weekend in the playoffs.  To be honest just making the playoffs exceeds where I thought this team was going a month and a half ago so regardless of outcome, I'm good with it.
I guess I need to gather my thoughts and exercise my old memory to recap 2019.  I can tell you two main themes already, spending a lot of money and the change of life perspective a baby brings.