I had a busy weekend once again.  However despite being in motion for most of the two days I still felt like I wasn't making much progress.  Friday night I was up late as Cindy, Katie and I were in VR hanging out.  When I say late I mean late, midnight was a few strokes away by the time I closed my eyes.  Saturday after getting the chores handled we headed out for errands.  Once again the door on our fcking Dunkin Donuts was locked as they supposedly did not have enough staff to at least have a single employee handle the counter.  Cindy pounded on the door and waited until they brought our Call Ahead order out.  This policy is absolutely ludicrous. I wish I had a contact number for the local franchise owner to complain.
One of our stops was Rural King.  The visit had the most unmasked retail experience I had seen since the pandemic began.  I would bet at least a third of the people we saw were unmasked. With the typical Rural King clientele this isn't all that surprising yet most retailers in our area still have a mask required policy, despite the state of Florida itself not having any official covid restrictions now.  Cindy gets more bent out of shape about maskless people than I do.  I just am aware that I am not the mask police and if I tell someone they should wear a mask the odds of it making an actual difference is a few millimeters above zero.
Saturday afternoon I rotated the tires on the Tacoma, probably 10,000 miles later than I should have.  I recently started noticing some feathering on the outside edge of both front tires.  The truck has just over 40,000 miles at this point so the original OEM tires have been holding up well.  I am hoping the rotation will give me another 10-12k of use before I have to seriously consider swapping rubber.
I also did two additional videos on EUC projects.  One was adding spiked pedals to the V11 and the other was adding a yoga block to the seat to see if it made the wheel easier for me to sit on.  The first project went as planned.  The second was an epic fail.
Sunday morning Cindy and I tried to get our morning chores done quickly as we were meeting Katie, Daniel and DJ at the Naples Zoo.  I bet I have not been to the zoo in at least 10 years.  Taking a toddler through a zoo is not the easiest of tasks, the four of us took turns carrying DJ.  Overall he did well, the only issue was when we took the monkey island boat tour, he got a little grumpy for a few minutes when we restrained him from trying to get down on the floor.  It was cool seeing all of the animals but as I expressed on Friday, I do feel guilty seeing the animals confined, despite the zoos commendable efforts to have the animals in very large natural habitats.  Cindy and Katie spent as much time admiring the beautiful landscaping on the zoo grounds as they did looking at animals.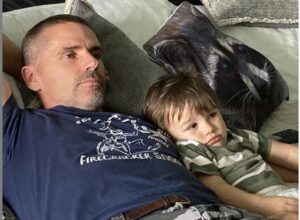 After we were done DJ came home with Cindy and I while Katie and Daniel went for groceries.  We had fun hanging out at the house for awhile.  Babysitting a toddler is no joke, you literally are on constant surveillance duty making sure he stays out of trouble.
Once  Katie came and got DJ I dug into some more tasks.  One of those was installing fire suppression balls around the hobby room.  There have been a number of EUC fires reported in the community lately.  Although none of them are with wheels I own, the potential is always there with lithium ion powered devices.  3D printers are also quite capable fire hazards as well so I thought it couldn't hurt to at least put some sort of fire mitigation in the room in addition to the fire extinguisher I already have in there.  The balls were not cheap, I spent almost $200 for five of them.
Of course I made a video about it and it did not take long for the comments rolling in about my selection of AFO balls.  Evidently AFO is a chinese knock off of Elide fire suppression balls.  It seems the AFO brand, like many other chinese knock offs doesn't perform as well as the original.   I thought the AFO product was a bit pricey, the Elide brands is more than double the price.  Having the AFO balls in there is better than nothing but I hope to add some of the Elide devices as well.
As suggested in the title, despite keeping busy most of the weekend it still feels like there is more, much more that needs to be attended to.