I thought it would be interesting to just what was involved in what should be a pretty typical weekday evening for the foreseeable future.
Get home after spending 10 minutes looking for Qtips at CVS.  See a guy sitting in Covid testing area that looks sick.  He has a mask on but it is only over his mouth.  I think that's pretty dumb.  Get changed, put in load of laundry.  Preheat oven to make fish sticks. Go out to do chicken chores with boots on since property is flooded again from today's storms. Clean the chicken waterers, one breaks in the process, make mental note to get another one this weekend. Put fish sticks in oven. Go into hobby room and put together several stands while dinner is baking.  Pack an order for delivery.  Write down grocery list, make mental note I should get groceries on the way home Thursday.  Near end of fish stick bake time put in microwave quinoa and brown rice pack for my side.  Eat dinner as I catch up on Walking Dead episodes, I wonder why I still watch the show as I throw down the food.  Desert are the three toll house cookies left over from the batch I made Tuesday. Clean up dishes from meal prep.  Have appointment with my nephew Griffin to play some BTD6.  We play one game which takes close to 45 minutes.  We are on voice comms for it which makes the interaction more fun for both of us. After the game take Elsa out for one last time.  Take the clothing out of the dryer and fold it in the bedroom as I start the recording of Big Brother, multi-tasking to save time.  Take a shower, finish watching the show. Lights out.
I expect this to be pretty representative of what I can expect from here on out.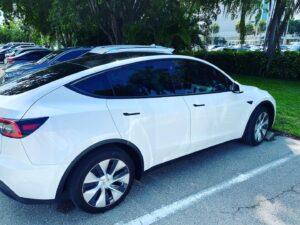 This morning I dropped off the Telsa to get the front windows tinted, a necessity IMO in Florida.  I was about three minutes away from the place when I realized I totally forgot to bring a key card to give them, I only had my phone with me, which can serve as your "key".  Well driving back home was not a valid option.  Neither was cancelling the appointment so all that I was left with was leaving my phone with the tint place.
I thought I would be smart and only leave bluetooth enabled so the phone and car could talk.  Well apparently with no cellular data it doesn't talk correctly.  I got a call from the shop when I got back to the office, saying the phone was not opening the car, a message was on the center screen saying to use a key card. Argh.
So I gave the woman my passcode and told her to turn cellular data back on.  Once she did the car once again responded, allowing her to unlock and drive it.  They were nice and expedited the car.  I wasn't supposed to be done until early afternoon but I got a call a little after 9:30 that it was completed.  I will just have to put what little remaining faith I have in human beings that my phone was only used for car access.  They have always given me good vibes, which is why I have used them several times previously.
The car looks uniform now, I like it.  Cutting down on the UV hitting the left side of my face which has already been cut into 3-4 times is a wise move.