My weekend was quite busy as I continue to try to find my way to whatever the new normal is.  When I got home Friday I slapped on my bike pants and headed out for another 10 mile ride.  I like riding the Echelon for sure but I get more of a sense of accomplishment from being outside in the elements dealing with head wind, traffic, while enjoying more visual diversity.  I continued the Friday pizza night tradition, albeit solo.  It wasn't all bad, the leftover pizza made for an easy lunch on Saturday.
On Saturday I had a long list of things I wanted to get done.  Just weeding the yard took me well over an hour. That is one task I need to find a way to optimize, it just takes too damn long and is too demanding on my lower back.  I then headed out with Elsa for errands.  Two of the stops were Lowe's and Tractor Supply.  At Tractor Supply I saw this massive CAT toy dump truck that I thought DJ would love so I snap bought it.  At Lowe's I bought a motion floodlight for the chicken coop and a bunch of black mulch.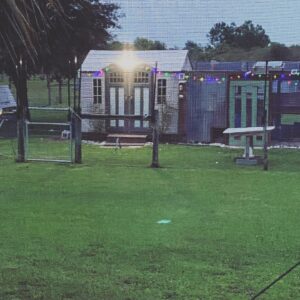 The black mulch is one of my initial efforts at better weed control.  Some of the areas Cindy built had this mulch but only a thin layer of it which has decomposed and now has become a weed haven.  I applied a thick layer which should stop weed growth, at least in those areas for awhile.
The flood light was mounted right above the doors to the coop.  When I am out there at 5:45 AM I was relying on the orange light inside the coop for illumination as I cleaned the mats which was inadequate.  This new LED flood throws stadium class lighting onto the area in front of the coop, making early AM clean up sessions much more doable.  Installation of it took a little rigging but that is my specialty. I did opt to forego mowing this week but I replaced that time slot with weed whacking instead which takes nearly the same amount of time.
On Saturday I also made my annual dreaded call to DirecTV to reactivate my Sunday Ticket package.  This has always been a nightmare because I have a non-standard arrangement where I just have the Sunday Ticket.  There have been times were it has taken multiple phone calls over a couple hours to get this done in the past.  This time it only required one phone call and ONLY 40-45 minutes to get it done.  This amount of time was consumed despite me telling the indian help desk rep exactly what needed to be done and that my account should have notes explaining it as well.  I patiently repeated myself until he believed that I could actually just get the Sunday Ticket with nothing else.  It's funny that I felt good about hanging up after a 45 minute call.
Oh I forgot to mention that when I initially brought up the receiver I was getting a message that it could not detect a satellite signal, which was odd.  When I did a quick signal strength test the numbers looked solid enough but I wanted to ensure that signal was not an issue.  I went out front with my electric chainsaw and cut down a large vertical oak tree branch that was in the middle of the satellite path, I have had to trim this area before.  The branch was longer than I realized and hit the gutter and satellite dish when it crashed to the ground, luckily no damage was done.  I chopped it into smaller, manageable sections but left it in the yard to take care of Sunday, I was too tired to do anything else for the day. My signal strength was mostly in the mid-90s after the arborist work.
I did have a few beers Saturday night.  I don't want to become a habitual "I drink alone" type of person but it did take some of the edge off after a long day of getting things done.  I made an impossible burger for dinner, watched some TV and played some WoW, what will likely be a reoccurring scene in months to come.
Sunday was less work focused which was good because I was a bit beat up, my lower back was aching from the jump.  After tending to the chickens Elsa and I did our DD run with a quick stop at Walmart.  When I got home I threw the cut up oak branches in the back of the Tacoma and hauled them to the fill pit.  I tended to a few chores around the house until the Eagles game started.  Cindy, Katie and DJ showed up about an hour into the game.  Once DJ was there I was only able to follow the game sporadically.  With the limited opportunities I get to see my little buddy he gets my attention when he is there.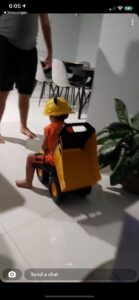 He was very excited by the two new trucks, an orange pick up and the monster CAT truck.  We hung out around the house for a couple hours, moving from room to room.  He has this funny move where he will take my hand and lead me into one of the rooms and then close the door behind us, he just wants us to hang out with no interruptions, it's very cute. Even though I don't know that it was designed for it, DJ discovered he could ride the big dump truck around the room.  As always it was fun to have him around but also weird to have everyone leave, with me left to roam the empty house, with Elsa of course by my side.
I watched the end of the Eagles game.  Things went surprisingly well.  The Falcons marched up and down the field their first two possessions but settled for field goals.  It's hard to believe those were the only points they scored.  The Eagles defense came alive and the offense was surprisingly effective as well, resulting in a dominant 32-6 win.  It was a great way to start the season.  There might actually be some joy in Mudville this year.
After the game I hopped on my V12 for a quick DD run.  It looked like it might rain and I actually was ok with that as a wet road test was one of the things on my to do checklist.  As I came out of DD it started to rain but as I rode towards home the rain stopped, so I did something you would not normally do, rode back to the rain.  The end result was me subjecting the wheel to wet roads enough to be a decent test.
I was so busy on Saturday that I did not see one second of 9/11 coverage.  This year is getting more attention than most since it was the 20 year anniversary of that horrible day.  The fact that two decades have clicked off already seems impossible.  When I think about 9/11 the crushing feeling of loss and sadness is bad enough.  I then think about how in the days and weeks after that the nation felt united in purpose, how magical that felt.  However in retrospect 9/11 also ushered in the era of the most toxic, partisan, and divisive times in american politics of my lifetime, something I never would have believed 20 years ago.  It's tragic on so many levels.