Yes you saw nothing from me late last week because I was at the tax certificate sale. It was boring but ran efficiently.  There was something noteworthy on Friday that I will cover more below.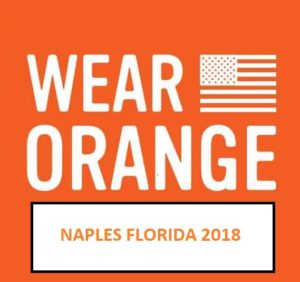 It was a weekend full of both worthwhile and frustrating moments.  On Saturday morning we set an early alarm but not to get up and run as we normally try to do.  This alarm was so we could go out and clean the chicken coop before heading down to Lowedermilk Beach for the Wear Orange event.
Wear Orange is a national movement whose goal is to actually do something about rampant gun violence outside of the meaningless "thoughts and prayers" that are dumped out on social media after each national gun related tragedy.  The movement is not about abolishing the second amendment.  It's about enacting common sense gun laws that are actually enforced, a cause I definitely support.
So anyway, the Naples chapter includes Susan, a friend of mine from the running club.  She knew I flew drones and asked if I would be willing to use my drone to film a video of something they planned on the beach where the event participants would spell out GUN VIOLENCE.  She thought it would be cool to capture it from above.
We got on site a little after 8.  It wasn't long before Cindy and I started helping Susan's husband George, who I served on the running club board of directors with for years, lay out the letters on the beach.  George and Susan had put a lot of planning into this.  He had the a drawing sketched out ahead of time that we used as a template.  He brought a bunch of dixie cups that we used as human markers.  Basically wherever there was a cup, that was where we wanted a person to stand.  It was a good plan.  Laying out the template took more time than I expected.  Certain letters like G's and S's are especially challenging to get right from a ground perspective.
So we got back up to the pavilion in time to hear a couple of the speakers for the event.  They were compelling, touching and impactful stories of how gun violence affected their lives and what they are doing about it.  It was then time for the beach portion of the program.  As everyone headed toward the beach I tried to get my drone in the air.  I had some issues that had me worried for a bit.  The GPS in the drone flagged me as being in a "caution" area as I we were not that far from the Naples airport.  I had to acknowledge the potential risk of doing so and it took me several minutes to get through all of the prompts to finally allow me to take off.
By the time I got airborne the crowd was pretty much in place.  It took a bit of fine tuning for me to get the shot where I could see everything well.  Despite the considerable wind at the beach the Mavic Pro held position flawlessly.  Under Susan and Cindy's direction the participants went through the routine and I think it turned out pretty well on video.  It certainly wasn't marching band precision but for a first time I think everyone did great.
So let me fill in the blanks with the Prius.  On Friday after stopping for coffee on my way in I turned the car back on and was immediately presented with the "red triangle of death".   This is an error condition that typically means something very serious is wrong with the hybrid power system.  More often than not it means your battery has a problem.
I have sort of been waiting for this to happen.  The prior owner told me the battery had been replaced once right around the 100,000 mile mark.  Considering the Prius now has almost 215,000 miles I figured it was only a matter of time until the batteries went south.
The reason this is a dreaded occasion for a typical Prius owner is because of the potential repair expense it represents.  A dealer can easily charge you $4000 for a brand new battery pack.  Considering our Prius is probably not even worth $4000 that didn't make any sense.  Thankfully over the years an alternative solution to this problem has evolved.  There are a number of companies that specialize in swapping out Prius batteries with rebuilt packs at a much lower cost than new.  Sure you won't get the lifespan of a new pack but depending on your situation that may not be a big deal.  For me, I am looking at getting a Chevy Bolt in the next year or so, so I don't need a 5 year solution.
So anyway a quick search online revealed a number of companies that do this.  I landed on battery4prius.com  This was a company started in California back in 2009 but have since opened another location in Homestead, just across the state from us.  In addition to installing rebuilt batteries, they offer door to door service where they come to you and do the swap which is super convenient.  The cost for this is not awful, only $145 to come to Naples.
So after work on Friday I contacted them.  The cost for a battery warrantied for one year or 20,000 miles was $750 plus the travel charge.  Resolving the issue for less than 25% of what a dealer would charge sounded good to me so I booked an appointment.  I was surprised when he said a guy could come out on Sunday, great.  Ok, let me get back to chronological order.
So when we got back on Saturday I wasted little time before jumping on the tractor after lunch.  The rain, which is FAR ahead of normal amounts for May has made weekly grass mowing a necessity once again.  The positive is at least the property looks green and healthy again instead of brown and dead.  After mowing we headed to Home Depot.
As I was mowing I was thinking about Cindy's RV and how it is going to survive in the back yard during rainy season.  I came up with the idea of parking it up on some patio stones to keep it off the water soaked ground underneath.  At the store we found some very large 20 inch square pavers that I thought would work out well.  We also got some smaller pavers to put in front of the entrance to the RV as a landing.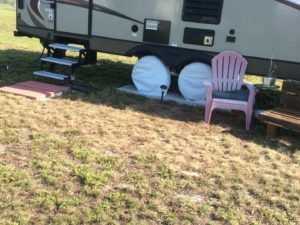 When we got home we wasted little time before setting it up.  We hooked up the Tacoma to the 26 foot camper and first pulled it away so Cindy could mow down the grass it resides on.  I then did a loop around the back yard and returned to the parking spot so we could pull the RV up onto the pavers. The weight of the unit cracked a couple of the blocks as we drove across them but they were still functional.  It was weird, just adding the couple inches of height from the pavers made the entire RV seem significantly higher. This simple addition should make the RV  more stable during wet season and keep the tires from being in constant contact with the soggy ground below.
Later in the weekend I enjoyed a Zima in style.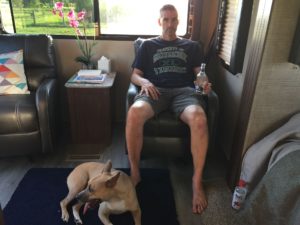 So Sunday I found myself aggravated.  The Prius battery guy had originally said something about the installer being able to come earlier in the day which I said was ok, however the guy never followed up with me so I assumed we were back to original 12-2 time window.  I was hesitant to leave the house all day because I didn't want to miss his arrival.
I had to do an impromptu tractor repair during the day.  Cindy agreed to mow the back section of the yard.  After I filled the tractor up and was working inside she came and got me, saying the tractor wouldn't move.  WTF, I just backed it out and it was fine?
So after sitting on the Craftsman and verifying it was screwed I went back inside for a bit.  I was already frustrated about the Prius guy, diagnosing the tractor in the 90 degree heat was not something I felt like doing, but it had to be done.  So I went back outside and pulled off the deck, hoping to not see a shredded drive system above it.  I had already replaced the pulleys and drive belt once before.  I actually caught a break this time, the belt had just slipped off a pulley which I popped back on in 15 seconds.
While the deck was off Cindy gave it a thorough cleaning as it was encased in green organic material.  After she was done it revealed the mower deck is starting to fail, a byproduct of the cheap stamped metal they make them out of.  There were a couple holes in it, one almost golf ball sized.  I actually had this same problem with my old Cub Cadet mower.  The bigger the hole gets the more problem it creates as it allows grass clippings to fly up onto the pulley system, making a bigger mess.
I "fixed" it for now by cutting apart a section of aluminum gutter and then pop riveting it over the holes, creating a barrier.  Like I said, I have run into this before and I know my repair at best will only buy me some time before the entire deck would need to be replaced.  However by the time that happens I am hoping it might be time for a new tractor as well.  I'd love to find a somewhat affordable tractor with a welded deck but they don't seem to exist.
Well 2PM came and went with nobody showing up.  I sent texts and left voicemails asking what the deal was and received no response.  I was very frustrated and around 5PM had given up on them showing and agreed to ride wheels to the grocery store with Cindy.  Wouldn't you know it, literally 5 minutes after we left I get a call from the 305 area code.  It was the installer.
This was not the owner of the company I had been communicating with, this was one of the guys that does the work.  I asked him if he was the guy that was supposed to be on site by 2PM?  He said he was.  He said he told his boss that he was running behind schedule around noon but for whatever reason this was never relayed to me.  Well we immediately turned around and headed back to the house.  We literally passed the installer on the way out, he said he saw us on the wheels and thought it was bizarre.
The guys doing the work was a 24 year old kid and his dad.  Jonathan was also a full time HVAC student but also works at Wal-mart and installs Prius batteries on the weekends.  Just hearing that made me immediately soften the edge of the anger I was feeling about the situation.  I respect hard work.  He was very apologetic that I was not told about the delay.  He told me that they can actually get the battery replaced in less than an hour which was shocking.  When I looked online about the process of changing the battery it was described as a 3-4 hour job.  Jonathan said it took them longer when they first started but like anything in life, the more you do it the more proficient you become.
They backed up those words, the original battery was pulled out of the car in 25 minutes or less and in another 10 minutes they were doing some initial testing.  They had some issues with some connections that they had to address but after doing so they had me take the car on a solo test drive and all seemed well for the 10 miles or so that I tested it.  I returned, paid them and felt very fortunate to get the problem addressed quickly and without spending 4k.  Jonathan told me if I had any problem to let them know.  His good attitude totally turned what was a negative situation into a positive one.
Of course you know what happens next.  On my drive into work today the red triangle of death returned. The symptoms now are different however.  When the failure occurred on Friday the car drove horribly, only running on the anemic gas engine.  Today after the light popped back up it actually still drove normally and the battery itself appears to be functioning as it should.  I suspect this is a re-occurrence of the same connection problem they saw yesterday.  I have a message in asking for remediation.  I guess we'll see how solid that warranty is.
If you have Netflix, check out Evil Genius.  It's four episode story of one of the most bizarre crime stories I ever heard of.