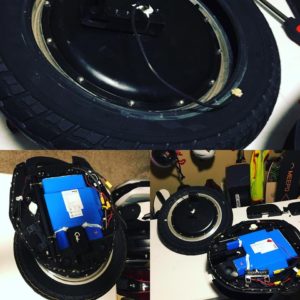 Today I am supposed to receive the replacement inner tube for the 16X which is on my table all torn apart.  The tire on the wheel is incredibly stiff so I am going to try a trick suggested to me by my EUC buddy Marty.  He had a lot of success after soaking a new tire in very hot water before installing.  Getting the tire warmed up should make it significantly more pliable so I am going to give it a shot.  I will fill up the utility sink with straight 115 degree water and dunk the tire in there.  I am crossing my fingers this trick works.
We are once again hosting the fantasy football draft party.  For the first time ever we are doing it on a Friday night, which is great.  They normally hold it on a weeknight which makes it rough to roll out of bed for work the next morning.  The reason we are doing it Friday is because I am out of town the first half of next week, which was when they originally wanted to do the event.
I have Cindy picking up some supplies for the party this week but we now buy much less than we did in the past.  Everyone brings stuff anyway so we are trying to have less of a mountain of food to toss at the end.  My team is off to a good start this year as my keeper is Nick Chubb who is predicted to have a big year running the ball for the Browns.  He is only costing me a 10th round pick.