I made up my mind that I wanted to try to get back out on the track and run on Friday evening, something I have not done for several months due to on and off fatigue issues.  I still didn't feel particularly great but I got it stuck in my head I needed to go out there and try, despite very hot and humid conditions, something that makes running  even when I feel normal, feel miserable.
So as expected the first two laps were really unfun.  It was almost like I could hear my body crying out. "wtf are you doing…"  Despite a slow pace, every stride felt uncomfortable.  To make things shittier, there were swarms of gnats at various points of the track that required me to look down or even close my eyes to pass through them.  So once I got past the first couple laps things got slightly less terrible but I never felt anything much above mildly shitty.
I walked onto the track with the intent of running the same 13 laps that I had been doing in the past.  As the run progressed and I felt progressively more exhausted that target started moving backwards, first to 12 laps, but then I gave up after 10 laps, something normally my inner taskmaster would absolutely forbid but I just had no gas in the tank, I needed to stop.
When I have been doing my weekly rowing sessions I am winded but after 15 minutes or so I am pretty much fully recovered.  Well this running session absolutely wiped me out the rest of the night.  I was lethargic and was ready for bed by 9PM.  So despite the miserable experience and the consequences afterward, I really want to try to do it again this week to see if I can build myself back up.  Running, just like lower body weight training punishes you if you don't do it consistently.
Saturday morning, despite still feeling beat up from the run I got out to do my normal chores.  When I was doing the chicken stuff I noticed that Kristen, our sweet white hen was not acting normal.  She was separating herself more than normal from the other birds and not eating normally.  She also was shaking her head a lot.  I looked up the symptoms online and one of the first things suggested is de-worming the bird so Cindy and I manually gave her a dose of Valbazen. It is tough to make sure she actually gets it all down her throat.  As of yesterday she still was not eating regular food much but she at least showed high interest in some watermelon slices we put out there.  We are hoping she bounces back soon.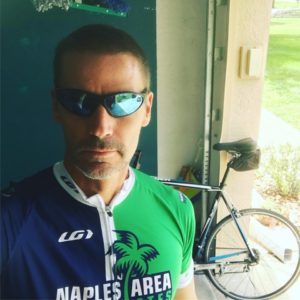 Saturday afternoon Cindy and I did something we had not done in ages, a road bike ride.  Cindy's bike had been sitting so long that the tube in the rear tire had gone bad.  So after a tube change we were ready to go.  My Trek which actually has sat even longer appeared to be 100% good to go, despite the long layoff.
It was warm and humid but luckily the sun was mostly behind clouds for most of the ride.  Since we had not ridden in so long we wanted to be conservative, we rode up to Everglades Blvd and back which is almost exactly 10 miles.  Cindy lead the entire ride although I offered to pull up front so she could draft me.  She did well and our speed actually was better on the second half of the ride, carrying around 18 mph.  Despite my overall apathy about road biking it felt good to get on the road together.  I am hoping we continue to work it into our weekend routine.
Saturday afternoon we did something else out of the ordinary, went to the Miromar Outlets.  We had not been there in at least a year, maybe longer.  We pulled up to the outlets in the midst of pretty heavy rain.  I dropped Cindy off at the curb and then parked the Tesla in the back row.  I'll sacrifice wet clothes for less Tesla door dinger risk.
I wanted to go to the Oakley outlet to get some decent sunglasses.  I have been rocking shitty $20 sunglasses got awhile that dont' fit or don't last.  I also was looking for another pair of Oakley flip flops.  We wound up scoring a pretty good deal as the glasses I got were on clearance already and we got another 50% off by buying Cindy a pair of glasses as well.  We also grabbed me some new undergarments from the Jockey store and wound up our visit splitting some soft serve ice cream.  We had a fun Saturday including things into the day that are not part of the normal same old same old.
For Father's Day I had hoped to drive down to Marco Island with Cindy to ride around.  Despite foreboding skies at home and a weather radar that showed rain over Marco, we pushed out with my hope being the line of rain would pass by the time we got there.  Well it never passed, the area of rain just expanded in size.  The trip just wound up being an extended coffee run, which I briefly documented on video.
When I got home I was a bit bummed out, the rain was forecast to last all day.  I wasn't sure what to do with myself, if I sat around and worked on nothing I would feel like shit.  I sat down and called my dad first.  I was interested in how they are doing adjusting to life after the move across state, something I hope I don't have to do in my 70's.  It seems like they are making steady progress but I could tell dad is already getting the project itch as he told me about various things he wanted to improve or fix.  Hopefully it doesn't become the black hole of projects as most of his previous properties did.
After hanging up with dad I decided to tackle a Tesla project I initially was not going to do on Father's Day because of it's frustration potential, applying a wrap to the center console.  From the factory the console surface is a bright glossy black finish that shows fingerprints the moment you touch it.  Unless you feel like cleaning the surface daily, it always looks dirty.  A common solution to this is applying a vinyl wrap to the surface, in my case I chose a matte black finish.
When I watched the install video from the wrap company and saw it was 45 minutes long I knew I was going to have a fight on my hands, hence why I was unsure if I wanted to wrap up my weekend taking it on.  I decided to jump in and get it done.  I did the most tedious and troublesome section mostly myself, the cup holder area.  Cindy, who unlike me really likes tedious, detail oriented stuff like this, came and helped me do the rest of the work which was much appreciated. I really like the end result and it felt good to have the project out of the way.
I followed up with a quick video about the autonomous summon feature my Model 3 has, specifically how it can be a bit quirky at times.  I was doing the tests into an empty garage with Cindy's car pulled out in the driveway.  Even with a lack of obstacles summon was acting odd.  Ironically at the end of the video I did one more test with Cindy's car occupying half of the garage.  With less space available the Tesla actually performed better, cleanly pulling all the way into the garage, centering itself between Cindy's car and the wall.
Sunday night I had another live stream and it will likely be the last one.  Despite more efforts by me to promote the broadcast ahead of time the real time attendance was low.  With the single person format, if I don't have enough real time audience participation it makes it difficult to fill the time once I get through the notes I have for the show.  The broadcast was only an hour, about half as long as what had become normal.  Afterward I just felt like I was sort of wasting my time putting the effort into making content that not enough people were viewing.  So as I closed the mic I had already made up my mind that I was done with regularly scheduled live streams.  Sure I will pop one open now and then if I feel like it.
It's a bit odd to me that the live stream numbers kept going down since overall the channel numbers have been getting progressively stronger.  I would be lying if I didn't say the decline in numbers was disappointing.  I have put a considerable amount of time, money and effort into putting the show together.  Shutting it down is without a doubt an admission of failure, and failure of any type never sits well with me.  On the bright side, it will be nice to not have to worry about doing the production on a Sunday night which was always an awkward time and somewhat inconvenient anyway.
The last show is below…