Our property had been nice and dry for a few days.  When I got home last night that was no longer the case, a massive deluge had brought the annoying temporary ponds to various spots in the yard.  The timing of the rain was not ideal as a tropical system in the Gulf of Mexico is supposed to be spinning up , poised to dump massive amounts of rain in our area the next few days.  I can hardly wait for dry season to begin.
I spent a good portion of last night doing prep for hosting the fantasy football draft party tonight at the house.  I have a new TV and a new operating system on the laptop I normally use to connect remote owners to the draft.  Getting the two things working together took a little bit of patience.  As usual I will be leaving work early to rearrange the furniture in the great room to be able to support having 10 or more people in there.  I'm sure it will all work out fine.
Cindy loves doing party prep, unfortunately she won't be getting home till later as she signed up to be an election worker, a noble cause.  She had to leave the house before 6AM this morning to get ready for the long 7AM-7PM work day.  She was anxious about doing it but I am sure she will do great.  Her personality will make the voting experience better for anyone that walks in the door.
Since Cindy had to leave so early and was going to be gone all day I was pressed into early chicken coop cleaning duty.  The chickens looked at me with confused expressions when I opened the doors before the sun had even peeked out from behind the horizon.  I was in my full work clothes with my rubber work boots to perform the cleaning, not ideal but we have things optimized enough that I can avoid fecal matter contact, even in nice clothes.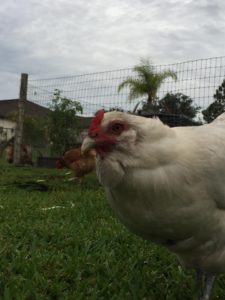 As I cleaned, Kristen, our current broody chicken, was in one of the nesting boxes making noises and fluffing her feathers to make her look double her size.  When I got done with the clean up I picked her up and carried her out in the yard even though I had no doubt she would find her way back into the coop shortly after I left.
I was slightly nervous cleaning the coop that early as I still have the sting of Cocoa getting killed by the coyote around 7:15 in the morning a couple months ago.  Before I left I did a thorough scan of the back yard to make sure there were no potential predators hanging around.  The chickens normally hang closer to the house which mostly hides them from the view of a backyard set of eyes.