So my flight out of Pittsburgh wound up being delayed over two hours which was unfortunate.  I heard from airline staff that early dense fog in Florida caused a flight to have to land at a different airport.  The end result was cascading delays throughout the rest of the day, resulting in our snafu.  I didn't mind all that much as I spent the time creating the next blog entry and just people watching. Unlike my flight to Pittsburgh that was only maybe 2/3 full, the flight to Florida was packed.  Even with an exit row seat I still found myself being uncomfortable, not due to leg room but shitty seats with minimal padding.  During the last half of the flight I felt like I was shifting around almost constantly. Other than the delay and discomfort, the flight was without incident.  Cindy was very happy to have me back in Florida as was I.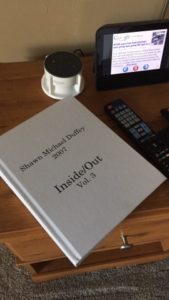 For most of the flight I kept myself occupied by reading part of my THIRD book, Volume III of Inside Out.  I think I mentioned this unique book series awhile ago.  A few years back my dad had the idea of turning my blog entries into a book.  Well I didn't quite realize just how much content I have put out.  We are three books in and have only gotten up to 2007.  The first two books actually combined several years together (I started blogging in late 2003) but evidently in 2007 I was more verbose and that single year had enough for an entire book.
Reading the words of me minus 10 years was interesting and somewhat eye opening.  Without a doubt I was much less tactful back then, using words and descriptions that I would somewhat cringe at now.  I also seemed VERY angry most of the time which I am sure was a byproduct of some of the frustrations I was feeling at the time with my marriage and life in general.
Speaking of my marriage, without a doubt the way I chose to routinely write about things that Ali did or situations that arose during our marriage was clearly destructive looking at it back through a 10 year time machine.  At the time it felt like it was just a way to vent and didn't really think about it much beyond that.  In retrospect what it really did was put my one view of the situation out for public display without much opportunity for Ali to offer her viewpoint which I am sure was hurtful.
I only came to realize the problem with this behavior after the marriage was well on it's way to dissolution.  You will notice that once we became separated and to this day, I have pretty much kept any personal relationship issues out of the blog.  Of course there are still urges to vent now and then but the more mature, 10 year older version of myself now knows that in the big picture, it makes little sense and serves little purpose to go there.  I was reading the book for almost a solid two hours and only covered the first MONTH AND A HALF of 2017.  For someone who prefers to talk so little, I sure do type a lot.
When I finally got home Monday night we enjoyed dinner and the chocolate birthday cake Cindy made for me.  She had been a very busy baker making a ton of Christmas cookies in addition to the cake.  It felt so nice to finally sleep in my own bed after getting less than solid sleep for the entire trip.  As you can imagine Sadie and Elsa were quite excited to see me.
I took Tuesday off as a day of recovery.  Early in the morning I headed out to the barpark to fulfill a promise.  My buddy Max said for my 50th birthday I needed to do an exercise circuit that included 50 pull ups, 50 dips, and 50 push ups.  I have not done much circuit calisthenics in a long time so I knew it would be challenging, especially coming off a northern trip that included lots of eating and drinking.  I broke the movements into a decreasing pyramid of reps that went 15, 10, 10, 8, 7 to keep it manageable.  During my prime I may have been able to do the 150 reps in half the amount of sets but I am 50 now after all.
My activities during the rest of the day were mixed between work and play as I had some things to do after being away for four days but I also got to chill out later in the day and even get some WoW time in.  Last night Cindy and I threw the wheels in the back of the Prius to ride around the Victoria Park development to check out their incredibly ornate Xmas decorations.  Luckily a Tuesday night apparently was not a bad time to do it.  There was a still a lot of cars snaking around the neighborhood but nothing like the gridlock we experienced last year when we went on Christmas Eve.  I rode the new Segway S1 around to get more of a feel for it.  It's a fun little wheel that is great for lower speed, shorter distance journeys.
I have a lightning quick two day work week followed by four days off for Christmas.  You can't get much better than that.