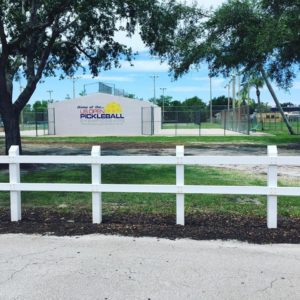 So today for the first time in probably at least 20 years I grabbed a racquetball racquet to play over my lunch hour with my gym buddy.  We played at East Naples Community Park which I never visited before.  It was a beautiful park that evidently hosts the US Open of pickleball, neato.
I played some racquetball in my early 20's but once I took up volleyball most other sports I played fell to the wayside as I was all about vball and nothing but vball.
I have talked in the past about the weird dichotomy of hand usage that goes on in my activities.  Nothing puts that more on display than racquet sports, which I predominantly play right handed even though almost all other sporting activities I will play left handed.
I think this came about when my mom took me for tennis lessons as a little kid.  I recall the instructor forcing me to play right handed, saying playing left handed was some sort of disadvantage.  That coaching decision still affects me today. Even though I am much weaker snapping my right arm to hit a ball quickly, it is the way I am most comfortable playing.
The really odd part is I still will play some shots left handed, mostly serves.  I can hit a serve or forehand MUCH harder with my left arm but I have poor control of direction.  So in sports like tennis and racquetball where you get two opportunities to serve my first attempt will almost always be with my left arm where I will just crush the ball and hope it stays in.  If not my second serve is with my right hand at a much lower velocity but more precise.
So anyway when I demonstrated to Derrick my odd skill set he was surprised.  This was my first ever time playing racquetball on a three wall outdoor court.  ALL of my previous play was indoors with four walls and a ceiling to play off of.  I very quickly learned that outdoor three wall is pretty much an entirely different sport.  With indoor the extra wall space and especially back wall worked to my favor since my long legs are not great at shuffling around quickly from spot to spot.  In outdoor ball you have to move your ass off and really pay attention to the angle your opponent is hitting.  If you don't you have absolutely no shot to get to a lot of balls.  Once a ball gets past you there is no back wall to give you a second shot at it.
My offense against Derrick was pretty much one thing, hard serves with my left hand.  If I got them in bounds I scored a lot of points with it.  Unfortunately that probably only happened 30 or 40% of the time.  Derrick obviously was a much more skilled player than I am as he used to play a LOT.  He could hit the ball low, hard, and with good control.  The only shot he struggled with was a higher bounding ball which he often drove into the ground before it reached the wall.
We only had time to play one game as there was a lot of siding out.  I did my best to hang but was ultimately defeated by 5 points.  With temperatures approaching the upper 80's we both were sweating like we spent a half hour on a treadmill.  It was a very different way to spend a lunch hour and a fun one at that.  We both agreed we need to do this more often to get away from the Planet Fitness madness.