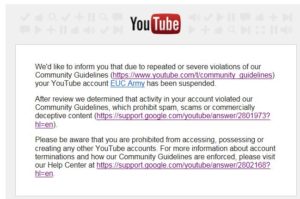 So Friday afternoon I received an email from YouTube which both took me by surprise and angered me instantly.  The email stated that the "brand channel" I created a few months ago dedicated to electric unicycle videos, EUC Army, was suspended.  It said the reason had something to do with "spam, scams or commercially deceptive content" which made no sense whatsoever.
Since I went through something similar years ago with my original YouTube channel I knew how frustrating it is trying to get it corrected.  Basically your only option is to appeal the claim and wait anywhere from 2-4 weeks for someone to get back to you.  For a company built on the cutting edge of the internet to be so ridiculously slow addressing issues like that seems idiotic to me.
I also immediately sent a tweet to the YouTube support Twitter account.  While I was there I saw a number of other people complaining of the exact same thing, sudden, unexpected termination of their channel.  Back in December there was some sort of "bug" that caused a number of channels to be suspended without cause.  I asked if possibly this was something similar.  I received no response to any of my questions, thanks @TeamYouTube!
So now I just have to sit back and wait, having no idea what on the channel would have triggered the suspension.  I think it is absolutely ridiculous the way YT handles these things, especially suspending a channel with no prior warning of any sort of problem.  Surely a lot of people abuse the system but I don't think that justifies not giving people the courtesy of a detailed explanation of what the actual problem is instead of vague categories of abuse.  If there is one thing to be thankful for is that they didn't hit my main channel that I have invested so much time and effort into.  I am however paranoid that the same lunacy could strike at any time.
So after riding my EUC into work Friday I at first was up in the air regarding if I wanted to ride it home or just have Cindy pick me up.  By mid-afternoon I decided I was going to make it a round trip and ride home on one wheel as well.  The ride home was different as I didn't have a time crunch on me.  As a result I did not try to push my speed as much.  The combination of lower speed and less headwind resulted in much better battery efficiency.  I arrived home with 30-40% battery reserve instead of the 10% I had left in the morning.  My feet and calves were totally numb, the end result of spending more than double the amount of time on a wheel than I ever had previously in one day.  It was a cool experience that I might do again if the conditions are right.
On Saturday I attended to outside chores for awhile before heading to Home Depot for another load of mulch.  I have been slowly refreshing the landscaped beds that had been ravaged by the chickens for a couple years.  It has been very nice to have the beds continue to look nice afterwards instead of being dug apart within an hour.
Later in the afternoon, despite putting over 50 miles on one wheel Friday, I went back out solo.  I took Cindy's wheel just for something different.  Her 14 inch Inmotion EUC feels so small and jittery compared to my Msuper.  I eventually got more used to it and put almost 10 miles on the odometer.  Saturday night Cindy and I watched our latest DVD, Eddie the Eagle.  I really enjoyed the true life story.  Of course I remembered Eddie from his 15 minutes of fame during the 88 Olympics but the movie filled in the backstory in a way that you couldn't help but feel good about.  A-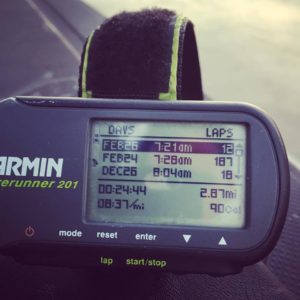 Sunday morning I got up early for week two of my running comeback.  I added two laps to the distance from last week, hoping a slow build up in distance will yield the most injury free results long term.  Unlike last week I wore my Garmin for the run.  I was very surprised by the numbers it showed at the end with an average pace of 8:37 which is faster than any run I have posted in years.  My Garmin however is old and sometimes doesn't do well with accuracy so I am skeptical that those numbers are legit.  Regardless I felt decent about my effort.
I wanted to get out on our EUC ride earlier this week.  We have been getting out late morning which winds up eating up the heart of the day which is a pain in the ass.  We managed to get out the door at a decent time, headed back to the Greenway so Cindy could continue her electric unicycle progress.  For whatever reason she prefers learning there to anywhere else.
Last week Cindy made great progress, doing long rides alongside the handrail without touching it.  I was a bit worried that since she didn't do any practice since she may have had to take a step or two back before moving forward again.  Instead she continued her rapid improvement.  Not only was she able to do extended riding without touching the rail, she did extended riding with no rail at all, out on the asphalt path part of the trail!  In addition she got much better at getting on and off the wheel without holding onto something, doing it at least a couple dozen times.
I felt excitement by proxy from her smiles as she rode by me repeatedly.  It obviously has taken her a long time to get over the fear from falling on the Ninebot One months ago but in a way I think it has made the satisfaction of being able to ride even greater for her.  She still has a lot of practice to go until she will feel confident and comfortable but she has the basic skill set now and based on my experience, once you have that things get even better quickly.  I knew for sure she finally felt good about riding as she allowed me to film her for the first time.
The weather on Sunday was just about perfect with temps around 80 with low humidity.  The rest of the day had a chill out vibe.  Cindy was quite tired from the riding, something I recall clearly when I was learning.  Your body feels like it is constant tension when you are unsure of your ability to stay on the wheel.  As she gets more and more comfortable it should get less draining.
Ali and her boyfriend dropped off Sadie late in the afternoon.  Ali is having some work done on her place that will last around three weeks so we will be watching Sadie during those weeks and returning her for the weekends, the reverse of the norm.  Elsa and Bowser were very excited by Sadie's arrival although I can tell Sadie can only take so much of the other dog's off the charts excitement level.
I didn't watch the Oscars but heard about the f up regarding the best picture winner where inexplicably the wrong winner was announced, handed the award and then had to be whisked off stage when the real winner was discovered.  Crazy shit.
I have a short week due to the RO system that is scheduled to be installed on Thursday.  Three day weeks are something I can fully support.