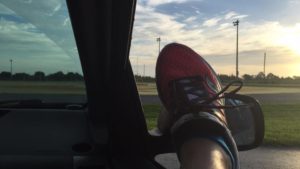 Cindy and I started off the weekend with a track 5K.  I forced myself to do it even though as recently as Friday night I was walking around gingerly due to hamstrings still sore from deadlifting on Tuesday.  Much like the week prior, the run felt like a struggle pretty much the entire time.  The temp almost being 80 degrees with high humidity at 7AM didn't help matters.
I wanted to get all weekend labor out of the way on Saturday and I worked diligently to make that happen.  Weeding was a particularly large pain in the ass.  The frequent rain combined with steaming temperatures provides the perfect conditions for weeds to pop up everywhere.
It was bright and sunny for most of the day Saturday, so much so that once again the dreaded standing water had dried up.  Around 3 o'clock I decided I should take advantage of this and jumped on the tractor as I saw a few gray clouds starting to form.  Well as I was about half way into mowing the first front section when it started to rain lightly.  Since the tractor has a sun canopy it also does a decent job as a rain canopy so I pressed on.  By the time I called it quits after finishing the front of the house I was mowing in the middle of a monsoon.  Of course the recently dried up sections of the yard were now back under several inches of water…..sigh.

Another thing I got out of the way on Saturday was my weekly bill paying session.  I actually had very few bills to pay this week so a wave of inspiration hit me.  My primary 15 year mortgage was real close to being paid off.  I had planned to pay it off in a couple months but I decided I would dip into one of my other budget columns and pay the sucker off now.  I have been overpaying a little bit each month ever since the house was refinanced  which has allowed me to get to this point roughly a year ahead of schedule.
A looong time ago I had set a goal of having the house paid off before I was 50 so it feels good to accomplish that.  However when I initially set that goal it was the intent for the house to be COMPLETELY paid off which it is not.  I still have my home equity loan which was opened almost as long ago which was used to pay for things like the pool, the two terrible land investments in Lehigh Acres, divorce settlement funds, and home improvements.  Now that the primary mortgage is cleared out I can attack the HELOC as well as having some extra funds to both save and do some other things with.  I would like to open up a Roth IRA to give me a third retirement account to lean on when I am old, gray, and feeble. (if I make it that long)  So anyway, yes, it feels good to have the primary mortgage satisfied, it's something a lot of people never get a chance to do in their lifetimes.
Saturday night we stayed home and watched Aftermath, a recent movie I never heard of with Arnold starring in it based on a true story.  I was somewhat surprised that the movie was missing pretty much any of the classic Arnold physicality even though there is a weird, twisted, revenge plot going on.  I thought it was well done although extremely sad and tragic.  It gets a solid B but don't expect to be jumping for joy afterward.  I think this movie never hit theaters and went direct to Blu-ray.
Sunday morning Cindy and I got out on the wheels, riding directly from the house over to the high school roughly three miles away.  The wide open and traffic free roads are great for practicing.  I did more seated riding on the Monster and Cindy worked on a number of skills as well.  Her comfort level on the wheel is approaching mine.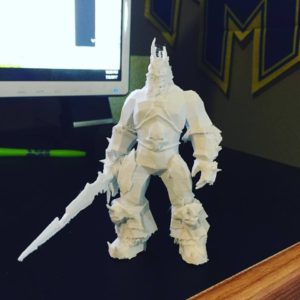 It felt like I was wasting time not having my 3D printer building something so over the weekend I printed Arthas the Lich King, a big character from World of Warcaft lore. It was a very complex model and I was skeptical of how it would turn out.  When it was done printing it was encased in support material but after a lot of careful clean up by Cindy this was the end result.  Cindy will also be the one to take on the very intricate task of painting the model when she has time.
The reason Cindy's time has been taxed is her relentless work on her cosplay costume and props.  She has been spending a ton of time assembling the 3D gun that we printed the parts for.  Putting all the parts together and making it look pretty is a far greater task than the printing of the parts.  It's exciting seeing the gun come to life bit by bit. Hopefully by the end of this week it will be more or less done.
While she was plugging away on her stuff I was plugging away in WoW having a good time rotating through my various characters and getting stuff done in a virtual manner.  I always feel somewhat guilty after prolonged gaming sessions but I enjoy them all the same.
I have a weird week where after a day at the office I am treated with another day off.  Cindy and I have no definitive plans for the 4th but I am sure EUC riding, gun building, and WoW will be part of the itinerary.