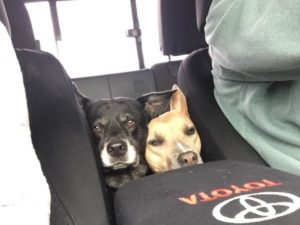 I picked up Sadie on my way home from work on Friday.  When we got home Elsa went absolutely bat shit crazy to see Sadie emerge from the Prius.  She loves having Sadie around.
On Saturday morning I started out once again with my 13 lap run around the track.  During the last half of the run some kids were getting dropped off presumably for some athletic event.  About a dozen of them joined me on the track, doing one high speed lap, easily blowing past me.  Some of the kids were wearing flip flops and still left me eating their dust.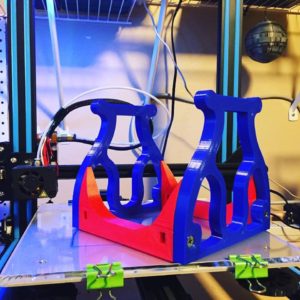 My chore load for Saturday was pretty light with weeding being the primary must do.  We headed out to Rural King and Home Depot with the dogs mid-morning.  I grabbed 15 more bags of top soil to continue my primitive ground level elevation project behind the coop.
My 3D printers were working hard on Saturday finishing up another colorful EUC stand.  I also printed a blue version of my knife model to use at work. On Sunday I put my rudimentary Fusion 360 skills to work to design a little clip I could put on my pool vacuum hoses to keep them from falling off the holder I have on the wall.
Late last week I passed another milestone on my main YouTube channel, crossing the 3000 subscriber mark.  I thought I would celebrate the occasion by making a short montage video that touched on the core subject matter my channel is about.
Saturday night Cindy and I headed out to see 12 Strong, once again opting for the VIP theater experience at The Prado.  We decided to eat dinner there as well since we had a good experience eating there with Randall a few weeks ago.  Cindy and I ordered the exact same items off the menu and had the same praise for the end result.  The only negative was the super slow service at the bar where they had one woman back there that didn't seem to know what she was doing.  Eventually we just bailed on the idea of getting a beer after waiting for more than 5 minutes with no movement in the line.
The movie was about a seemingly crazy true story at the beginning of the Afghanistan conflict. A small US team was sent in to work with a local Afghan faction to overtake a Taliban controlled area.  The soldiers literally at some points were fighting Taliban in tanks and truck mounted rocket launchers on horseback.  Yes it seemed sort of insane.  Their original intent was to serve as a cross hairs for US targeted airstrikes but it morphed into horses versus tanks in the end.  I am not sure how much of the scenario was exaggerated for the movie, but if it went down pretty much as depicted, it's an amazing example of heroism and bravery. It's a solid A flick.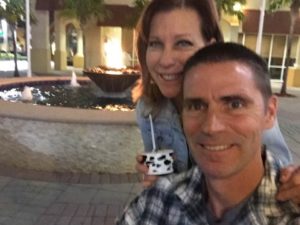 After the movie we stopped at the cute little ice cream shoppe next door and enjoyed small cups of ice cream as we sat by the cool fire/water feature.  We both really enjoy watching movies at Prado.
On Sunday morning Cindy and I went out for an EUC ride, parking in the Super Target lot since Cindy had a few things she wanted to pick up there.  We brought the Msuper and Mten3 for the ride.  It was a fun ride and the longest distance I have taken the Mten3 as we looped all the way to North Collier Park and back.
So on the way back we came in behind Target like we did on the way out, to avoid the busy parking lot traffic.  As we were wheeling along a white SUV was approaching us from the other direction.  As it got closer instead of following the curve in the road it kept going straight in our general direction.  The driver of the vehicle had his face in his phone, of course, and was not paying attention.
Cindy yelled out and gestured at the guy who then immediately jerked the wheel to change direction.  We had plenty of room to avoid an impact but the guy was clearly not paying attention.  Well after we passed I saw the reverse lights on the SUV light up in my rear view mirror.  Cindy looked back and saw it as well and was worried he was going to try to hit us which I assured her he would not do.  Instead he sped past us in an adjacent lane and then gave us the finger as he drove by, what an idiot.
It would have been interesting if he would have stopped and gotten out of the vehicle.  I am normally not the type of person to overreact to a situation or go looking for conflict.  However if someone brings it to my doorstep then things can get a little scary. So anyway, the dumb ass drove away and we had a funny ending to the ride video as I had the camera rolling, just in case.
Sunday afternoon we did our own thing.  Cindy did a lot of crafting over the weekend.  She is getting really good with her Cameo and made a very pro looking t-shirt decal that she applied with her new heat press machine.  I edited the ride video  and then watched a good portion of the Patriots/Jaguar game.
Man although I have no love for the Patriots it is impossible to not respect how much they have accomplished.  Once again they came back from a double digit deficit to beat the Jaguars.  The fact that Tom Brady accomplished this without Gronkowski, who was knocked out with a head injury late in the first half, made it even more impressive.  Brady's list of accomplishments are simply staggering.  To me, there is not a doubt that he is the best QB of my lifetime.
I of course was more interested in the next game.  Once again, despite having the best record in the league, for the second time in as many weeks the Eagles were an underdog, at home, which is almost unheard of.  Most people, myself included thought that once Carson Wentz got hurt the Eagles chances of success dropped way down.  However the team has managed to use that as a rallying cry, using the underdog role to fuel their efforts.
The way the game started did not give me a warm and fuzzy feeling.  The Vikings marched straight down the field and scored a TD with little resistance.  The sick feeling in my stomach was amplified by the stat that they flashed on the screen stating that no team with an indoor stadium has ever played an outdoor game in the championship game and won, their record is 0-12.  In the past the Eagles have had a bad habit of bucking these trends so I was worried that we were again headed in that direction.
If you would have told me that the Birds would turn things around to score 38 unanswered points at that time I would have called you crazy however that is what happened.  I was so used to Eagle teams in the past collapsing with big leads that I was still not confident when the score was 31-7.  Only once they got the final touchdown did I know for sure they were going to the Superbowl.  What an amazing game.
I was so happy for Nick Foles, he had  a superb game.  I always liked the guy when he was with the Eagles.  From the start he struck me as a quality human being and for him to succeed at this level after struggling when he was traded was heart warming. He played like his amazing year under Chip Kelly when he threw 27 TDs with only two interceptions.  He was calm and in control.
The Eagles defense came up big after looking like a doormat on the first drive.  The Vikings did move the ball somewhat but some big takeaways kept them from scoring again which was huge.  This game will go down as one of the all timers in my book as far as satisfaction and level of play goes.
The Super Bowl party we are hosting once again after a one year hiatus suddenly has taken on a whole new level of excitement.  To have the team I have lived and died with my entire life in the big game will be special indeed.  I can only hope somehow they are able to keep the magic going just one more time…
E-A-G-L-E-S
EAGLES!!!!!!!