Sure I would like to just skip to the most epic Super Bowl of my life but I feel I should give the rest of the weekend proper representation.  Saturday morning I got up and drug myself out of bed to go run, despite a lower body that was STILL sore from squatting and deadlifting on Tuesday.  I slogged through the run, never feeling comfortable.
When I got home I went right into a small chore list that I wanted to knock out.  After doing so Cindy, Elsa and I headed out to grab some coffee and run some errands.  We took the Tacoma so I could throw another 15 bags of top soil in the back to continue my winter long ground elevation project behind the chicken coop.  My hope is I am able to at least give the birds a decent size island in the back that will escape the soggy effects of wet season.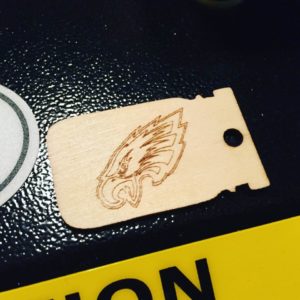 Cindy had a ton to do for SuperBowl party prep and she was working on it in earnest, with both food and decoration prep.  I kept busy doing my own things which included  3D printing, laser engraving, and a few more things. Late in the afternoon I took my wheels over to the school to futz around a bit.  I shot some footage for my upcoming 1000th video on my YouTube channel.  I'm hoping to make that one pretty cool.
On Saturday night we planned on watching Hell or High Water, our Netflix rental however there was some sort of problem with the disc and it wouldn't read  in my Blu-ray player.  I told Cindy I would just get it on X1 par-per-view.  Yea it sucks to pay for something I could get for free but it wasn't a big deal.  Well it turned out I didn't have to pay anything since the movie was already on Showtime.  I could watch it on demand for free, cool.
The movie has a strong cast and an interesting plot.  It sort of had a Robin Hood good natured vibe to it until things got unexpectedly dark towards the end.  It was a good B+ movie for sure but it sure did not end up as I expected.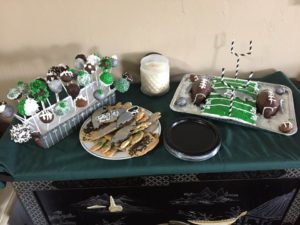 Sunday was the day. We had a lot to do, well I had a lot, Cindy had an unbelievable amount of work that she did.  She LOVES planning parties and doing everything connected to it.  She was literally on the go almost the entire day.
Her work was nothing short of incredible.  In addition to the conventional food prep Cindy made these amazing baked creations including the football field on the right and Eagles cookies made with a 3D cutter I printed.  Katie came over in the afternoon and did the decorating for the cake pops on the left.  She did an amazing job with them, putting her creativity on display.
I had the 3D printers working hard most of the day as well, creating an Eagles themed quarter tray and a toothpick holder, both of which I designed from scratch.  I filled in the squares of the betting board, a tradition from the very first Super Bowl party that was ever hosted at the house.  I tried to make more of the bets have less than a 50/50 chance so there was the possibility of some bigger winners.  For example one of the bets was the distance of the first punt.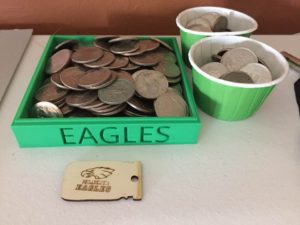 We flipped on the tv as early as 12:30 and they already had Super Bowl pre-game on, wow.  I did mostly the grunt work part of the prep, moving and rearranging things, setting stuff up and filling in with whatever else Cindy needed.  Like I said the amount of effort she put into this party was nothing short of amazing.  About mid-afternoon there was a lull in prep, most things were done.  I decided to knock out an oil change on Cindy's car as it was one less thing off my mental to do list.  It was uneventful and only took about a half hour, including clean up.
So the party was scheduled to start around 5:30.  Our first guest arrived a few minutes after that.  It was Megan, whose dog Wishbone has been walked by Cindy and I several times.  I was surprised when Cindy told me that Wishbone was coming to the party.  Of course my first thought always jumps to a dog marking his territory in the house.  Luckily Wishbone had no incidents but instead circled the party more or less non-stop, looking for food.  He literally did not sit/lay down once.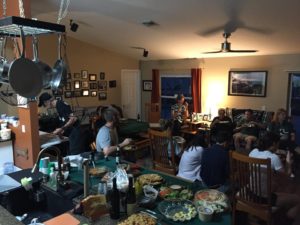 Other guests arrived steadily from there on.  By 6'oclock almost the entire roster was there and the house was loud and full of energy.  This was a very special party since MY team was in it.  The crowd was mostly friends of ours from the running club and a few others.  Ali and her boyfriend Shugs even came out, with Sadie of course which Elsa was thrilled about.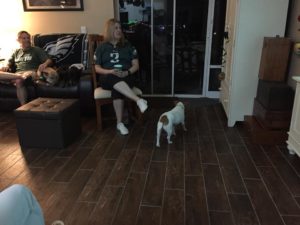 I sort of figured that Elsa would mostly hide during the party but surprisingly she was in the middle of the crowd, even snuggling up to Matt on the sofa for a period of time which surprised the hell out of me.
I did myself a favor and watched a lot of the commercials ahead of time since they were posted on YouTube.  Doing so allowed me to actually hear and enjoy them, something that is very difficult to do with 15 people in a room.  However I could watch the action on the field just fine.
The first half was pretty crazy with both teams moving the ball but the Eagles taking more advantage, scoring pretty easy and often.  There were two defining moments of the first half for me. The first was when Patriots pulled a trick play that had Tom Brady downfield as a receiver, a wide open receiver.  He proceeded to drop a pass that hit him right in the hands.  However on a 4th and goal, the Eagles stole that page from the Patriots and actually executed the play to perfection with Nick Foles pulling in a pass from the tight end for a touchdown.  It was an incredibly ballsy call but that was theme of this team all year, aggressive play calling.
The halftime show, which I didn't entirely see, seemed not bad but not quite as iconic as I would have expected.  Almost always there is some sort of unannounced collaboration that goes on.  However Justin Timberlake performed with nobody else except towards the end where he sung some Purple Rain as an image of Prince was projected onto a big curtain.  I saw some people say the show was great so maybe I just have bad taste.
The second half of the game was a sprint.  All of a sudden the Eagles defense had no answers to stop the Patriots.  Luckily the Eagles offense was still scoring but the Patriots were scoring faster and way too easily.  In the fourth quarter the Patriots took their first lead of the game, by one point and I was worried that we were watching the start of another Eagles failure at the precipice of the ultimate victory.
By the time the fourth quarter started almost everybody had left, it was only Cindy, myself, Ali, and Shuggs.  Outside of Shuggs we were the only real Eagles fans there although pretty much everyone at the party wanted to see the Patriots lose.  It somehow seemed fitting that as the game came down to it's teeth gritting, heart stopping conclusion, we were the only ones left.
So when Zac Ertz scored the go ahead touchdown which Chris Collinsworth, who has always been an asshole when it comes to the Eagles, was trying to convince the world was going to be overturned, we went nuts.  But because of an early missed extra point and two failed 2 point conversions, the Eagles were only up by 5 points with two and a half minutes to go.  With Tom Brady's track record and the way he had been torching the Eagles at will the entire second half I was, concerned.
We all yelled at the tv at the Eagles defense that SOMEBODY had to make a play.  They had not even sacked Brady the entire game.  On the very next play, it happened, Brady was hit and fumbled the ball, recovered by the Eagles.  We went ape shit, literally ape shit.  Instead of folding up their tent, the Eagles actually came up when it mattered the most and smacked the Patriots in the mouth.
Unfortunately the Eagles couldn't run the clock out and had to settle for a field goal which gave them an 8 point lead, meaning the Patriots could possibly score and make a two point conversion to tie it.  The good news was the Patriots only had 30 seconds to drive the length of the field and no time outs.  Brady made a valiant effort and actually got close enough to throw a ball into the endzone for a hail mary as time expired that thankfully fell to the ground after coming dangerously close to being caught on a rebound. It was over. The Eagles actually won the Super Bowl…..
Even though there were only four of us, we made enough noise for 40.  Ali had tears in her eyes of joy, Cindy was smiling ear to ear and I was just screaming.  My entire life I pulled for the Birds to win it all.  After five decades of near misses it seemed surreal that we were the last team standing, finally.
In the past the Eagles were good enough that they were expected to win.  This team that fought through some severe injury losses, including their starting QB, to get all the way to the end, being the underdog in each and every playoff game they played.  I don't think I could have written a better script.  Nick Foles, who I always liked when he was with the team the first time around, was simply amazing.  He played smart and clean, if he felt nervous he did not show it, instead making throw after throw with his TD reception going down as one of the more memorable in SB history.
The game smashed records, not only for a Super Bowl but for any NFL game, ever.  Never have two teams put up as many yards as the Patriots and Eagles did.  The final score was the most points in SB history and even taking my Eagles partisanship out of the picture, I think it will go down as one of the best Super Bowl games ever.  To have my team be part of that equation and the winning side of it on top, is something I will cherish till things fade to dark.
Before the game I posted on Facebook that if the Eagles win I would jump in the pool.  I'm not the type to not follow through on such a promise so after ripping off my shirt and socks I jumped into the 60 something degree pool water after letting out the most enthusiastic E A G L E S cheer of my lifetime. Sure the water felt cold but my inner warmth from the glow of Super Bowl victory helped insulate me.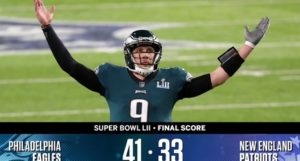 I'm glad I took today off from work to recover, relax and bask in the glow of a new reality where the Philadelphia Eagles are Super Bowl Champions!
And now with the plugs!
Ender 2 on GearBest EU Plug – https://goo.gl/v5bNRG $159 USE COUPON – "Enderen"
Ender 2 on GearBest US Plug – https://goo.gl/v5bNRG $159 USE COUPON – "ENDERC"
CR-10 on GearBest – https://goo.gl/6M9DHi use coupon – GBCRUS
CR-10S5 on GearBest – https://goo.gl/3295a6
CR-10S on GearBest – https://goo.gl/rFztnC
GearBest US Warehouse specials! – https://goo.gl/nvL8uF
Get free cash back for stuff you are buying anyway – https://www.ebates.com/r/DUF391?eeid=28187
Esun Cleaning Filament – http://amzn.to/2zP3qwW
Creality Cr-10 3D printer – http://amzn.to/2w7yqIF
Dagoma Neva 3D printer – http://amzn.to/2hYNjoV
FlashForge Finder 3D printer – http://amzn.to/2sCllp7
Hatchbox white PLA filament – http://amzn.to/2rrIfMt
ESun white PLA filament – http://amzn.to/2sBRv42
The gimbal I use – http://amzn.to/2lJbZCa
My GoPro camera – http://amzn.to/2kkBUmJ
GoPro foam windscreen – http://amzn.to/2maDI2B
Selfie stick – http://amzn.to/2mJTJLL
Segway MiniPro – http://amzn.to/2lddTNt
Segway S1 – http://amzn.to/2A8CkQQ
DJI Mavic Pro – http://amzn.to/2kpV4Tk
My EUC protective gear
Killer 187 Wrist Guards – http://amzn.to/2p8y9m9
Triple Eight Helmet – http://amzn.to/2p8uuoH
STX Elbow Pads – http://amzn.to/2oNMrYJ
Killer 187 Knee pads – http://amzn.to/2oYtAHw
Looking for Gotway, Inmotion or KingSong electric unicycles?
Go here for free shipping! – http://ewheels.com/eucarmy
Check out all my sites!
http://eucarmy.com
http://duf.net
http://dufisthenics.com
EUC Army YouTube – https://youtube.com/eucarmy
Duf 3D YouTube – https://www.youtube.com/channel/UCBnqqxnkBqc5ISDQRr0YkiA
Social media
Instagram – @duf67
Twitter – @duf67
Cindy's site – http://fitfarmchick.com
Cindy's YouTube channel – http://youtube.com/fitfarmchick