So when I buried Peaches last weekend I temporarily put an unused compost bin on top of the spot to keep the chickens from scratching around there.  When I was walking Elsa Friday night before bed she was standing by the compost bin on the other side of the fence just looking at it.  I didn't think much of it other than maybe her enhanced sense of smell was picking up something.
Well when I was cleaning the coop the next morning for the hell of it I decided to look at the compost bin.  I lifted the lid and was shocked to see a huge pile of sand and a hole leading down towards where I buried the chicken.  I was dumbfounded because the compost bin was not knocked over, it almost looked like something came up from the ground although I knew that didn't make sense.  I called Cindy out to see my discovery and she was equally shocked.
So I backfilled the hole immediately and then bought some sod during the day to cover the burial spot, figuring that should be enough to prevent further desecration of Peaches burial site.  Sunday morning once again I awoke to a pile of dirt, just offset a little bit.  The animal dug in from the edge of the sod and continued whatever disgusting activities it has been engaging in.  I pulled back the sod, Cindy threw some cajun pepper in the hole, filled it, put back down the sod and then threw the compost bin lid over it Sunday night.  AGAIN I awoke this morning to fresh digging.
At this point based on the size of the hole we are guessing a possum may be the culprit.  The hole I dug was probably a foot and a half deep but clearly I should have gone deeper.  This morning I filled the hole in one more time but after doing so I pulled the chicken tractor on top of the burial site.  It has a wire mesh floor which would prevent anything from digging through the top.  If more digging occurs I will have little choice but to dig up poor Peaches and relocate her to a deeper and more secure area.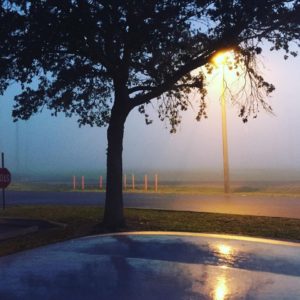 I got my run in on Saturday morning, taking advantage of the cool temps in the mid 50's. I was a bit worried that my sore calves from my 50 mile work commute on the Monster would hinder my running but I did ok.  The daytime temp swung a huge 30 degrees into the mid 80's, just too warm for February for my tastes.  We had not done grass maintenance in close to a month thanks to a lack of rain.  Things were looking pretty ratty at this point so Cindy and I did a full sweep, weed whacking and mowing.
The weed whacking took me much longer than I hoped because I kept spending time futzing with the gas weed whacker.  After I replaced the fuel lines a few weeks ago it seemed to be running well.  Well all of a sudden it was back to running like shit and would only keep going in the choke position.  I finally tired of f'ing with it and just finished up with the battery powered whacker which takes longer.  I am just going to get another gas trimmer.
I did take a late morning break to go to Costco for an eye exam, something I had been putting off for 5 years or more.  I went into the exam with some anxiety about it.  The last time I was at an eye doctor it didn't go well as I have a horrible time doing anything with/to my eyes.  Well I was glad to see that tech has improved, the eye exam was no big deal at all.  After getting an eye scan and reading dozens of letters on a screen it was determined I am officially near sighted.  The doctor gave me a prescription for glasses that I would wear whenever seeing distance clearly is important.  I put off picking out glasses until Cindy can come with me to give me feedback on frames.
I was pretty tired by the time Saturday evening rolled around but we already had tickets to see Black Panther, a much anticipated Marvel movie that has gotten high reviews.  We again opted for VIP seating at Prado so we didn't have to worry about getting a decent seat.  I had really high expectations for the movie going in and for the most part those expectations were met.  It was a good Marvel movie but not a blow you away great one, like Iron Man, Capt America Winter Soldier, or the first Avengers movie, in my opinion.  The film did a good job of telling the origin story of Black Panther, something I knew absolutely nothing about. It's a a solid A, see it in the theater flick, it just didn't impact me as I thought it might.
Sunday morning we had an annoying, out of nowhere power loss that lasted for over two hours.  I was just getting to the point where I was considering pulling out the generator when it came back on.  The power outage sort of messed up my normal routine.  I actually wound up not doing any EUC activity during the day.  I did my bills in the morning and went to Dunkin Donuts with Elsa to grab coffee since Cindy wasn't home.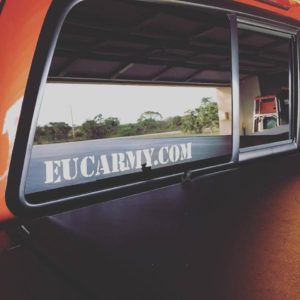 Sunday afternoon I washed all three vehicles but somehow still felt lazy after doing so.  Cindy was busy creating more stuff on her Cameo.  She made the sticker pictured here as well as a bunch of other things.  She is really enjoying the process of designing and creating.
I told Cindy last week that I would be open to spending a night sleeping out in the RV to get a sense of how it would be.  We decided last night was the night to do so.  We ate dinner out there, watched some Olympics, and then settled into the queen size bed where I read a little bit before falling asleep.  Despite not fitting on the bed so well I didn't have a bad night of sleep.  It felt weird waking up in the backyard but refreshingly different.  Elsa didn't seem to mind either.
Today for my last day of the my extended three day weekend I don't have a big list in mind.  Hopefully I can get out on the wheel a bit and do whatever other enjoyable things that come to mind.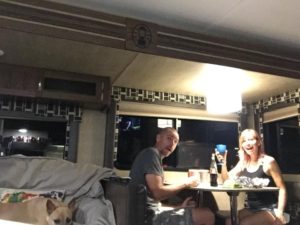 And now with the plugs!
Ender 2 on GearBest EU Plug – https://goo.gl/v5bNRG $159 USE COUPON – "Enderen"
Ender 2 on GearBest US Plug – https://goo.gl/v5bNRG $159 USE COUPON – "ENDERC"
AnyCubic I3 MEGA – US WAREHOUSE – https://goo.gl/BKwhEu $329.99 USE COUPON – "I311GBUS"
AnyCubic I3 MEGA – CHINA WAREHOUSE – https://goo.gl/BKwhEu $315.99 USE COUPON – "I3MEGA"
CR-10 on GearBest – https://goo.gl/6M9DHi use coupon – GBCRUS
CR-10S5 on GearBest – https://goo.gl/3295a6
CR-10S on GearBest – https://goo.gl/rFztnC
GearBest US Warehouse specials! – https://goo.gl/nvL8uF
Get free cash back for stuff you are buying anyway – https://www.ebates.com/r/DUF391?eeid=28187
Esun Cleaning Filament – http://amzn.to/2zP3qwW
Creality Cr-10 3D printer – http://amzn.to/2w7yqIF
Dagoma Neva 3D printer – http://amzn.to/2hYNjoV
FlashForge Finder 3D printer – http://amzn.to/2sCllp7
Hatchbox white PLA filament – http://amzn.to/2rrIfMt
ESun white PLA filament – http://amzn.to/2sBRv42
The gimbal I use – http://amzn.to/2lJbZCa
My GoPro camera – http://amzn.to/2kkBUmJ
GoPro foam windscreen – http://amzn.to/2maDI2B
Selfie stick – http://amzn.to/2mJTJLL
Segway MiniPro – http://amzn.to/2lddTNt
Segway S1 – http://amzn.to/2A8CkQQ
DJI Mavic Pro – http://amzn.to/2kpV4Tk
My EUC protective gear
Killer 187 Wrist Guards – http://amzn.to/2p8y9m9
Triple Eight Helmet – http://amzn.to/2p8uuoH
STX Elbow Pads – http://amzn.to/2oNMrYJ
Killer 187 Knee pads – http://amzn.to/2oYtAHw
Looking for Gotway, Inmotion or KingSong electric unicycles?
Go here for free shipping! – http://ewheels.com/eucarmy
Check out all my sites!
http://eucarmy.com
http://duf.net
http://dufisthenics.com
EUC Army YouTube – https://youtube.com/eucarmy
Duf 3D YouTube – https://www.youtube.com/channel/UCBnqqxnkBqc5ISDQRr0YkiA
Social media
Instagram – @duf67
Twitter – @duf67
Cindy's site – http://fitfarmchick.com
Cindy's YouTube channel – http://youtube.com/fitfarmchick