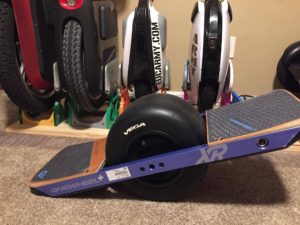 So as I mentioned before I have been very interested in dipping my toe into the world of One Wheel for a couple weeks.  I have been reading, watching videos, and gathering information from all over the place.  My desire to get one was held in check by the fact that the model I want, the XR, is back ordered and takes at least a month, if not two to receive when ordered.
Well yesterday for some reason I found myself on the dealer locator page of the One Wheel web site.  After punching in my zip code I surprisingly discovered the Ron Jon Surf Shop in Fort Myers was actually a One Wheel retailer.  I knew it was pointless but just for the hell of it I called them up to see if they had any boards in stock.  I was in disbelief when they said, YES.  They had JUST received two of the XR units, wow.
After asking the price and confirming they sell them for the same amount as the web site I felt like this was almost divine intervention.  Nobody has these boards right now yet I just happened to stumble across a local source for one.  I told Cindy about my find and told her I'd like to go up there right after work to snag one of the two boards before they were gone.  Cindy was not enthusiastic about the plan but relented.  I assured her I would get home asap.
The ride up there  went through some absolutely torrential rain that slowed down my arrival by quite a bit.  The arrival was further delayed by the GPS taking me to the wrong section of Gulf Coast Town Center.  After a second phone call to Ron Jon I got my directions straight.  I fast walked into the store and told them I wanted an XR, they sales guy said, "cooooool" as he walked to the back to grab it.  I completed the transaction and put my new life experience challenge in the back of the Prius.
When I got home I just placed the box against the wall and didn't even open it.  I knew Cindy was still skeptical of my decision so I didn't want to make a big deal about it.  We ate dinner and watched some X1 content before I even turned my attention to the One Wheel.  When I got the board out I could immediately get a sense of the tank-like construction everyone talks about.  It feels like it is ready to do battle.  I was also surprised it came with a fully charged battery, every EUC I ever bought came with the battery at 20% or less out of the box.
So while Cindy was in the bedroom I decided I would just do something real simple, get on the board.  Although I have seen many instructions for how to do this the first time, tips like wear proper gear, do it outside, and hold onto something, I ignored pretty much all of it.  In my bare feet, in the middle of the great room, with nothing to hold onto, I tried bringing the board up into balancing position.  As soon as the electronics activated I developed a front back wobble that sent the front of the board down.  With a One Wheel, dropping the nose means accelerate.  So that is what the wheel did, sending me hopping off in the process.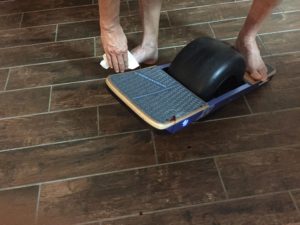 The board immediately shut off as soon as I came off but made a hell of a racket which sent Cindy running into the room, worried that a major crash happened.  I told her I was fine and the board was fine.  I immediately got back up on the board, this time while holding onto Cindy's shoulders.  After a few seconds I was able to release from her and get a sense of how the balance feels with this type of set up.  When I successfully dismounted I looked down and noticed drops of blood on the floor that lead to a pool of blood on the board that lead to the side of my right big toe.  Evidently when I came off the very abrasive grip tape took a sizeable chunk of toe skin with it.
The bleeding was pretty substantial so we had to stop and get it under control.  I held a paper towel on the wound until Cindy arrived with a band aid.  The band aid very quickly became saturated with blood so I applied a second one on top of it to tide me over until going to bed.
So while I was on the sidelines Cindy got up on the board.  Despite her initial reaction to my purchase, she was very curious and sort of excited by the One Wheel.  You see Cindy has a skateboarding background as a kid, something I only toyed with.  When I started getting into EUCs Cindy expressed interest in the One Wheel.  I wasn't all that interested at the time because spec-wise it was far inferior to many EUCs in terms of speed and range.  Well with the new XR model those specs have improved drastically.
So anyway Cindy got up and balancing on the board pretty easily and before long was slowly making her way around the great room/kitchen with minimal balance assist.  She said she really liked it and that THIS was something she could really be excited about riding, something she never really felt with electric unicycles.  I got on afterward and did some more slow movements as well as getting off and on.  I'm not 100% positive but I think I am a "goofy" foot rider, meaning I ride with my left foot back instead of my right.  I need to do some more testing.  Because of the cross wired way my body is as far as side dominance goes, I'm just not sure which style will work best for me for control.  I am technically right footed but I think my left leg is actually stronger and I mount and dismount an EUC as a left footed person would.
I can tell immediately that riding a One Wheel will involve more total body engagement than an EUC does once I become at least basically capable of riding it. I think it will be very interesting contrasting and comparing my learning experience on the electric unicycle to what goes down on the One Wheel.  Right now I feel very stiff and unsure of myself, just like I did with EUCs, however my past experience makes me confident that with some determination and practice (and shoes), I can conquer this physical challenge, despite Father Time pulling at my feet.