Despite having two One Wheel injuries on my right toe/ankle I drug myself out of bed to run on Saturday morning.  It's no point reiterating how warm, muggy and uncomfortable it is running this time of year.  That situation likely won't change until October at the earliest.  I plugged away, completing the 3.4 mile distance at a very mundane pace, similar to recent efforts.
When I got home Cindy, who had pulled her back badly, had done the chicken chores, despite me prodding her not to.  Since I got all the grass mowed on the 4th I didn't have to dedicate three hours plus of my morning to it.  Instead I just knocked out the weeding.  Once I was done we jumped in the truck to go help our friend Deb move a couple pieces of furniture she was given into her condo.  In the process we also picked up a ton of Deb's old fitness materials that she was giving to Cindy.  Deb is a lifelong fitness trainer but no longer does it as a primary career.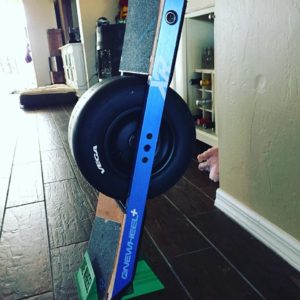 So once we got back it was nice, I didn't have a big list of things I felt that needed to be done at the moment.  So I turned my attention to the OneWheel.  I already reached into my 3D hobby to support my new wheel, designing a stand for it.  I wasn't quite sure if a 3d printed piece would be strong enough for the job but I designed the part with a lot of infill for strength.  So far it seems great.
So anyway I wanted to build on my mostly successful riding in the driveway by taking a drive over to the school, the place I did the majority of my early EUC training at.  Outside of about 30 seconds of the ride, I did great, able to ride around doing basic maneuvers pretty comfortably.  So back to those 30 seconds….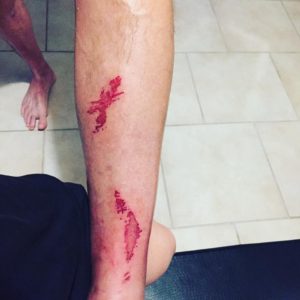 In total I had three different falls during the ride that sent me to the ground.  The first one stripped large chunks of skin off my shin when I tried to stop and disengage the board unsuccessfully..  However it was the second fall that was most concerning.
I had just driven by the camera that I had stationed on the ground.  I was trying to do a relatively tight 180 degree turn to come back.  As I did so I got too much lean forward on my toes.  In a split second my body reacted and I lurched back to catch myself.  My motions were amplified by the board and it rocked back and forth rapidly.  The motion was enough to send me falling but not forward as all of my EUC falls had been.  Instead I fell directly back like slipping on ice as the board shot out from under me.  The back of my head hit the parking lot hard, very hard.  If I was not wearing a helmet who knows what sort of damage would have been done.
I got up slowly, a bit in shock.  My initial physical assessment was my neck was instantly sore but otherwise I felt intact.  I took a few minutes to collect myself.  The fall was legitimately scary but I reminded myself that is why I am wearing the gear to help mitigate that damage.  After a few more deep breaths I was back on the board and rolling around.
My third fall which came at the very end of the ride was another unsuccessful dismount.  This again resulted in me falling backwards with head impact with the ground albeit significantly less than the last time.  The video I shot tells the story.  Still, even with those bad moments, overall I am really enjoying the challenge of riding the board and think I am making solid progress.
Of course when I told Cindy about my incidents she was concerned.  I totally expected to wake up with a locked up neck on Sunday but it was just sore.  The muscles in the front of my neck are the most painful as they must have contracted strongly as I went down to try to minimize the speed of impact with the ground.  We had plans to go see Ant Man Saturday night but because of Cindy's back pain and my neck pain we decided to push it off until next weekend.
Sunday morning started out fine.  When I went out to the chicken area to clean I heard gurgling.  It was the sound of the pump I set back up in the chicken yard sucking air.  In less than 24 hours, combined with a day without rain, the water level behind the coop had dropped significantly.  After paying my bills Cindy and I headed out, again with Elsa in tow.
Cindy's back was still too tweaked to ride a PEV but she brought along some work to do.  The plan was for me to park at North Collier and ride around there for awhile while she hung out with Elsa.  Elsa LOVES rides where she is not required to leave the vehicle.
Despite my falls on Saturday I was eager to get back at it and see how well I could handle the varied paths and terrain at the park.  I had a great time on the 6.5 mile ride with no falls.  I had several unsuccessful dismounts but none of them resulted in my hitting the ground.  I'm really enjoying the process of learning another physical skill and being rewarded with slow but definitive progress as I keep working.
Sunday afternoon I was involved with various things.  Once of those was getting Cindy set up out in her RV.  It was hot as hell so she needed the AC.  After popping the house circuit breaker twice trying to do it I instead just pulled out the big generator that could run the RV with ease.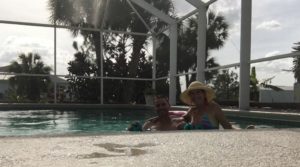 Later in the afternoon I told Cindy I was going to do something I never do, hang in the pool.  I can't tell you exactly the last time was that I floated around in the pool for a period of more than 5 minutes.  Cindy joined me along with a few "noodles" for flotation.  I'm not sure how long we were in but it was long enough that my fingertips started to shrivel.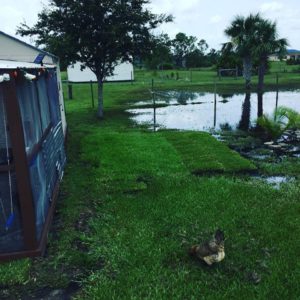 Oh I neglected to mention the very first project of the weekend that happened on Friday evening.  I stopped at Home Depot and loaded up on another $100 worth of dirt and sod.  I wanted to extend "Chicken Island" behind the coop to give the birds more dry land to hang as wet season continually submerges their surroundings.  I almost doubled the size of the the grassy retreat.  It's high enough to outlast pretty much any high water situation.
Sunday night I had my second EUC live stream with Marty.  We pushed the starting time back to 8 EST to work out better with Marty's west coast geography.  The stream lasted almost two hours.  I think it went pretty well although there are times I struggle with what to say.  We also had some technical difficulties on both sides at times that we worked through.  We had 30+ people tuned in almost the entire broadcast and the feedback we have received thus far has been pretty positive.
I awoke this morning sleepy, sore, and ready to tackle a new work reality where the HUGE application conersion project is now something behind us instead of hanging over us.  So far, so good.