On Friday I talked about my problems with FedEx and how I laughed at their theory that the label fell off the box somehow.  Well apparently that is what actually happened.  In a call back to the trace department Friday morning they said they found the box based on my description.  I had the option for them to relabel it and have it delivered Saturday or I could pick it up on Friday.  Despite it being a roughly 60 mile round trip I chose the latter option.  I used my lunch hour to drive to the FedEx distribution center and get my new wheel.
I was sort of surprised at the security at the facility.  It was surround by a 10 foot fence with barbed wire lining the top.  I wasn't allowed to actually go into the building, instead you speak through an intercom and somebody brings the package out to you, outside the fence line, some 30 yards outside the building.  This practice seems like it would have serious flaws considering the frequency of downpours in SW Florida as there was absolutely no protective canopy or cover of any kind.
I wasted no time and unboxed the wheel right there in the parking lot.  I wanted to make sure all was well after it's cross ocean and cross country journey.  It powered up and I was able to ride a slow loop around the parking lot.  I left it unboxed so I could take it into the office and let it charge up during the afternoon.
Friday night I did something odd around 8PM.  I told Cindy I wanted to go and get my run out of the way.  At first Cindy objected but when I told her how it would be nice to not have a 6AM alarm to deal with Saturday the idea sounded better to her.  It was not ideal circumstances as we had already downed our Friday night pizza so I was worried that I could get side stitches but the idea was in my head and had to be executed.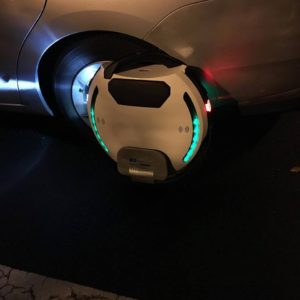 So I quickly threw on my running clothes and headed over to the track.  I also had my new 18L in the trunk to try out for some night riding after the run.  So I have not run at night in a very long time.  I have done a couple night time 5k's but I don't think I ever did a training run at that time of day.  During the first half lap I felt pretty strong, I recall thinking "Maybe I will feel less miserable running at this time of day".  That thought was very fleeting.  It did not take long until the heat and humidity felt oppressive, despite the sun being down.  It was once again a run of survival, not speed.   Lap 13 felt like it would never come.
I was a sweaty, panting mess afterward but I still wanted to try out the wheel some more.  My legs were pretty spent so I felt a little unsure of myself as I got rolling.  I made sure to do slow, big arcing turns, doing nothing that was tough on the legs.  I was impressed by how good the headlight is on the wheel, making riding in the dark not a big deal at all.  The King Song wheel felt smooth and powerful, as I expected.
It felt nice to not have to set the alarm as we laid down in bed that night.  It was going to be a treat to have two days in a row where we can wake up whenever we want.  Well that fantasy was shattered about 2AM in the morning.  Cindy awoke first which woke me up.  I was greeted by the overwhelming stench of dog fart.  It was really bad.  I tried my normal tactic of just covering my face with a pillow until it dissipated.  When that didn't work I told Alexa to turn on the ceiling fan.  It was strange, nothing was making the smell lessen.
Cindy was almost retching from the stench.  Elsa does fart sometimes but not often, it was odd that this was so bad and so persistent.  Cindy got up to go into the bathroom, when she flipped the light on the true nature of the disaster was revealed.  Cindy had a look on her face like she just witnessed a murder, Elsa had covered the bed in diarrhea, oh my…
So Cindy was freaking out and immediately launched herself into massive sterilization procedures, stripping the bed and anything related.  I took Elsa outside immediately where she had more episodes of the shits.  I felt bad for her.  It took awhile until she was able to stop crouching in poop position.  When we came in Cindy had stuff in the washing machine and bleach in hand where she was sanitizing left and right.  The entire house stunk, we had fans on, windows open, candles burning, and the AC cranked down, all in an effort to remediate the stench.  It took awhile but eventually it aired out.  By the time we remade the bed and got back to sleep I bet a couple hours had transpired.  It was so gross it was almost comical.  Needless to say we did not awaken Saturday morning feeling rested.
Despite the rough night I once again had a sizeable plate of things I wanted to get done Saturday.  Originally I hoped with the aid of Cindy I could get it all done in the morning.  That got sidetracked because she needed to take Elsa to the vet to see what was up as she still had similar diarrhea once we woke up, thankfully outside this time.  So I tackled coop duty, weeding, weed whacking, pool maintenance, tractor tie rod replacement and the mowing solo, consuming the day until close to 4PM.
Despite being wiped out I wanted to get a DD ride in on my new wheel.  I had it on the charger overnight to give me a full charge, or so I thought.  When I turned it on I noticed the app said I only had 76% charge which made little sense.  I wrote it off as a glitch and headed out.  The ride went well.  The 18L feels fast and smooth, a very comfortable wheel to cover long distances on.  The only negative was the battery level being lower than it should be, causing some unexpected and rather jarring tilt back on the way home.
Saturday night we watched Fantastic Beasts and Where to Find Them, a movie by JK Rowling of Harry Potter fame.  This movie is set in the same world and general timeframe of Harry Potter.  I was a big fan of the HP movies and I read three of the books.  I did not feel this new effort matched up although there were a lot of the same cool things going on.  I guess I just did not like the main characters in the story line nearly as much.  I'd only give it a B.
So Saturday night I once again put the wheel on the charger, expecting it to fully charge overnight.  When I woke up Sunday I had a green light on the charger but once again when I checked the battery level it showed only 76% full.  Great, I officially have a problem.  Despite the issue I took the 18L, the One Wheel and Cindy's skateboard out in the morning.  We did a short ride near Dunkin Donuts were Cindy showed her returning board skills.  It was fun but hot.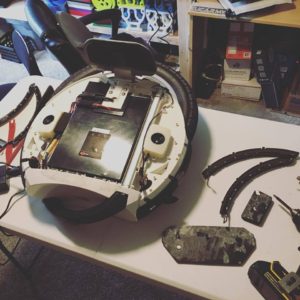 So I reported my battery issues to my reseller.  He asked if I'd be willing to rip apart my wheel to do some further testing.  Of course I wasn't keen on the idea of opening up my brand new wheel but it was better than trying to ship the wheel out and wait for a repair/exchange.  He wanted me to remove both sides of the wheel and disconnect one of the two batteries and try to charge.  In my two prior charging sessions the batteries never showed voltage over 78 volts which was another symptom.  The batteries should be reading 84V after a full charge.
So I did as instructed.  I felt pain as I pulled apart my pristine wheel.  Doing so at least gave me an appreciation of the build quality of the unit compared the Gotway wheels I have owned for a couple years.  King Song is at another level in QC.  After disconnecting one of the batteries I attached the charger to see what would happen.
When I checked on it a couple hours later the light was green  I fired up the wheel and saw the battery was reading 100% and 84.2 volts, just like it should. Wow, ok so I guess the other battery pack was bad, pulling down the overall voltage.  I reported the result to my dealer, thinking we definitively found the problem.  However a little later I thought to myself, just to be sure I should do the same test with the other pack.  Imagine my surprise when the other pack, when charged by itself was also fine, reaching full 84.2 volts.  The behavior was baffling but my plan now is to put it back together, ride it, recharge it and see if the batteries recharge as they should.  Of course it isn't fun being a guinea pig but it's better than being without the wheel for an extended period of time.
Sunday night we went out to dinner with Cindy's family for her mom's birthday.  In total there were something like 15-16 people that congregated at Longhorn's Steakhouse for the celebration.  Of course I opted for one of the handful of non-steak dinner options.  I took the edge off the social anxiety by downing almost three full 20 ounce Miller Lite drafts during the dinner.  It worked like a charm.
I wrapped up my weekend with yet another EUC live streaming event.  I was sort of tired as we started the show an hour later than normal but it worked out ok, I think.