So the other large format 3D printer that I ordered close to a month ago finally was due to arrive yesterday.  I saw it was coming via FedEx whom is normally fine with leaving stuff at the door.  Well the guy showed up when no one was home and of course this box had a signature requirement.  The tag that was left on the door said we could either sign the tag and it would be dropped off the next day or it would be available for pickup after 6:30 PM at the local distribution center.  Originally I told Cindy I didn't mind waiting for it but she seemed into us going and getting it instead.
So that's what we did, it gave us an excuse for a late day Dunkin Donuts stop and to give Elsa a ride as well.  The drive there took less time than expected, we arrived about 6:10, 20 minutes before the time posted on the tag.  I went in anyway, hoping the driver may have already returned from his run.  My hope was not met, the driver was not back yet, the clerk said I should stop back in after 6:30.
So to waste some more time we drove to a nearby CVS for Cindy to grab a few items we needed.  When we returned I wasted more time listening to a podcast, not going back inside until 6:40.  I got the news that our driver, Chuck, was not back yet but the clerk said he was expected back soon. I asked if soon meant before 7, the time the customer service office closed.  The clerk said yes for sure.  Back out to the car I went.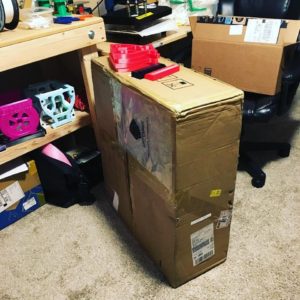 So as I waited another 10-15 minutes in the car.  As I did I saw several FedEx trucks returning, I was hoping one of them was Chuck.  I finally went back inside about 6:55.   I asked the big question, "is Chuck back"?  Nope no Chuck but it should be "any minute now".  Well I was too invested now so I just stood in the small office waiting for Chuck to return.  Well I guess 15 minutes technically counts as being any minute.  Chuck arrived around 7:15, allowing me to finally take possession of the huge box which I will hopefully get to open today.
On the drive home we rolled into a major storm.  The pounding rain scared Elsa and didn't make me feel great either, it was very tough to see the road markings at certain points during the trip. Not only was there rain but very intense and huge lightning.  The bolts were fat and stayed visible much longer than normal.  The ferocious storm turned our property back into a bog after being dried out for over a week.
Today I am home awaiting the arrival of a DirecTV tech to help me rectify my poor signal on the Sunday Ticket channels.  It will be interesting to see what the final resolution is.