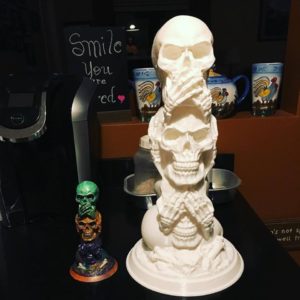 So my largest and longest 3D print ever finished up sometime early this morning, a staggering 82 hours after it started.  The print tested the vertical capabilities of my new printer to it's absolute max and I have to say the Chiron passed that test with flying colors.  The detail on the model, despite being blown up 250% is still amazing. It simply looks fantastic.  Cindy has been chomping at the bit to paint the see no evil, hear no evil, say no evil skull stack.  Based on what she did with the smaller model, I can't wait to see what she does with the super sized version.
Last night I felt like I was on the go doing something most of the evening outside of eating dinner.  I even got 60 minutes of WoW jammed in there along the way.
This morning I stayed home to meet up with an installer from our electric company.  I had finally managed to arrange to have a Generlink installed on our meter.  It is a device that allows you to direct connect your generator to your household wiring during a power outage, allowing you to easily control power distribution via your breaker box.  It would have been a huge help during our 10 day outage last year after Irma.
I had been thinking about doing this for several years actually, I just finally did something about that intent.  The install itself was extremely easy.  The device just plugs into the outside power box and then the meter plugs into it.  The installer spent much more time explaining to me the details of the device that the the physical install took, which was 10 minutes, maybe. If it sits unused for years that is just fine by me. I still like having the peace of mind knowing any future power outages should be much easier to work around, as long as I can get gas of course…..