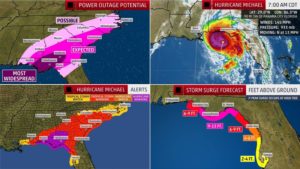 So just last week Cindy and I were saying how we were looking forward to the end of hurricane season which officially is November first.   Normally weather agencies are all over hurricanes for days if not weeks in advance, well not this one.  Out of nowhere, a tropical disturbance that was given next to no chance of amounting to anything is now a 145mph cat 4 hurricane that is poised to hit the Florida panhandle this afternoon.
It's pretty disconcerting to see just how quickly this all came about and how late in the year the potential is still there for devastation.  Of course back in 2005 Hurricane Wilma beat the shit out of us in mid-October as well.  Since having gone through two major hurricanes since moving to Florida I can relate to the anxiety and dread people in that area are feeling right now.  It's going to be ugly.
I shot a video last documenting the monster print I completed on the Chiron over the weekend.  I still am amazed every time I see the thing.