So I ordered a replacement battery for a UPS that failed at the house.  It arrived early in the week.  Replacing a battery is pretty easy however when I put the new battery into the unit it acted like it was dead, I got no battery indicator on screen.  I f'd around with it for awhile with no luck, finally arriving at the conclusion there was something else wrong with the UPS. I removed the brand new battery and plopped the old UPS by the door to be recycled.
Well for some reason, a few hours later I got motivated to take one more look.  It didn't make sense to me why the battery wasn't showing up.  I retrieved the UPS and started doing a more thorough inspection of both it and the new battery.  The APC replacement batteries are in a cartridge of sorts, you just slide them in and two contacts engage inside the body of the UPS.  As I examined the contacts on the battery I noticed one of them was pushed back abnormally.  Well that would certainly cause a problem.  I tried grabbing that terminal and pulling it forward but as soon as I would insert it into the UPS it would just get pushed back.
I was surprised the replacement battery would have such an issue.  I was disheartened when I logged into Amazon and saw that the battery was not a returnable item.  However I still requested a replacement which to my surprise was granted within a half hour via email.  The second new battery arrived yesterday.  I installed it without issue and the UPS is back in commission, saving us from the all too common power glitches we routinely experience.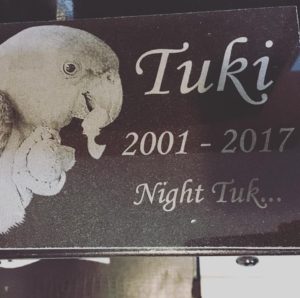 So after Tuki died Cindy was thoughtful enough to hand craft and paint a memorial stone for him that has been sitting on the cut off remains of the coconut palm that went down during Irma.  Unfortunately the brutal Florida sun and rain had done a number on the memorial, it was now cracked into pieces and badly worn.
I decided I wanted to get a durable piece made to honor Tuki, the funny but cantankerous bird that entertained us for so many years.  I found a place online that allowed you to upload a picture and design a simple layout.  I selected a 6 x 9 piece of granite and uploaded one of my favorite pics of him eating a peanut, one of his favorite past times.  I included his name, dates, and "Night Tuk…" which is what he would say most nights after I would turn out the lights and head to bed.
The stone arrived yesterday.  I was really pleased with how it turned out.  They took the picture and zoomed/cropped it perfectly.  As I pulled it out of the box and inspected it with Cindy standing there it made her tear up which made me emotional as well.  I still think about Tuki's demise and if it wasn't for my carelessness he would likely still be with us swinging away while holding a peanut like a hoagie.  I quickly designed a 3D circular holder for the plaque that I hope to still sit on the coconut tree.  The stone should last longer than I will, that's for sure.
Speaking of me lasting, yesterday I submitted the form to officially switch my retirement benefit from an investment plan back to a pension.  I was waiting for the stock market to rebound a little bit before doing so.  Making the switch means I should hope to live well past my official retirement age of 62.  If that actually comes to be, no one knows, but if I do make it to my 60's and beyond it's nice to know I have a substantial lifelong income stream secured as well as a lump sum 457B account that I will continue to fund. If it's still around, I also have my social security benefit to pay for some groceries.
I have been struggling at work the last couple days trying to act like a web developer.  I am trying to get our website to pull data from a vendor site using the REST API pulling JSON data.  It is a world I have next to no experience with but thanks to Google and a lot of trial and error I am slowly making some progress.  I have faced this scenario many times over the years where I become involved with things I am not all that well equipped to do.  More often than not I manage to navigate myself to an eventual solution, even if it takes much longer than it should have.
Tomorrow I plan to be outside as early as possible to begin the misery of the annual tree trimming task.  Unfortunately the weather is forecast to be about 10 degrees warmer than I would prefer but I will barrel forward anyway.  My prep will include downing CBD oil and Advil to help hold off the aches and pains that will come at least until the last branch is thrown in the fill pit out back.
Another mass shooting went down this week, a headline that just never seems to go away.  Another angry white man was behind the trigger once again.  It's a good thing we are focusing on all those angry white men that voted for Trump, um I mean that commit mass murder. Oh wait, I mean the muslims, minorities and immigrants that are the REAL problem, according to Donald.  The world is wobbling off it's axis, soon to fall flat on it's face.