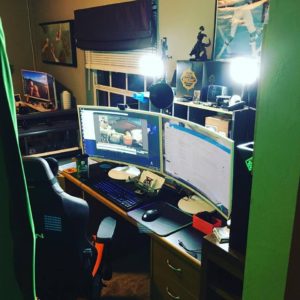 So I decided to skip running Friday night.  My lower right side/back had been sore all week, I figured trying to pile 13 laps on top would only worsen/lengthen the pain.  We did wind up getting our exercise in a different way, we rearranged the office.  This idea came about simply from a few cool lights, specifically the lights on my new PC.
The RGB lights on the front and inside the case change color based on GPU/CPU activity levels.  In the normal spot where I have kept my PC's for the last 10+ years, that activity is basically hidden since the unit is in a "cubby" in the desk down at floor level.  I got the idea in my head that I would like to be able to see the guts of my new PC at work.  That idea lead to a couple hours of chain reaction reorganizing after dinner Friday night.
So the base of my plan was to take my shelf/stand that I made in woodshop class 30+ years ago and stick on the right side of my desk.  It would serve as my new CPU stand plus the shelving underneath would be useful to store items that were just piled up elsewhere.  For the stand to fit we had to move my big but shitty desk over six or seven inches.  The process damaged the already damaged desk a little bit more but it survived.
As I said, this seemingly minor change lead to a lot more changing.  We moved things around on Cindy's side as well, allowing her more practical use of the space around her.  The process also had some casualties, like my old color laser printer that was not really used.  That got curbed and was picked up by somebody within an hour. A lot of things were tossed as well.  It was tedious work that kicked up a lot of dust.  Cindy and I are both very pleased with the results.  I had not significantly changed my desk configuration for many years.  It felt good to switch things up. What was funny was Cindy had already spent a good portion of the day switching up other areas in the house.  I came home to different layouts in both the master and guest bedroom.
On Saturday I kept myself pretty busy with a number of small projects.  I found myself being quite annoyed that I found myself sweating while tending to them in the morning.  It's been stupid hot lately considering the time of year.  When I woke up on Saturday the thermometer already read 72 degrees, which is what you would expect in June, not February.  The highs both days reached into the upper 80's with high humidity.
I did shoot a video showing off some of the convenience features of the Ultron Ultra Saturday afternoon.  Despite it's lower cost, it has some quality of life things that the much pricier Dualtron scooter does not.
Saturday night we watched Hostiles, a western with Christian Bale.  Cindy and I rarely watch Westerns so it was a change of pace.  It was a very well done film but damn it was depressing.  Don't expect to come away from it with pep in your step. It was B+ stuff for me.
On Sunday I got out on a pretty long solo ride at the Greenway.  I took what I consider my two most fun PEVs, the Mten 3 and the One Wheel. Outside of the once again stupid hot temperatures, I had a great ride.
Sunday afternoon with some trepidation I decided to tackle replacing the back two tires on my Backfire Ranger.  My hesitancy was due to the massive struggle I had replacing the front two tires last weekend.  However the prospect of silencing the maddening flat spot tire noise was too tempting, so I dug into it.  Although I still struggled, the duration and intensity of the struggle was definitely less thanks to using some different tactics suggested to me by others.  In total I may have spent 30-45 minutes on the swap.  After completing the work I headed outside to test the results.  It did not take me long to realize the noise was gone.  It no longer sounded like I had a flat tire, instead I just heard rubber on the road, like a normal tire.  I was happy my struggle eventually resulted in success.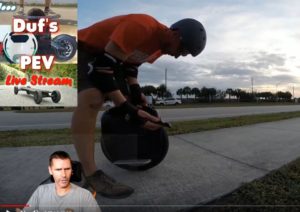 Sunday night I had my 18th PEV livestream.  Cindy helped me set up the green screen to enable the Chromakey effect.  The stream went fine although I didn't have tons to talk about on my agenda.  I still managed to fill almost an hour and 45 minutes of time from interacting with the livestream chat audience.  The real time viewership has been lower the last couple shows.  I don't think we crossed 20 simultaneous viewers last night which is a bit disappointing. I do more or less enjoy doing the streams but it would certainly be nice to steadily increase viewership instead of having it flat line or slightly decline over time.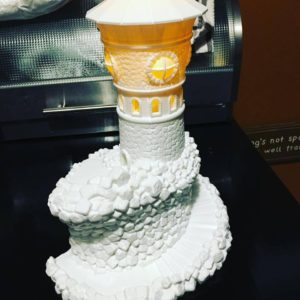 I had another all weekend print going.  It's another island/tower design that I am sure Cindy will do an amazing job with finishing it up.
I have not been getting enough quality sleep lately, it wears me down…