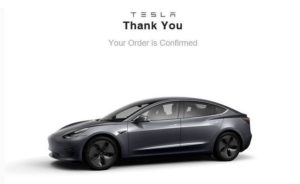 As I mentioned, I love so many things about the Tesla but there was one annoying issue, the steering wheel is misaligned.  I don't think the car is actually out of alignment as it does not pull one way or the other.  However when you are going straight the wheel is tilted maybe 5-10 degrees to the right.  So I first called about this problem Saturday, leaving a message on the voicemail of the delivery team for Dania Beach.  Their message said all calls are returned within 24 hours, not a great response time but hey it's the standard with a lot of businesses nowadays.
Well that call back never came.  I left two more voicemails on Monday and Tuesday as well as an email.  Each communication was met with the same non-response.  So as you can imagine I was frustrated.  After plopping down more money than I have for anything else in my life outside of my house, I think it is reasonable to expect decent response to requests for help.
I also found it is challenging to get a human being on the phone.  Most menu options lead you down dead ends that just tell you to go to the app or the website.  I understand wanting to funnel as much as possible down those options for efficiency sake but you shouldn't have to go on a treasure hunt just to speak to another human being on the phone.
So of course the call back comes back today, five days after my first voicemail.  And of course it comes when I in the middle of my IT conference so I can't answer it.  During my first break I called back, using the cell phone number of the guy that left the message.  Once again, it goes to voicemail.  Geezus.  So I leave yet another message and I text this person as well, with no response.
So just for the hell of it on my lunch break I call the number again and FINALLY there is a non-recorded voice on the other line.  I tell Justin how hard it has been to reach anyone, he apologizes but has no explanation.  I already know the explanation based on my visit to the site and how hectic it was.  I think Tesla is tremendously understaffed and unable to attend to the requirements of so many customers.  They simply need more people but I think Tesla has been trying to operate as leanly as possible to save cost. Hell look at their website accesory store for the Model 3.  They have almost nothing in stock, they just are not able to satiate the demand.
So anyway I reiterate my problem to Justin.  He tells me that since I am in Naples it would be better for me to go the Sarasota service center.  Huh?  When I search for Tesla service centers Sarasota is not listed.  Justin said it was new so maybe that is why I don't see it.  Um, ok.  So basically the instructions I got was to book the appointment through the Dania Beach SC but write in the notes that I actually want to take the car to Sarasota.  I told him that I really need a Saturday appointment so I am not wasting vacation days to service the car.  He said I should put in the notes I want a Saturday appointment as well.  So the bottom line is I have a an appointment booked for next TUESDAY in Dania Beach but it is really just a placeholder so they can book me at Sarasota, on a Saturday, hopefully.
Yes it is rather incredulous that this is how they are telling me to accomplish my goal.  Luckily the problem is not severe, if it was I would be rattling chains a lot louder.  I can only hope Tesla continues to work towards providing service that comes close to the level of tech in the car.
So I was considering taking the Tesla to Tampa for the trip but decided against it.  I would have had to wait a couple hours at the house for it to charge and then also hit a super charger while up there to juice up for a ride home.  That part didn't bug me but I didn't want to delay my trip here longer so I went with the original plan of taking Cindy's Ioniq.
The drive went fine except by the time I got to around mile marker 200 it felt like my bladder was about to explode.  I kept waiting for a rest stop to come up but none did.  I wound up pulling off at Siesta Key and fast walked into a Walgreens to the mens room.  The relief felt was significant, I was a few minutes away from using an empty cup.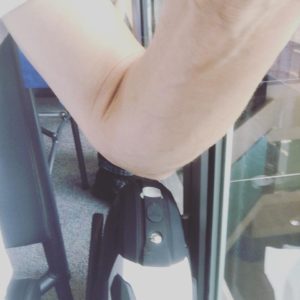 My dinner was a tuna sub from Subway which I waited 15 minutes to get.  I was unlucky enough to be behind an Indian woman and her three children that had the most complicated and slowest order I have ever seen.  The clerk apologized for how long it took.  I slammed down the food in the car, not wanting to eat alone in a booth.
I arrived in Tampa around 8PM.  I was not thrilled when valet is the ONLY option for guests parking a car.  I went through the same thing in Miami and it pisses me the hell off.  28 bucks a day added to the bill is just bullshit IMO.  I had no plans so I decided to grab the 18L and go ride the city. The first thing I was amazed by was the lack of the people, at least where I was, near the convention center.  I had entire blocks to myself, there just was nothing going on.
I just rode some sidewalks and parking lots, not knowing where I should go.  I was getting ready to pack it in after maybe 30 minutes of rolling aimlessly.  I then headed across the street to the convention center and stumbled across the Tampa River Walk.  It's a beautiful area that hugs the river for probably a mile or two.  I had a great time wheeling there weaving in and out of obstacles, bikers, runners and pedestrians.  It's probably where I will wind up tonight with the One Wheel this time.
The Embassy Suites that I am staying at is beautiful.  I slept well in the king size bed and enjoyed the huge complimentary breakfast spread.  I was considering riding the wheel to the conference but I didn't know if I would have issues bringing it in the building, so I walked the .6 miles instead.  Once I got there and saw the meeting room was on the first floor and I could stow the wheel under the table, I went back to the room on my lunch break and grabbed the wheel, which I rode back to the room with my laptop bag on my shoulder after the meeting adjourned.
The information on day one of the conference was good.  Most of it was relevant to what I do, the stuff that wasn't was a good chance to catch up on email.  Tonight some of the group is going out on an organized dinner followed by a riverboat excursion.  I did not sign up for it and instead will do another solo dinner somewhere.   I don't really know any of the other county staff very well nor do I feel the need to go socialize with them, which is a flaw I have.  It is very rare that I hit it off with a stranger enough that I want to spend any extra time with them.  My inner circle is small and likely will remain that way.   It's just how I am which is why Cindy balances me out well as she embraces interactions with others.  The One Wheel and I will have a nice evening, no worries.