Saturday morning Cindy and I set the alarm to get up early.  I was out at the chicken coop by 6:15 AM cleaning it since we had to head out to go help at the Naples Wear Orange event.  When we got to Lowdermilk Park we went to the same pavilion as last year, someone else was already setting up.  When it got to be 8:15 and we didn't see anyone else I got suspicious.  I walked up towards the north side pavilion and saw everyone else was there.  Whoops, I guess we made a poor assumption.  We lugged all of the stuff we unpacked to the other side of the park, including a fully erected pop up tent.
We helped setting up in the rapidly increasing temperatures.  It did not take long for me to sweat through my shirt.  They did things differently this year, doing the presentations and speakers BEFORE the beach exercise that I was supposed to film.  I was a bit worried that doing so would have caused issues with space since the longer you wait, the more crowded the beach would become.
Luckily the other change they made this year help alleviate that problem as much less beach real estate was needed.  Instead of drawing out HUGE letters in the sand that people tried to stand on, this year they made poster board signs with letters on them which was much more manageable.  The drone filming went ok although I use it so infrequently nowadays I forget what does what at times.  After I was done I thought I was flying the drone towards me but I could not see it when I looked up in the sky.  We finally spotted it about 300 yards down the beach.
After the event we stuck around to help with clean up.  The event went well and it felt good to get some volunteerism in the books.
Saturday afternoon Katies dad and his family came over for more baby visitation.  Katie's little sister enjoyed seeing the baby but her real fun was interacting with Sadie, who we had this weekend.  Pinky love's dogs but unfortunately for her, Elsa does not love strangers.  However Sadie is the opposite, she loves everyone.  Pinky spent the vast majority of her time there sitting/laying with Sadie, it was very cute.
I talked to Mike, Cindy's ex-husband quite a bit, we get along well.  It's funny that he is also a long time MMO player, he has played WoW but his big game has always been City of Heroes, which was just revived a short time ago.  He also told me some stuff about his time when he was deployed to Iraq in the early 2000's.  Man some crazy shit went down over there.
After they left it was almost 7PM but I still had a chore that I deemed needed to get done before the end of the day, weed whacking.  So despite the time I headed out there and fired up my Poulan Pro.  The one advantage of doing the task so late was the oppressive heat was ratcheted down.  The disadvantage is darkness.  When I finished up around 8:30 daylight had expired.
Sunday and the weekend in total featured absolutely no PEV riding.  It was a by product of Saturday being consumed by other things and a lot of rain on Sunday.  The rain started as I was mowing the yard, lightly at first, then torrential at times.  At this point I am an experienced deluge mower so I just continued mowing, the canopy keeping only my neck and head somewhat dry, everything else was absolutely soaked.  If you haven't noticed, when I have a task in mind, it is difficult to shake me loose until it is completed.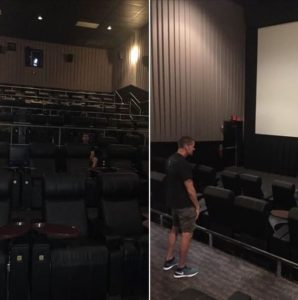 Part of the reason I was so determined to finish was that we had 1PM tickets to go see Dark Phoenix, the last X-men movie under Fox direction.  That may be a good thing.  The movie just didn't do anything for me and the way it totally contradicts plot lines from some of the older movies bugged me.
What bugged me more was I read somewhere that there was a post-credit scene.   Despite everyone else exiting the theater I stuck it out, alone waiting for the payoff.  When the credits ended and the projector turned off unceremoniously Cindy laughed out loud and captured the moments on film. I'd give the movie a B, you can just rent it.
I only made one video this weekend and it was pretty funny one where I answer some of the questions I have gotten regarding my Tesla.  It's only roughly 6 minutes long, which is a miracle in my video library.